COVID-19 has forever changed the experience of being a customer, an employee, a citizen and a human.

Accenture
The impact of COVID-19 on our society and economy is unprecedented. In practically all countries manufacturing, shipping, distribution are currently heavily affected , many current projects are paused and new product initiatives are no longer considered. The pandemic has forced enterprises to reconsider their work practices and adjust them to the current situation with COVID-19. However, some companies reap benefits of IoT applications in this turmoil.
Fortunately, we live in the era of sophisticated digital technologies. A broad array of devices and software allows us to operate and respond to this crisis in a way that would have been impossible in the past. Such technologies as Artificial Intelligence, Extended Reality, Data Analytics and Internet of Things are helping companies and governments to solve unique challenges posed by COVID-19.
In our previous article, we discussed effective IT solutions and applications that prove useful for coping with the pandemic outbreak.
COVID-19: Boosting digital transformation
Apart from the dark sides of the coronavirus that we are all aware of, the virus outbreak has forced many companies to innovate at a rapid pace. In order to stay competitive, enterprises are looking for cutting-edge applications to avoid drowning in the sea of restrictions and precautions caused by the virus. Among them are work-from-home infrastructure, collaboration tools, visualization solutions, VPN networking and numerous other solutions, that help enterprises to effectively operate in times of crisis digitally.
IBM's new CEO claims that the spread of coronavirus will push companies to speed up adoption of modern technologies.

McKinsey, a world-known consulting firm, believes that " COVID-19 crisis is likely to significantly accelerate the shift to digital and fundamentally shake up the business landscape".
According to McKinsey, before the COVID-19 outbreak, 92 percent of companies had been considering digital transformation of their business models, but the crisis actually revealed how vulnerable most companies are and how urgently they require transformation.
Gartner's recent Business Continuity Survey states that only 12 percent of enterprises are highly prepared for the impact of Coronavirus.
IoT on the frontline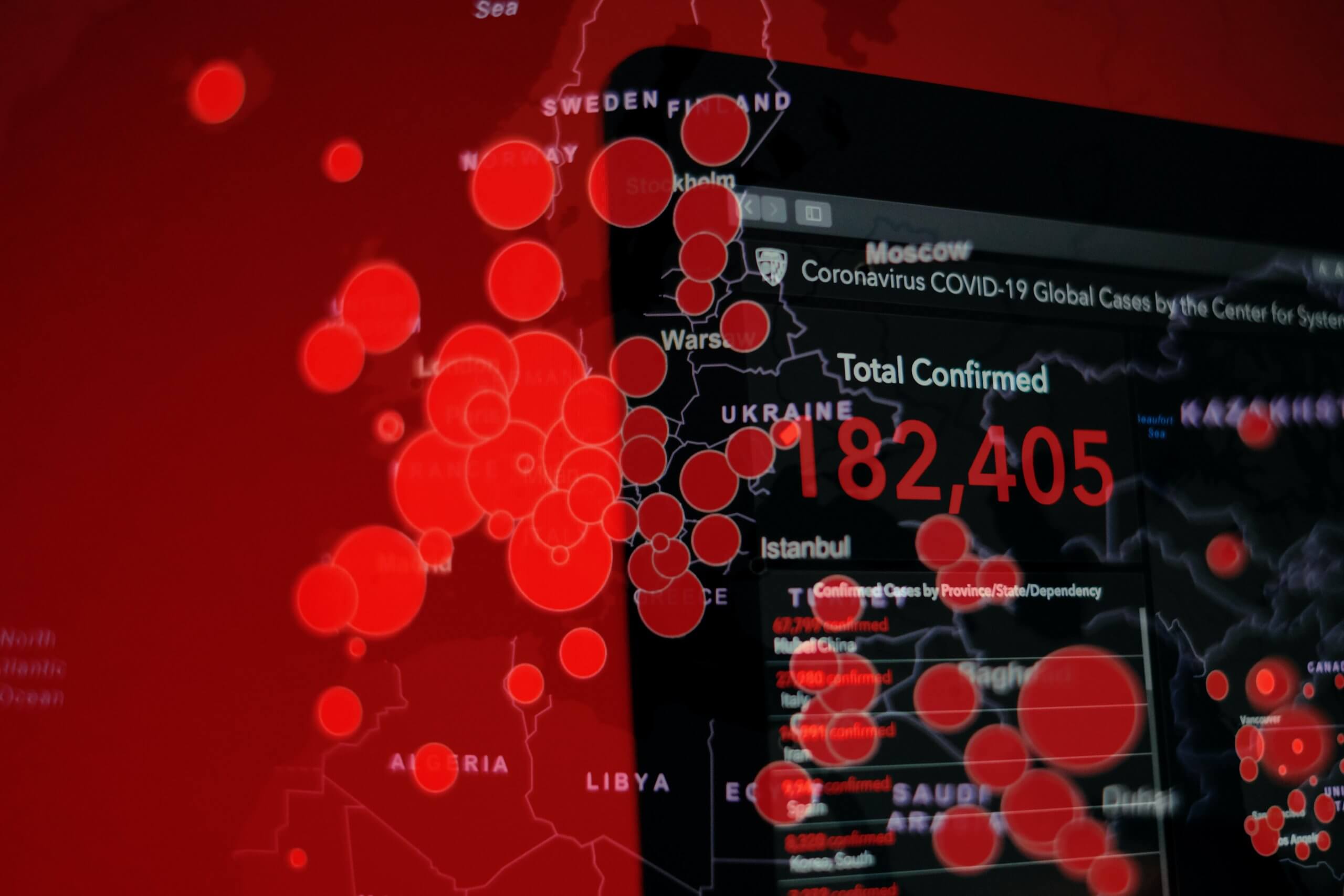 The first measure that is taken by all countries hit by COVID-19 is self-isolation. As a result, most enterprises have started looking for creative solutions to overcome social isolation and enable their businesses to keep afloat. The way out lies in technologies, namely those technological solutions that allow companies to operate remotely, and first of all Internet of Things (IoT)-driven applications. Benefits of IoT in times of COVID-19 are undeniable.
As maintained by Softengi CTO Ilya Gandzeychuk,"as a experienced provider of IoT-powered applications, we are seeing increased interest in our solutions at the moment . Our customers are looking for remote assistance applications and IoT-driven analytics."
According to MarketsandMarkets, because of the outbreak of the Coronavirus, by 2021 the IoT global market is expected to increase from current USD 150 billion to USD 243 billion, growing at a Compound Annual Growth Rate (CAGR) of 13.7%,. The wide adoption of IoT software is caused by the need to stay connected in times of self-isolation.
Adoption drivers and benefits of IoT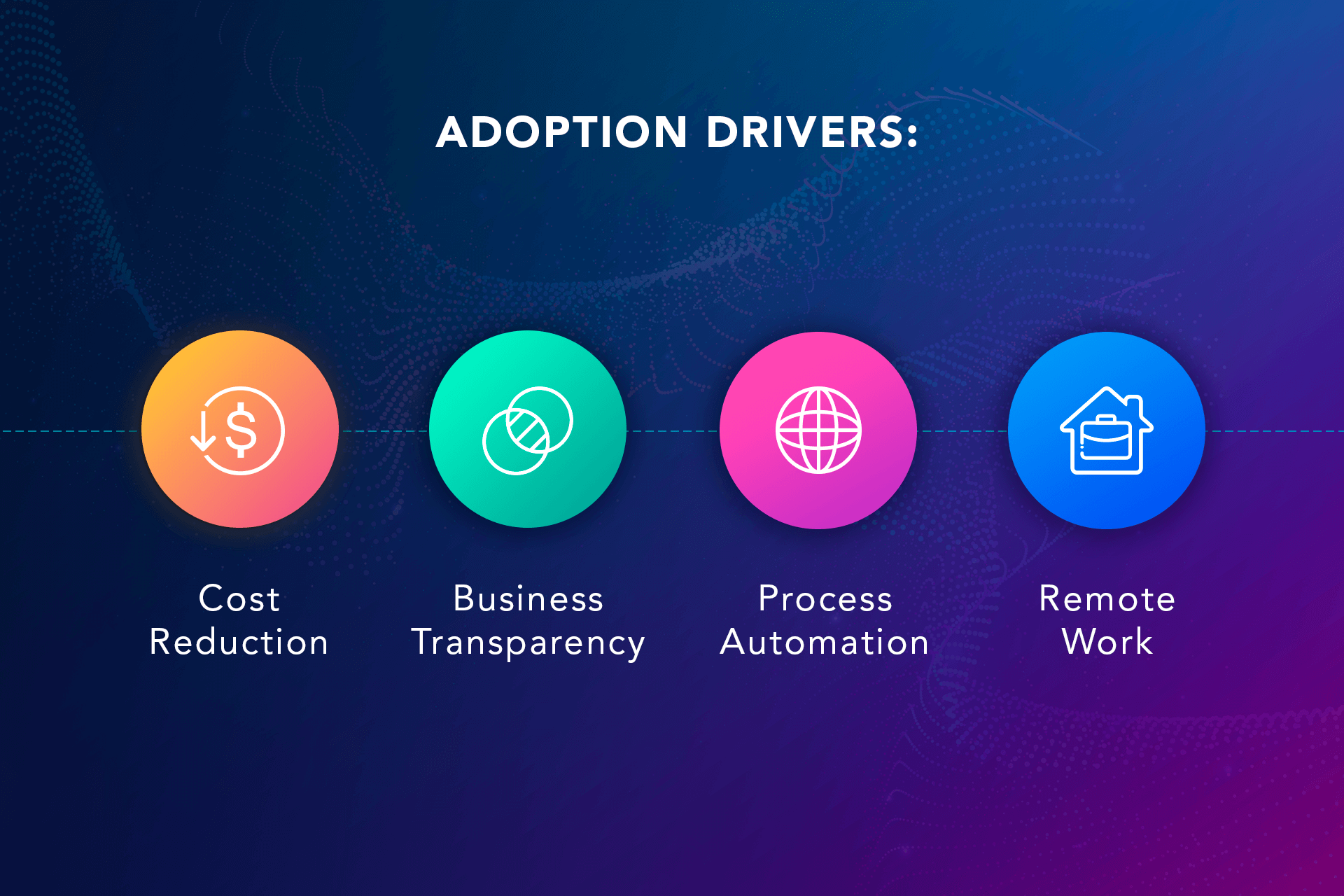 Cost Reduction
During any crisis, the decline in demand and slow production forces companies to look for new ways to operate with minimum expenses. In the time of coronavirus outbreak , IoT sensors on par with IoT analytics enable companies to efficiently operate remotely, without interrupting production or shipping.
Business Transparency
As employees now work from home, it is very difficult to control and monitor all workflows. Transparency with regard to whereabouts and work performance, about goods and their transportation have become additional challenges posed by COVID-19.
Process Automation

Recent months have shown that in order to become self-evolving during the current pandemic and be able to withstand the virus disruptions, organizations need process automation . Experts believe that crises force business leaders and organizations to look for innovative ways to stay competitive. Mark Muro, a Senior Fellow at Brookings Institution says: "Economic literature over the last decade shows that investments into automation are made specially during a crisis." A McKinsey report states that 45% of today's work can be automated.
Detailed information on Softengi projects in the field of Process Automation can be found here.

Remote Work
With the outbreak of Coronavirus, businesses have to adjust to the changing needs of their employees, customers, suppliers as well as comply with government restrictions imposed during the pandemic.. In order to efficiently operate in the time of the crisis, enterprises are forced to embrace remote working tools and applications.
Industries go digital
With every industry affected by COVID-19, the amount of potential effective applications designed to specific business areas is rising, with IoT leading the tech race. The main business segments that can reap most benefits from IoT systems in this time are Healthcare, Agriculture, and Retail.
Healthcare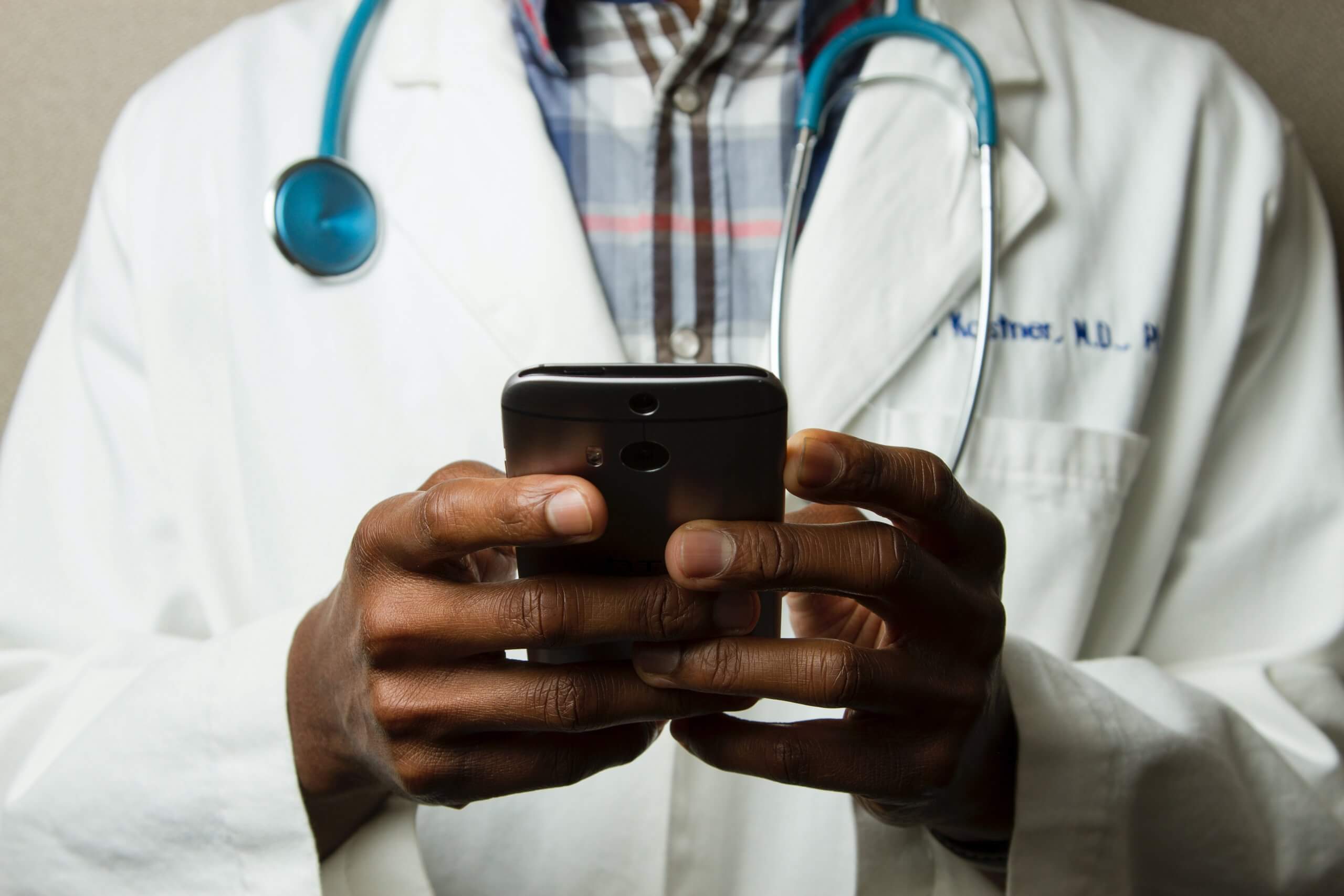 The major area that is currently embracing numerous IoT solutions in order to ease the burden for its healthcare workers as well as to promptly provide needed help to patients is healthcare.
According to Foster Research, healthcare technologies have now become the greatest priority for IoT service providers.
The most spread IoT applications in Healthcare are telehealth consultations, digital diagnostics, and remote patient monitoring.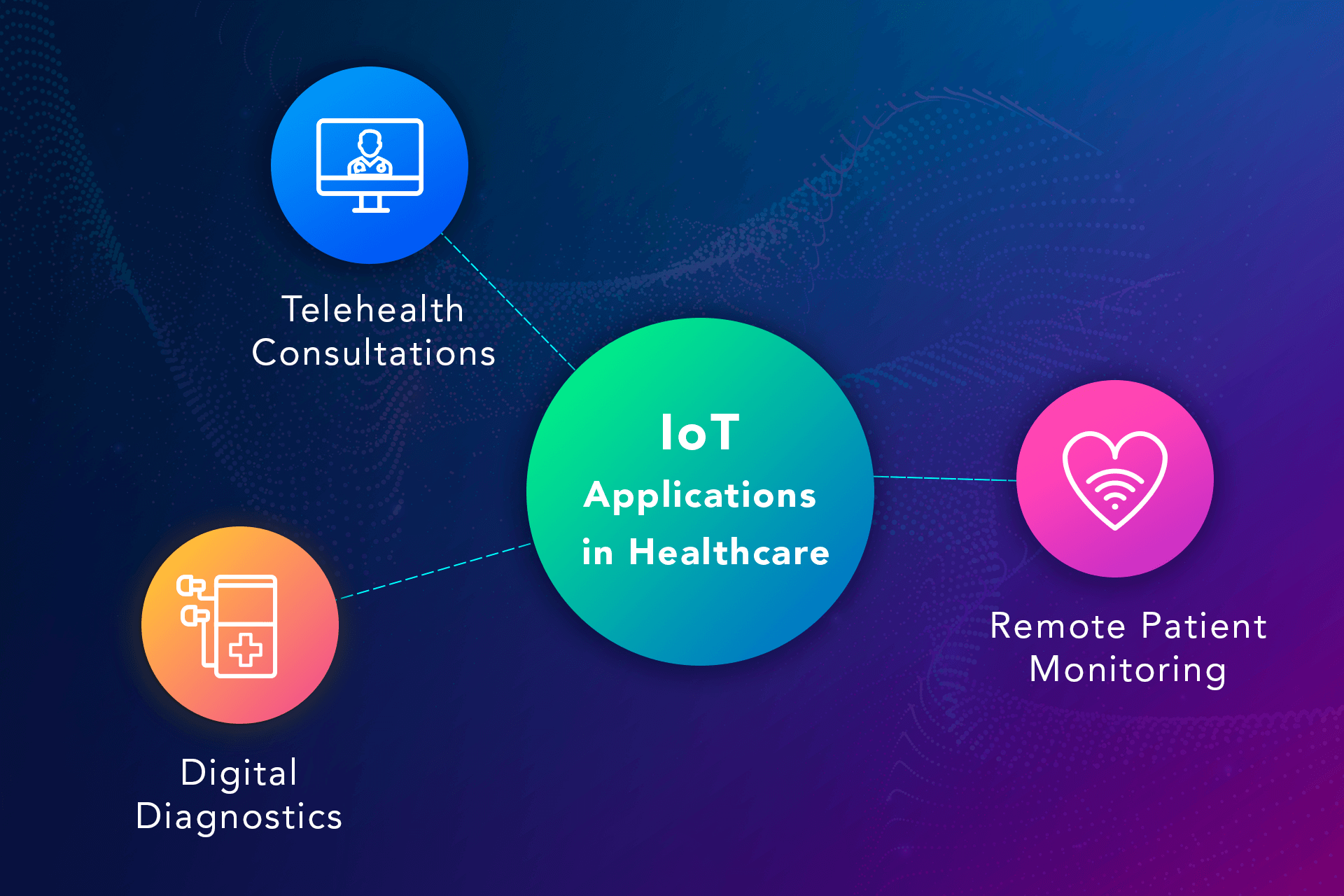 Telehealth Consultation
Telehealth services primarily refer to remote patient consultations. In times of self-isolation, when hospitals are full and healthcare professionals are scarce, telehealth consultations powered by IoT technology allow doctors consult and help patients remotely. Due to telehealth applications, during the coronavirus outbreak patients with chronic diseases do not have to visit healthcare institutions, putting themselves and others at risk,, as they can easily get the needed consultation on a video call. In this case, IoT connects the patient with a device equipped with IoT sensors, that remotely monitors the patient's health state and sends the information obtained to the doctor at the other side.
Softengi has developed a telemedicine app that allows to contact any doctor anywhere. The app is a kind of Uber for medical services. In essence, it is a database of medical specialists, which uses numerous filters to allow the patient to easily find the needed specialist and to receive a consultation through a convenient mobile application.
Digital Diagnostics
Another telehealth service is digital diagnostics. Embedded IoT systems are wearable devices providing their users with a self-monitoring tool. The idea behind is that myriad IoT sensors in a wearable device easily estimate the patient's health parameters, promptly providing users with information about their general health state. Such use of IoT devices in times of coronavirus speeds up the diagnosis and treatment of diseases, benefiting both the patients and their healthcare providers, especially.
For example, a Health Tech Company Kinsa has developed smart thermometers, that aggregate consumers temperature and symptoms data. This real-time information allows Kinsa to track outbreaks of COVID-19 in the U.S so as to stream the allocation of health resources.

"Our mission is to curb the spread of infectious illness through early detection. A thermometer is a means to an end," says Kinsa founder and CEO Inder Singh. "If you want to know where disease is spreading, you have to know the symptoms. The best way was to piggyback off a tool [people] already had."
Remote Monitoring
With the ability of IoT technology to virtually connect doctors with their patients, IoT-driven systems can easily track their users state and fully automate patients-care workflow by the IoT device capturing and monitoring data and sending the output to healthcare specialists. With IoT systems, healthcare providers can access real-time patient data as frequently as necessary in order to get better visibility into the patient's health condition.
As an example, Shanghai Public Health Clinical Center (SPHCC) uses a temperature sensor system to monitor COVID-19 patients in order to reduce the risk of caregivers exposure to the coronavirus.
Agriculture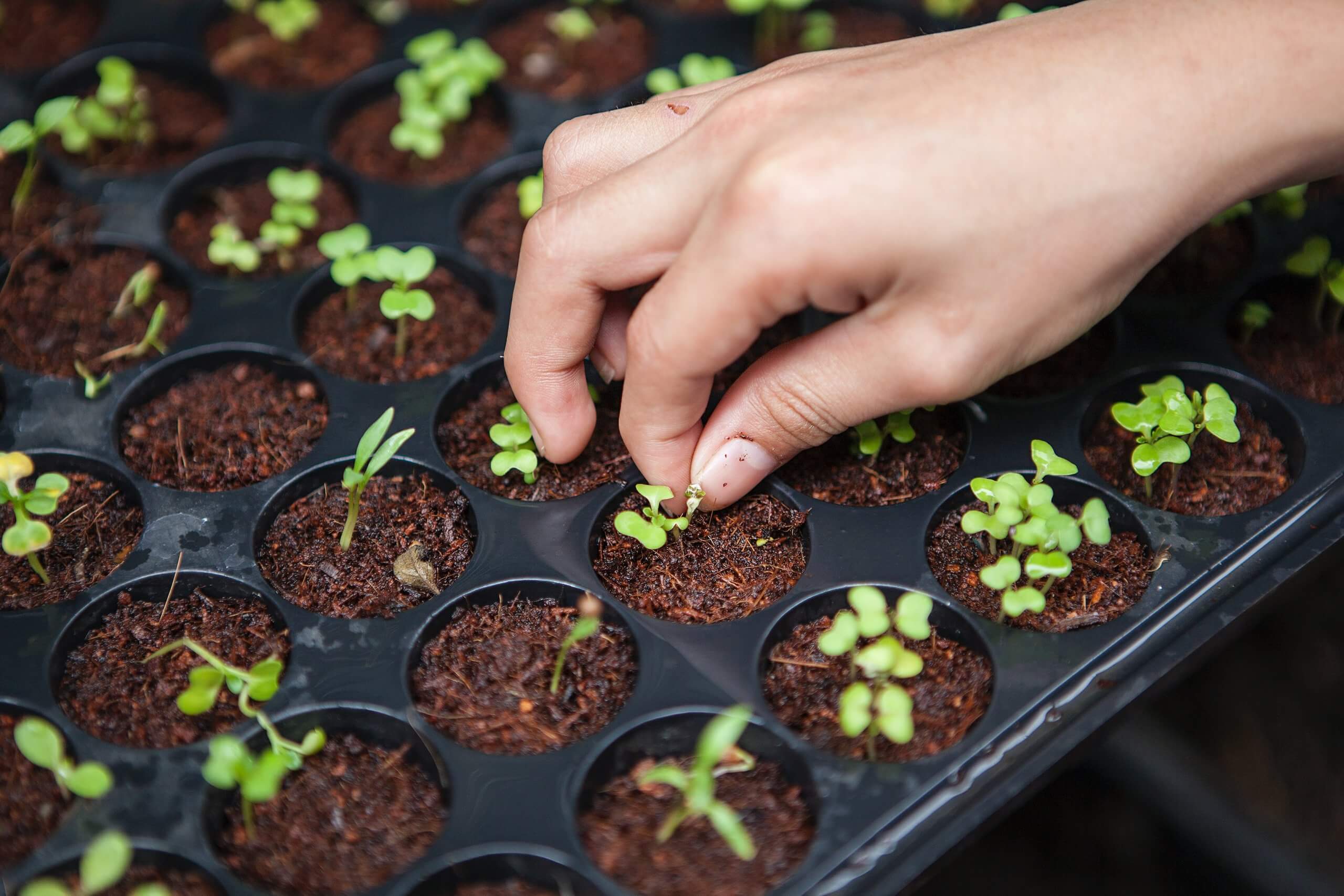 Another industry that can reap significant benefits from IoT tech is Agriculture. The agriculture industry is dealing with its set of problems starting from uncertainty in supply and demand to labor shortages, and personal health.In order to get through the current pandemic crisis without heavy losses, agriculture companies start to accelerate their tech initiatives, paying much attention to IoT-based solutions.
Smart Farming
By applying advanced IoT analytics and IoT platforms farming can get to a new level. For instance, sensors placed in fields allow farmers to get detailed maps of topography and resources in the area, as well as such variables as acidity and temperature of the soil. As a result, with IoT, agriculture companies can enhance their veterinary diagnostics, crop protection, as well as general farming processes.
Softengi has developed a set of advanced solutions for agriculture, starting from machinery tracking to remote crop analysis. As a result, this set of tech solutions help companies to make up precision farming or precision agriculture.
Retail
The retail sector is one of many industries that has been heavily hit by COVID-19. Due to the isolation restrictions, stores closed their doors to customers, employees started to work remotely, and suppliers shut down their deliveries.
Smart Retail
The most obvious benefits of IoT are in the retail industry. IoT sensors and obtained data allow retailers to monitor customer satisfaction, control food safety, track assets, and provide supply chain insights. In the time of coronavirus pandemic, when retail companies have to cut costs and still remain competitive, Internet of Things is becoming a key instrument.
Read more about IoT applications in Retail.
Final Words…
The outbreak of COVID-19 is having a significant impact on most industries. In order to get through and stay alive most companies are forced to reconsider their business models, paying more attention to available innovative tech solutions. Internet of Things with its ability to connect people, be it employees, customers or vendors, provides new opportunities in various spheres, assisting various enterprises to operate more efficiently during isolation. Softengi, with its vast experience with Internet of Things applications, is ready to help you not only to keep functioning, but also succeed in this time of uncertainty, reaping benefits of IoT software.