These days, many retailers still struggle with organizing their warehouse space, continuing to use outdated, inconvenient, or paper-based methods of managing their warehouses because they do not apply modern solution methods.
A well-coordinated workflow in the modern warehouse operation allows you to process and deliver orders faster, thereby satisfying your customers. In this article, we will tell you about a handy and modern solution that will help you manage all the stuff and forget about the mess in your warehouses.
WhTech-WMS as a Top-Notch Solution for Warehouse Processes
WhTech-WMS platform is new generation software developed in partnership with WHTech that allows full automation of all modern warehouse technical processes.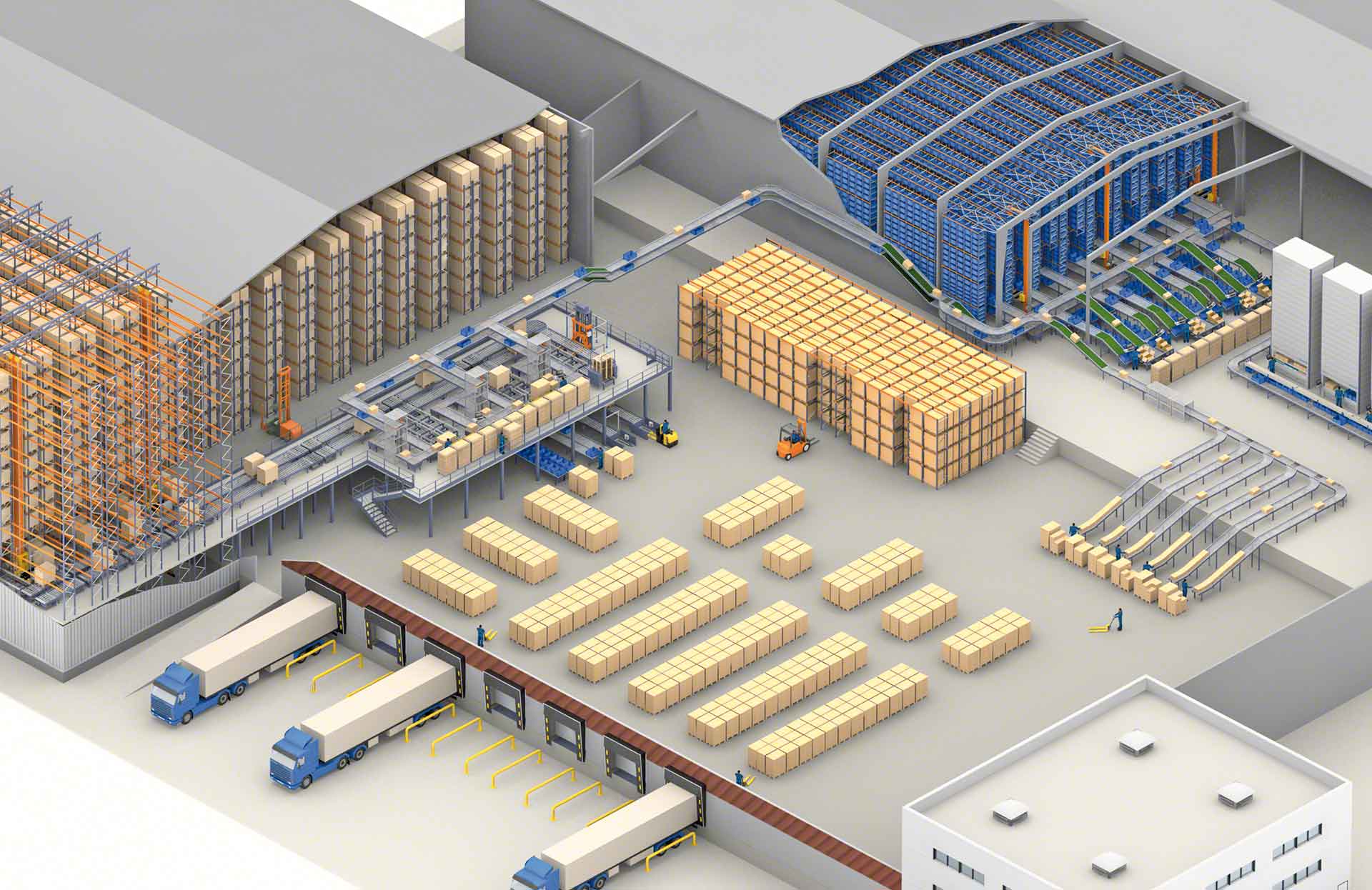 Being an automatic decision-making system and the "brain" of a modern warehouse, it helps to make the system efficient, specifically:
Optimize space occupancy;
Reduce goods storage costs;
Reduce execution time of all warehouse operations;
Reduce the quantity of faulty warehouse operations;
Optimize inventory accounting;
Avoid losses due to limited time of goods;
Reduce human factor dependability.
This system is created for companies that want to get full control of all warehouse operations, equipment and staff.
Architecture of Our Warehouse Management System
When planning the development of the tool, we carefully chose technologies that can meet all the needs and qualitatively implement the ideas of the solution.
The program is built on a three-tier architecture. The server side is used in Java, and the client side is JavaScript as a database to choose from: PostgreSQL, MySQL, Oracle, or MSSQL.
The system has the ability to fully integrate with different enterprise management systems: SAP, Microsoft Dynamics, Magento, 1C, SAGA 2 (Volkswagen), and others.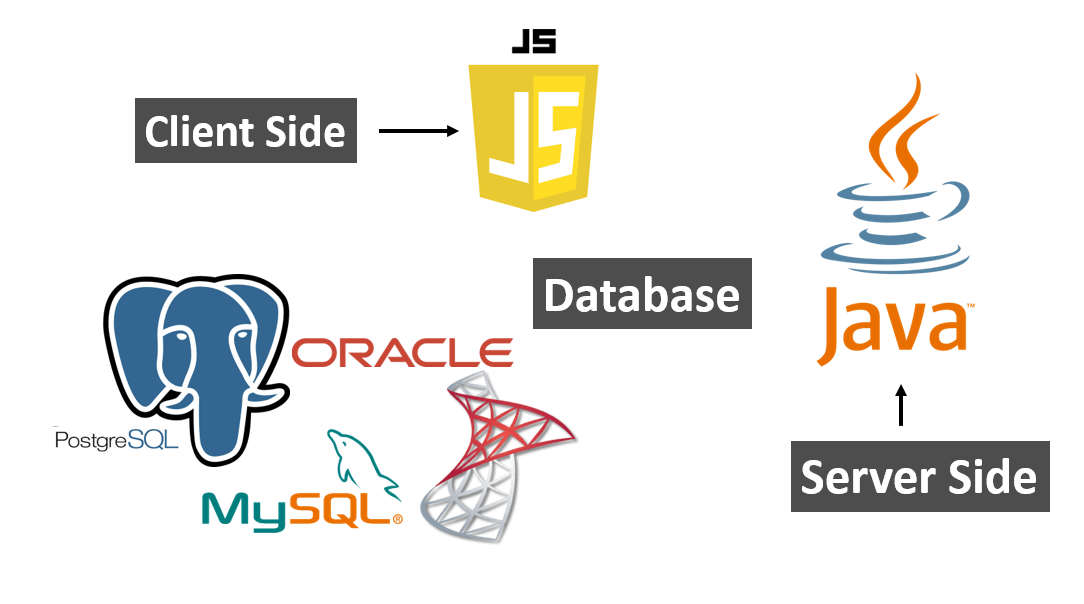 Main Features of Softengi Warehouse Technology System
One of the most important considerations when choosing a warehouse automation system is the availability of the features you need for your business. In WhTech-WMS you will find all the necessary functions that will help you to comfortably operate your warehouses.
WhTech-WMS features:
Support of unlimited warehouse quantity;
Simple production module that allows processing with write-off of specific components and taking on charge of fabricates at each processing stage;
Automatic creation of tasks for placing of accepted goods based on goods placement rules;
Automatic creation of tasks for selecting goods can be executed by following principles:

selection by batch (FIFO, LIFO, manually);
selection by expiry date (FEFO, LEFO, manually);
selection by rating;
selection by maximal extricating;
selection by time minimization;
selection with possible change of measure units for bigger or smaller ones;
selection by pallets;
package selection;
automatic support of the active selection zone (in case there are no goods in the active selection zone).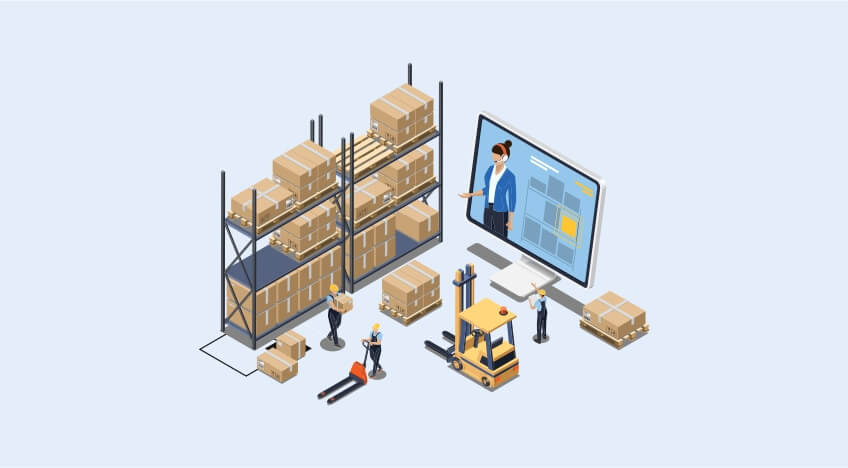 What Will You Get With Our Warehouse Management Software?
With WhTech-WMS you can manage access and always know the location of your assets. It allows you to create custom reports and keep an eye on real-time alerts due to crashes or emergencies, which gives you the opportunity to always monitor and understand the status of your equipment. You will find our tool accessible in both mobile and web versions, as well as one database for PC and mobile apps.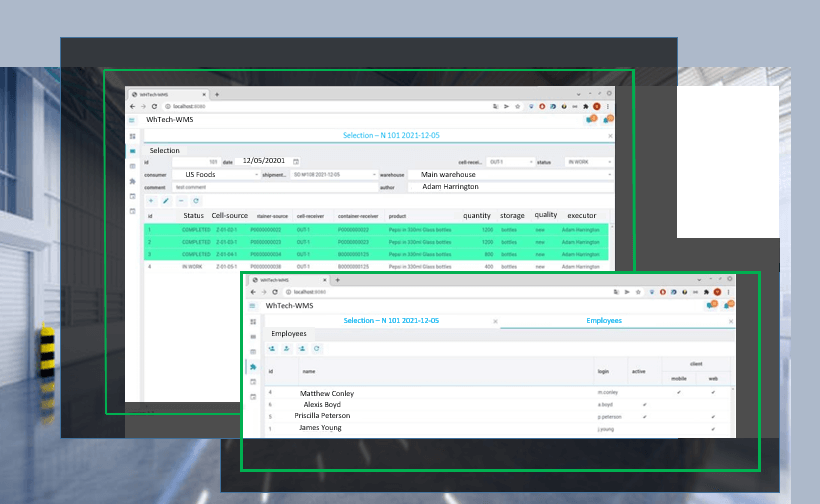 WhTech-WMS Mobile App
With the aim of monitoring the work in the warehouse at any time of day and night, WhTech-WMS has a mobile app, the functionality of which is no different from the web version.
In the application, you will also be able to get access to full functionality, notably the database, as well as the opportunity to view or make necessary changes.
Implementation Options of Automated Warehouse Technology
Numerous successful implementations of the WhTech-WMS system prove that it can be effective for different sizes and types of warehouses – from a small shop-warehouse to a large distribution center or major industrial enterprise warehouse with different spheres of interest.
For automation of a small warehouse, you can use a relatively inexpensive "paper" technology. When implementing the WhTech-WMS system for major warehouse complexes that require resource management (staff, equipment) in real-time mode, we use bar-code technology with wireless data collection terminals.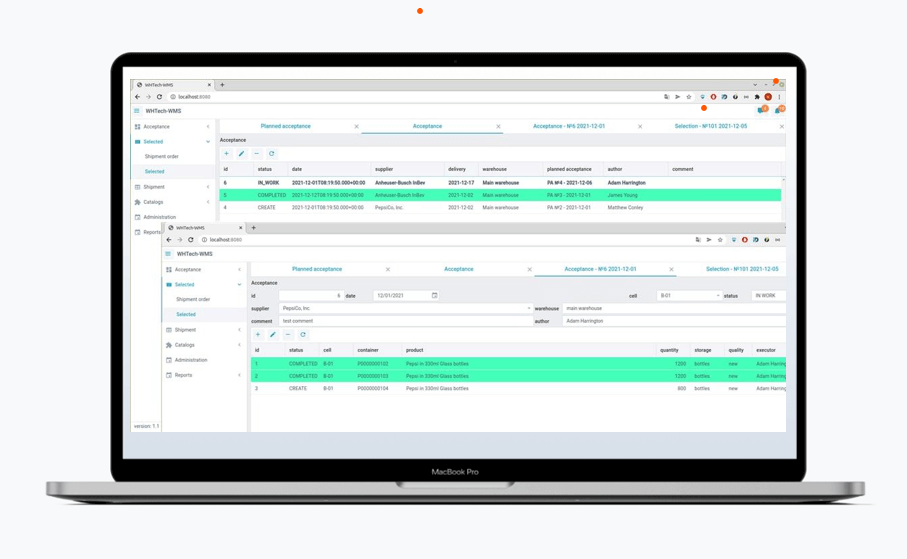 Our Clients Using Warehouse Automation Technology
Our clients are represented by enterprises in different industries and niches, such as the retail sector, online trade, warehouse and transport logistics, industry, agriculture, and others.
A large number of companies from various industries are already using WhTech-WMS. All companies are pleased with the result because of the easy-to-use functionality, the tool features, and the ability to set up the necessary management individually.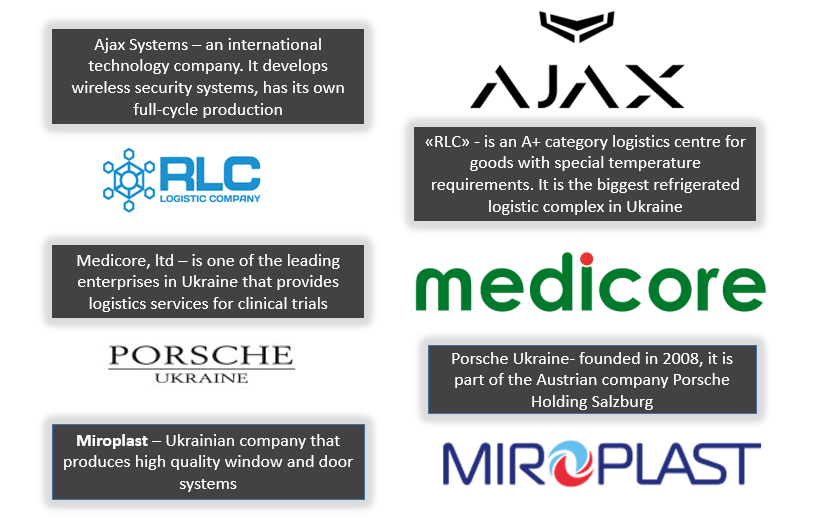 Benefits and Functions of the Warehouse Automation
A specific feature of the WhTech-WMS system is the ease of adaptation for any kind of warehouse complex, its specific objectives, and tasks. All of this is achieved through flexible parameter setups that are implemented without extra programming support.
Main functions of WhTech-WMS system:
Creation of warehouse topology and warehouse inventory accounting;
Acceptance of the goods and slotting;
Selection, packaging, and dispatch of the goods, selection of combined orders;
Inventory auditing without a warehouse work stoppage;
Resources and tasks management;
Bar-codes employment;
Wireless data collection terminals employment;
Integration with SAP, Microsoft Dynamics, Magento, 1C, SAGA2 (Volkswagen) accounts, etc;
Simple production employment.
Perhaps the main advantage is the ability to configure the system and choose exactly those functions that suit the formats of specific warehouses.
If you still do not know how to set up your warehouse processes, then take advantage of our modern warehouse management system. WhTech-WMS helps you get your warehouses up and enjoy a stress-free business process.