Today, the retail industry experiences significant changes in sales, marketing, advertising, merchandising, product promotion etc. New technological advancements have forced retailers to evolve along with it, applying many cutting-edge solutions and top-notch applications. Companies are constantly looking for non-traditional effective ways to retain their customers and generate new ones. The most widely used technology for this purpose is Augmented Reality (AR). AR apps are gaining in popularity, as they are engaging, "sticky", and most importantly – easily accessible to the public masses.
AR apps powered by gamification are a major trend in the retail industry. In 2018, the global game industry revenue reached as much as $43 billion leaving both films and video streaming behind.
Therefore, applying gaming techniques to AR-powered apps is a powerful strategy to expand brand awareness, acquire new customers, and grow sales.
Softengi developed ARCoin on the request of the shopping mall chain representative. ARCoin is an AR app for shopping centers, in essence, it is a location-based mobile game for iOS/Android with embedded AR and Gamification technologies as well as a web CMS system.
The app is a kind of Pokemon Go mobile application. It is a game that applies the phone's GPS to detect where users are while playing the game and make 3D objects "appear" around them (on phone or tablet screen), so the users can go and catch them. As they move around, various digital items, mostly coins, appear. Users play the game, collecting coins and, in turn, receiving discounts, special offers, and even free products. Retailers place advertisements and promotions that pop up when users play.
61% of consumers prefer stores that apply AR applications, 40% are ready to pay more for products, that provide AR experience, and 69% expect retailers to launch AR apps in the near future.
Read more about AR applications and their benefits.
Web Application of AR App for Shopping Centers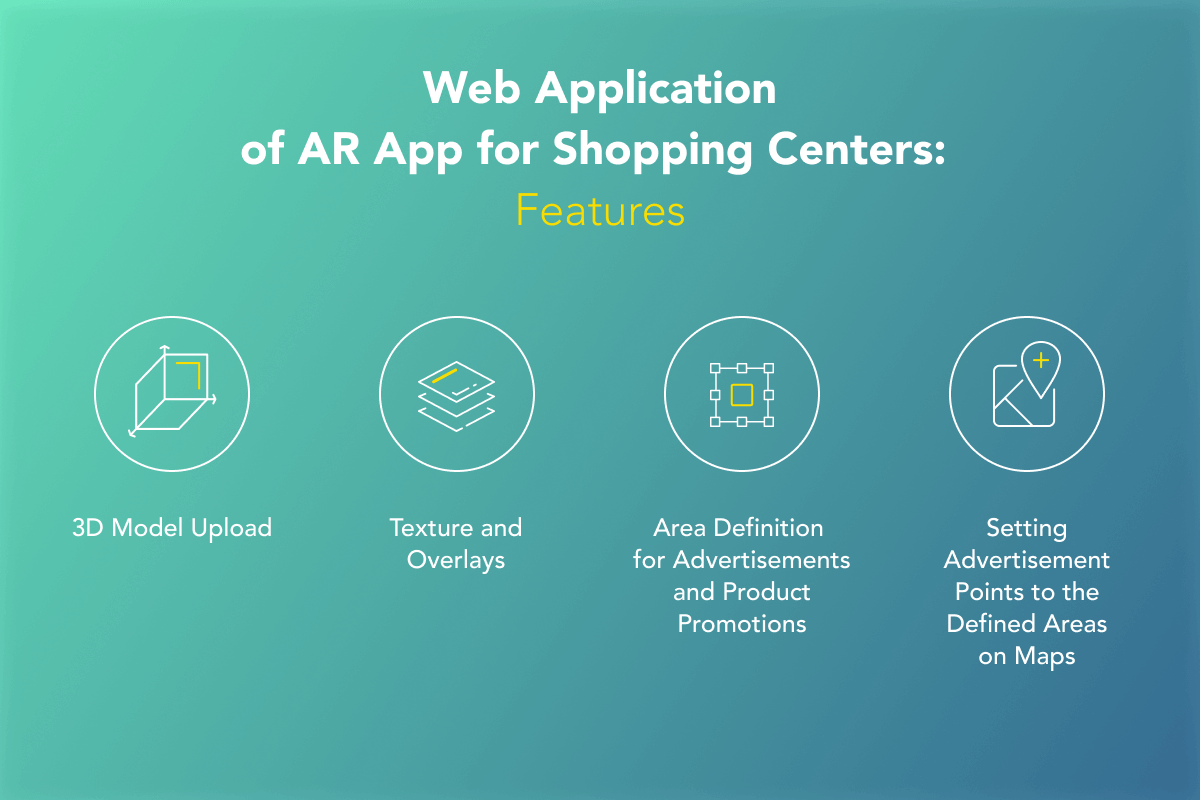 The web application of ARCoin is designed for retailers. They mark out the area where their potential customers will be in while playing the game, and set up ads of their stores, products, and offers.
In addition, users can load their own logo in 3D, so, for example, when customers in the area near your store, the logo of your brand will pop up. You can upload your own brand logo to the game without much effort.
The web application's user can upload logos both in Wavefront .obj and .fbx formats. Additionally, they can attach texture to an object and even merge it with another image for creating item overlays. Each 3d model can have a different look depending on chosen texture and the degree of overlay merging. This may be especially useful in brand promotion or products advertisement.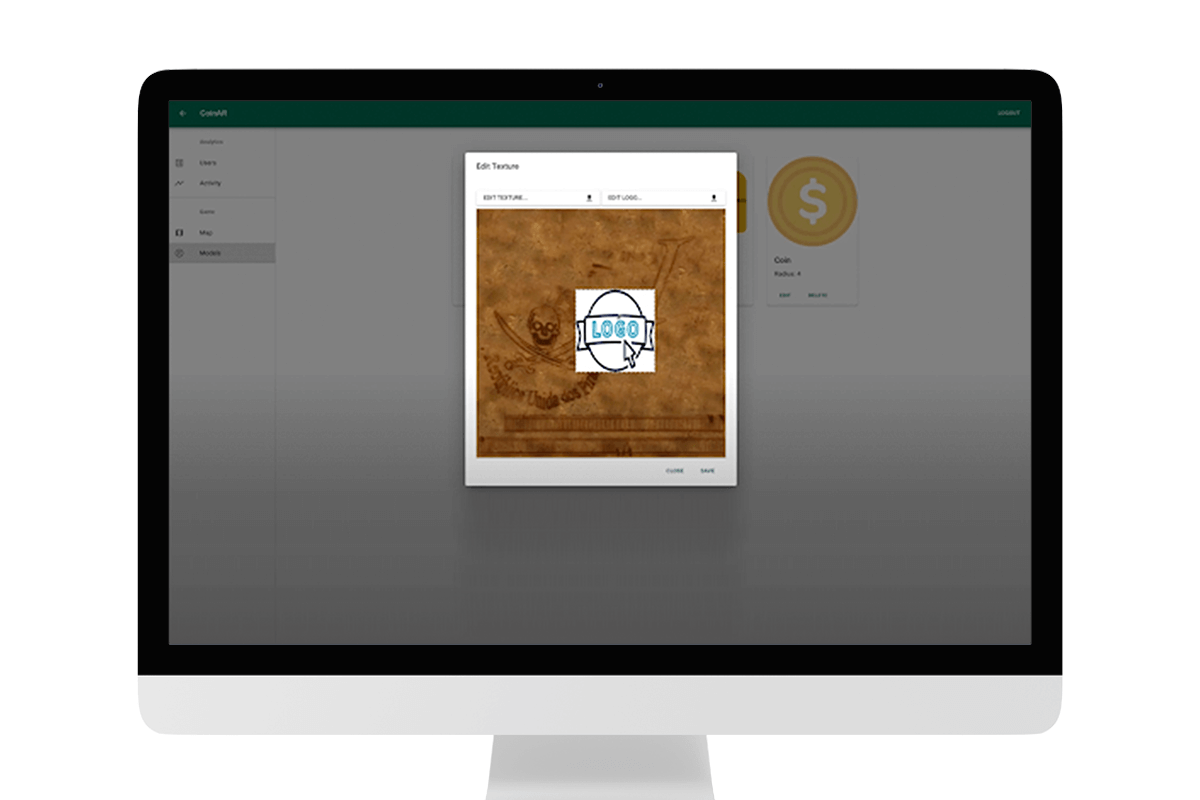 Mobile Application of AR App for Shopping Centers
The mobile application of ARCoin is designed for potential customers and the game players. The users download the app, which offers an engaging AR game with various gamification techniques.
Gamification is the process of incorporating gaming mechanics into non-gaming contexts in order to affect customer behavior. The examples of gamification techniques are loyalty programs, rewards systems,flash sales, and progression bars.
AR App for Shopping Centers embeds AR technologies and gamification mechanics that together provide engaging mini location-games. Users collect game currency, complete levels, receive rewards and in the meantime receive information about stores nearby, existing promotions, and special offers.
Deloitte claims that, with retail gamification software, media and content companies achieved 30% – 40% increase in online customer interactions.
In the mobile version of the AR App for Shopping Centers, users discover various digital objects on the app map via their mobile devices, virtually picking them up. Objects are attached to fixed positions of the real environment, and even have 3D animations with sounds. The mobile application supports both iOS and Android operating systems.
Technologies used: React Native, React Renderer, Three.js.
Read more about AR trends in Retail.
Success Story
The agile development of ARCoin, an AR app for shopping centers has allowed the client company to successfully enter the Arab market, collaborating with many stores and brands. The app has started to be used not only for store advertising and product promotions, but also at large sporting and entertainment events. Today, ARCoin is a popular application in the Arab retail industry.