Today, Virtual and Augmented Realities are the hottest topics in many industries. According to Statista, the augmented and virtual reality (AR/VR) current market is estimated to be $16.8 billion and is expected to grow rapidly in the nearest future, with forecast for 2023 accounting to reach $160 billion.
However, the most promising market segment for AR/VR solution is the retail industry. According to Goldman Sachs forecast, by 2025 the market for AR/VR in retail will reach $1.6 billion. So far, these technologies have been mostly used in the marketing landscape, but the potential of AR/VR is much greater, as it can revolutionize both sides of the retail business – the range of operational processes and the customer experience.
AR/VR/XR Explained
Both VR and AR offer users a completely different experience of immersion in a new reality. While VR creates a completely new digitalized environment, AR augments the already existing reality with digitalized information. Mixed reality (XR), in its turn, utilizes both technologies in practice.
AR or VR
A few years ago there was a huge boom in connection with the virtual reality technologies into the gaming industry. VR was predicted to have a huge potential in many industries besides the gaming field. However, it is the augmented reality, which has always been in the shadow of virtual reality, that happened to be a major disruptor in the modern world.
This can be explained by the mere fact that while the VR applications require special equipment that has not yet reached mass adaptation, AR applications may use any common technical devices, such as a smartphone or tablet, which are used by the majority of the world population.
It is no wonder therefore that although the global augmented reality market was valued at around $3.33 billion in 2015, it is expected to reach approximately $133.78 billion in 2021, growing at a CAGR of slightly above 85.2%, as is clearly seen from the table below.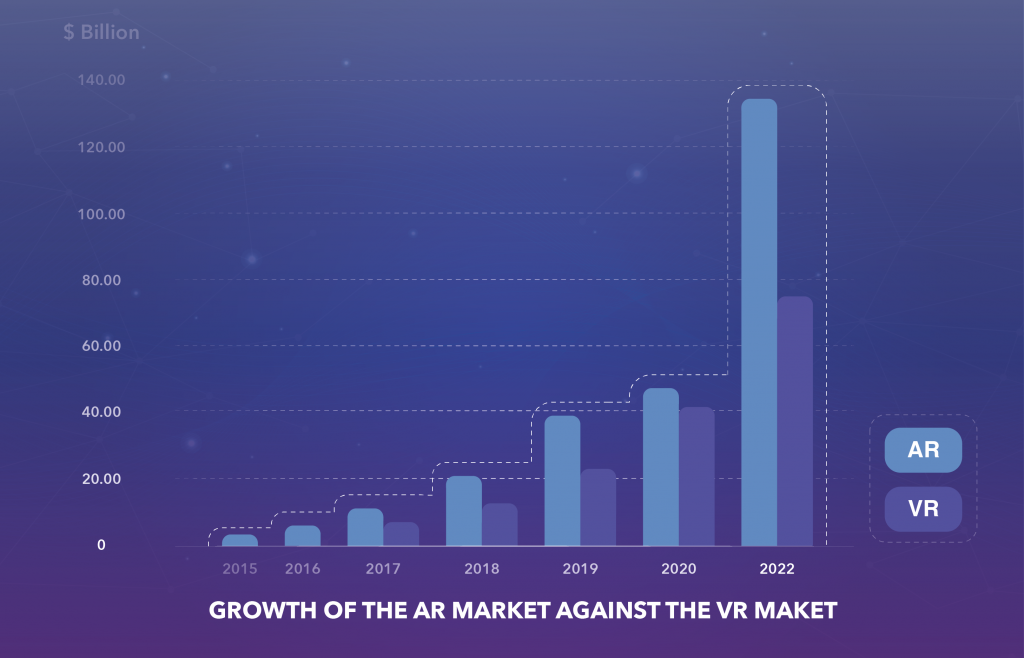 According to Forbes:
«Full-immersion VR works great for telling a brand story or conveying a lifestyle, or for bringing a purely digital experience to life. But ultimately, retailers sell physical goods, and it's going to be the digital augmentation of that physical environment and the products in that environment that will have the real payoff for the retail industry. »
The Retail Industry and Mixed Reality Technologies
The retail industry is one of the biggest market segments in the modern world and the key element in the world's economy. Moreover, it is also the most competitive industry, as the success of any company in this industry depends not as much on the quality level of the products as on its popularity among customers. Therefore, in order to remain successful in the market, retail companies have to confront a tough struggle for customer recognition.
With new technologies have become a decisive factor in the retail business, innovative solutions such as AR- and VR- driven applications are becoming more and more popular. After such retail giants as IKEA, Wayfair, Lowe's began to implement AR/VR technologies, a lot of retail companies have been starting to follow suit.
AR and VR Applications: Catching a Wave
As previously said, AR and VR have great potential in the retail industry. ABI Research forecasts that by 2022, over 120,000 stores will deploy AR, and the technology is predicted to account for as much as 3% of eCommerce revenue within a year or sooner.
Here are some of the most prominent use cases in retail.
In-Store AR Navigation
AR-driven technology offers retailers a new way to navigate their customers within a store. AR in-store navigation is a mobile app, which provides users with an AR routing, showing them where the desired object is located as well as suggesting an optimized shopping route. Additionally, such apps with gamification elements may lead customers not only to the desired product, but also to some gifts, discounts, or other surprises.
American home improvement brand Lowe's was one of the first to introduce its In-store navigation app. With AR technology applied, customers simply input objects into the search bar and then their camera-embedded devices (mostly mobile phones) guide them to the right area by overlaying the needed directional prompts.

AR Analytics
Another great application is the AR overlaid product information. The idea behind this application is that the potential buyer points his or her phone at any product and use the camera to see detailed information about this item. The needed information at customers' disposal can significantly affect their decision-making process. The app allows comparing similar products on the basis of selected criteria, thus affecting the customer's decision-making process and making it easier to reach a decision.

"Try-before-buy"
As more and more retail businesses are incorporating AR/VR-driven technologies into the customer experience, the concept of "try-before-buy" expands significantly. At present these technologies have been applied for such goods as clothes, makeup products, housing and furniture fittings. For instance, AR mirrors in stores allow customers to try some clothes without doing it physically. Customers come onto an AR-embedded mirror, which scans the customers' posture and overlays their mirror reflexion with a digital representation of the desired product, mostly make-up goods, shoes or clothes.
Furniture Fitting
Looking for a required piece of furniture is always a challenging task. Buyers need not only to find the item they like but also to make sure that it fits both in size and style of the interior of the house. With AR-driven app, customers do not have to experience all these difficulties any more. AR mobile app allows users to place a digital full-size representation of selected products into a respective interior.
One of the furniture giant- IKEA- has already launched its own AR app, which lets customers see exactly how a furniture item would look and fit in their homes.
"IKEA Place lets you place true-to-scale 3D furniture in your home using the lens of your iPhone camera," explains Michael Valdsgaard, the Leader of Digital Transformation at Inter IKEA Systems B.V. "You see the scene as if these objects were real and you can walk around them and interact with them, even leave the room and come back. It's really magic to experience."
VR Housing Experience
VR technology opens a new kind of opportunity for potential buyers of houses or apartments, that are not yet built. With VR-powered technologies, retailers can create an exact model of a house or apartment and offer their customers to visit it in the digital world.
Softengi's real estate app offers users a chance to dive into one of the apartments of interest with a VR headset on. The VR model is built off a house or apartment which is in the building phase and is able to reconstruct the whole model of the house, including even small details of the interior.
VR Showrooming
However, what will definitely disrupt the dealership market is virtual showrooms. Stores no longer need to buy expensive and heavy products for sale. With VR glasses, a completely empty room can turn into a showroom full of a variety of goods. The good example is the Audi virtual showroom in London. The famous auto brand allows its customers to experience a virtual environment, where they can drive their dream cars in the 1-1 scale. Additionally, by deploying a high bar for the VR visuals, Audi makes it possible for its clients to go through all possible car configurators so that they can create their ideal car easier.