As consumers become more sophisticated and competitors tend to be more inventive, Augmented Reality Retail solutions rise in popularity, penetrating various stores and transforming the shopping we are used to. In the future, your customers will no longer purchase goods by perusing a catalog but instead will select a product type—be it a dress, pair of socks, a vehicle, or a bedside table —and then virtually adjust it, achieving the perfect dimensions, color, and style of whatever they are looking for.
With Augmented Reality, customers can try on, try out, and interact with products in any environment—from the comfort of their own homes to a random street. All these are possible with Augmented Reality retail technology.
By 2020, 100 million consumers will shop in AR online and in-store, according to Gartner, Inc.
"Retailers are under increasing pressure to explain the purpose of physical stores and take control of the fulfillment and return process for cross-channel execution," said Hanna Karki, principal research analyst at Gartner. "At the same time, consumers are progressively defining the value provided by the experiences they receive from retailers. As a result of these pressures, retailers are turning to AR and VR to offer customers a unified retail experience inside and outside retail stores."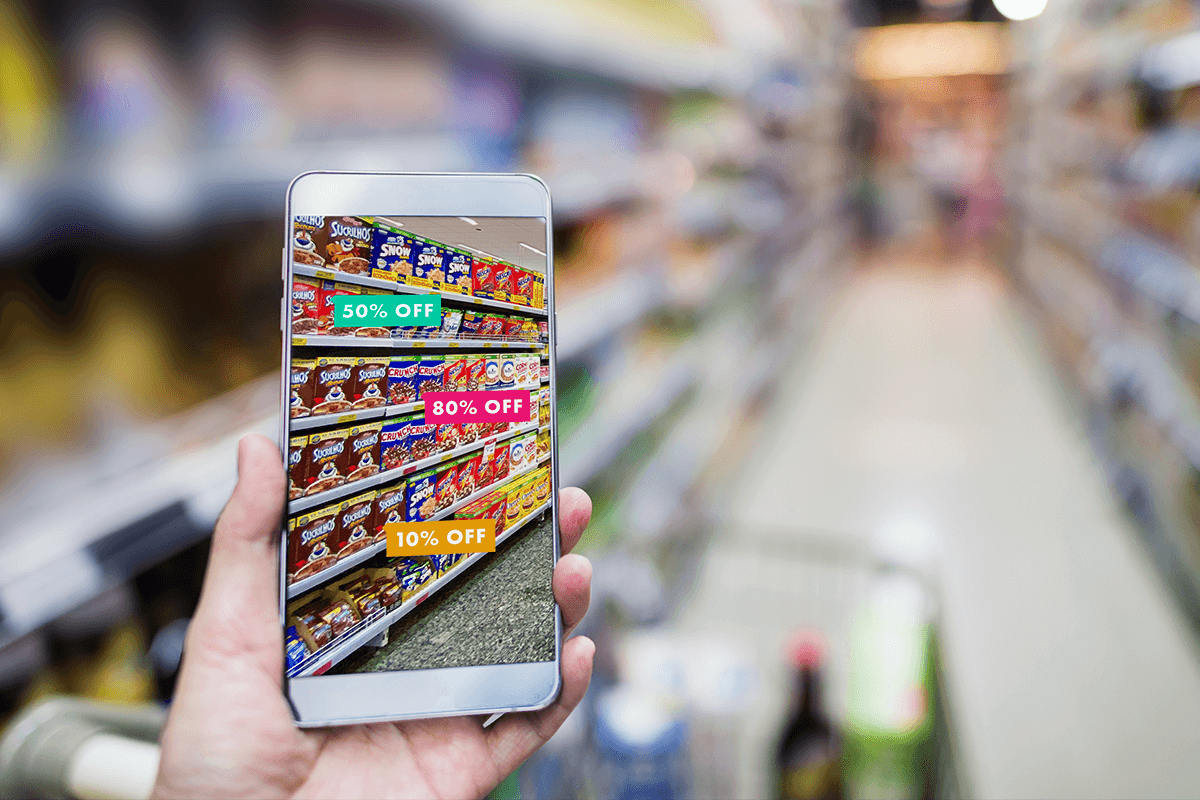 10 Applications of Augmented Reality Retail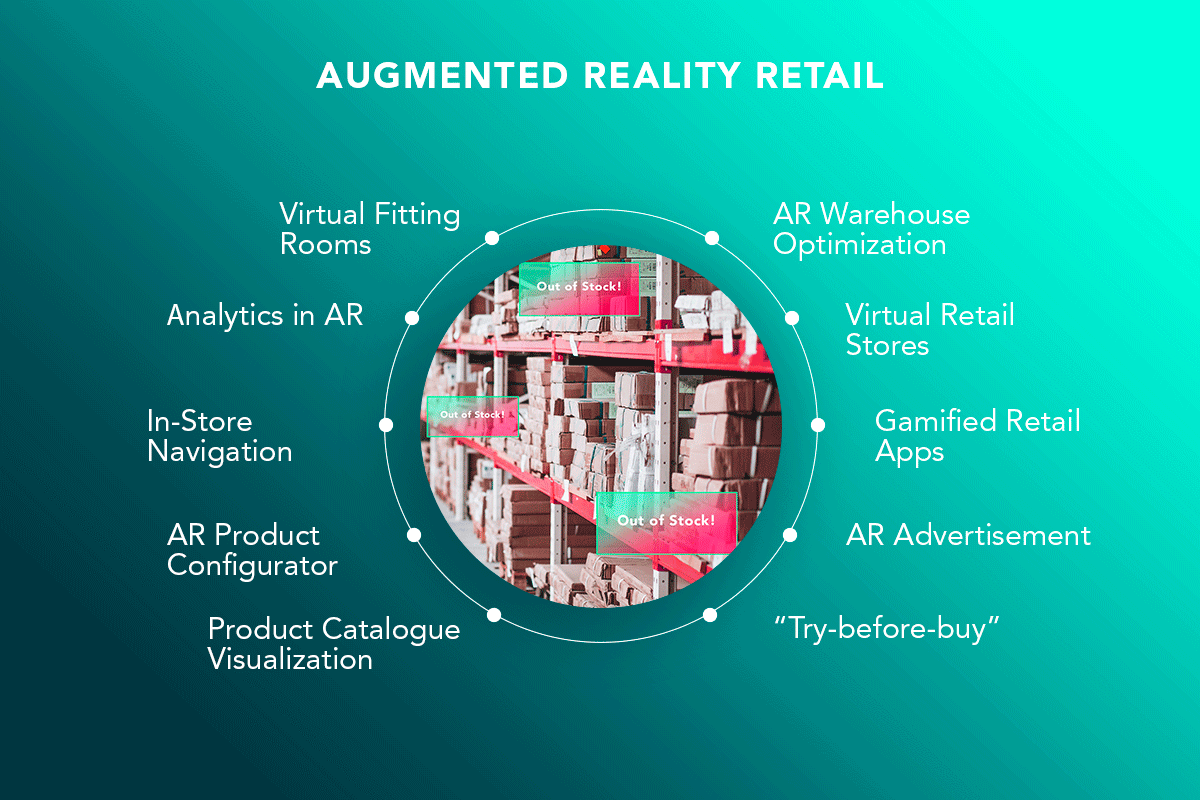 Virtual Fitting Rooms
A recent study by PC Magazine and Statista showed that consumers are willing to experience XR in the buying cycle.
One of the most engaging and trendy applications of AR retail solutions is Virtual Fitting Rooms. When a customer enters an AR fitting room, the screen mirror recognizes the chosen garments due to the chip embedded in it. Then, the customer interacts with the mirror by selecting appropriate accessories, changing color, and adjusting size. As a result, the AR fitting room eases the work of sales consultants and saves time for customers, encouraging them to make more purchases.
For instance, Topshop applies some AR fitting mirrors in its stores. The AR-driven mirror-screen superimposes clothing on customer reflection, enabling customers to adjust everything with easy gestures and on-screen buttons.
Read more about AR trends in Retail.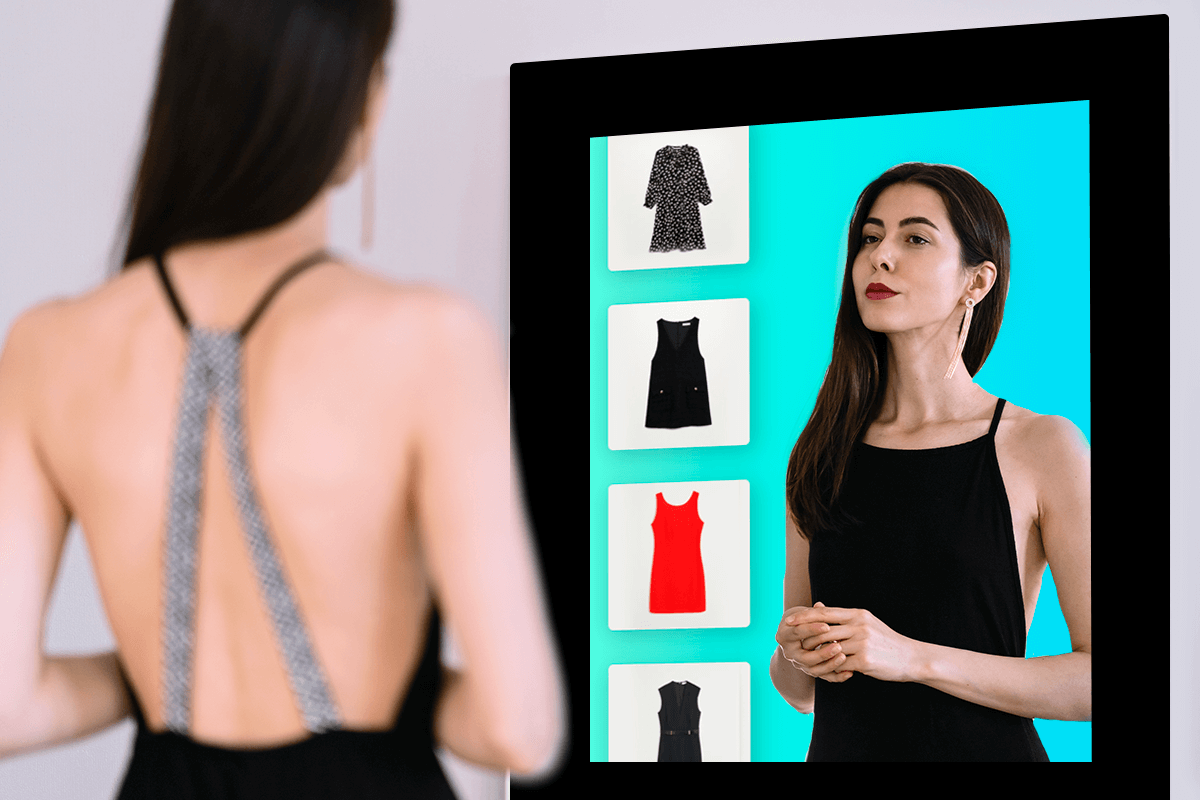 AR Warehouse Optimization
AR technology also found its use in retail warehouse management, enhancing space utilization and bolstering supply chain operations. AR technology allows to create interactive 3D layouts of warehouses, enabling retailers to optimize warehouse space. The authority can get comprehensive information on the warehouse layout with the proposed modifications incorporated by wearing an AR glass.
Moreover, AR offers efficient warehouse navigation, reducing search and delivery time. Using smart glasses or a smartphone, the employee opens a list of the items to pick from. Then, the AR software analyzes and finds the chosen product by processing the up-to-date warehouse layout data, creating the most convenient and fast route to the needed item. Once the route is created, the app navigates to the location. As an example, DHL has been applying AR technology for vision picking in its warehouses for a long time now.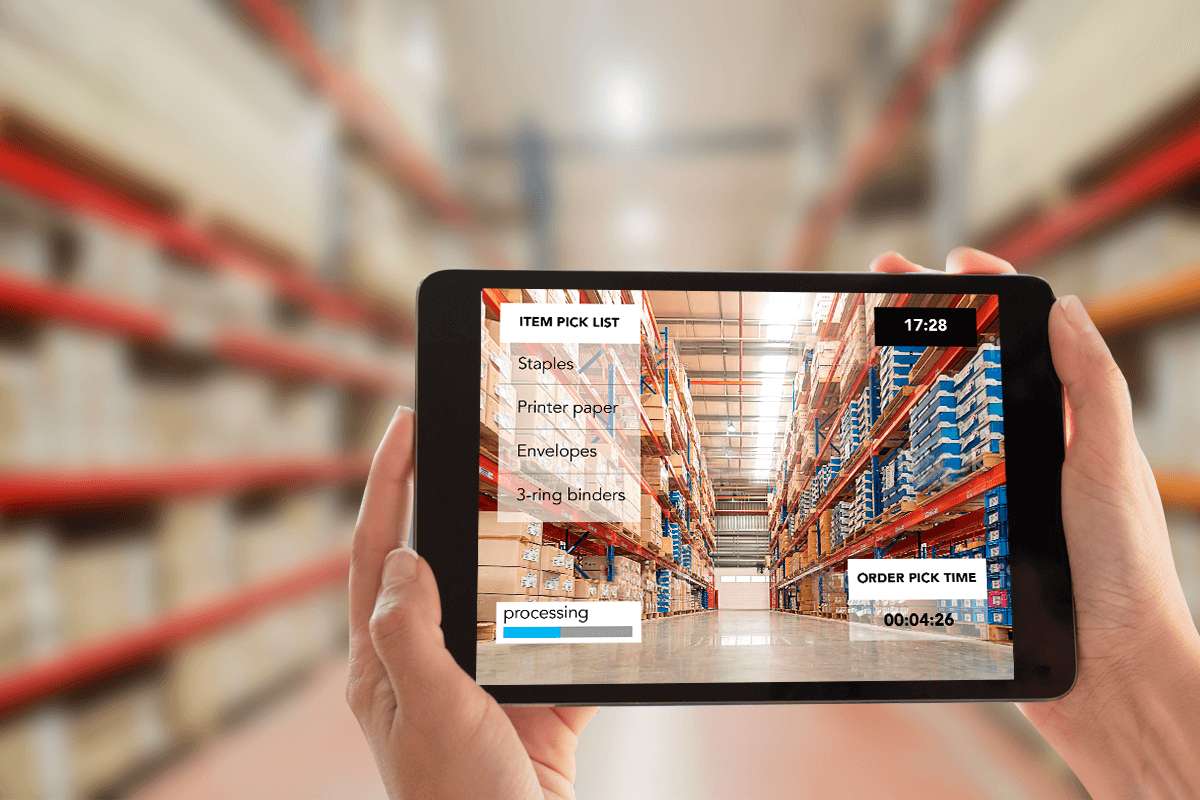 Virtual Retail Stores
Augmented Reality Retail solutions allow us to merge traditional shopping with e-commerce. With AR technology, an empty room becomes a virtual store where customers can digitally experience product assortment. Alibaba has already embraced the concept its consumers can explore a digital store, virtually selecting and examining items before deciding to purchase them.
Gamified Retail Apps
Shopping becomes more engaging with Gamification on par with AR. In 2018, the global game industry revenue reached as much as $43 billion leaving both films and video streaming behind. Therefore, applying gaming techniques to AR-powered apps is a powerful strategy to expand brand awareness, acquire new costumers, and grow sales.
For example, Adidas has introduced sneakers with an Augmented Reality experience built in. The shoes have an AR code on their tongues. When customers scan the code with their phones, they unlock the Adidas originals neighborhood, turning the shoes into a play controller.
Read more about Gamification in Retail.
AR Advertisement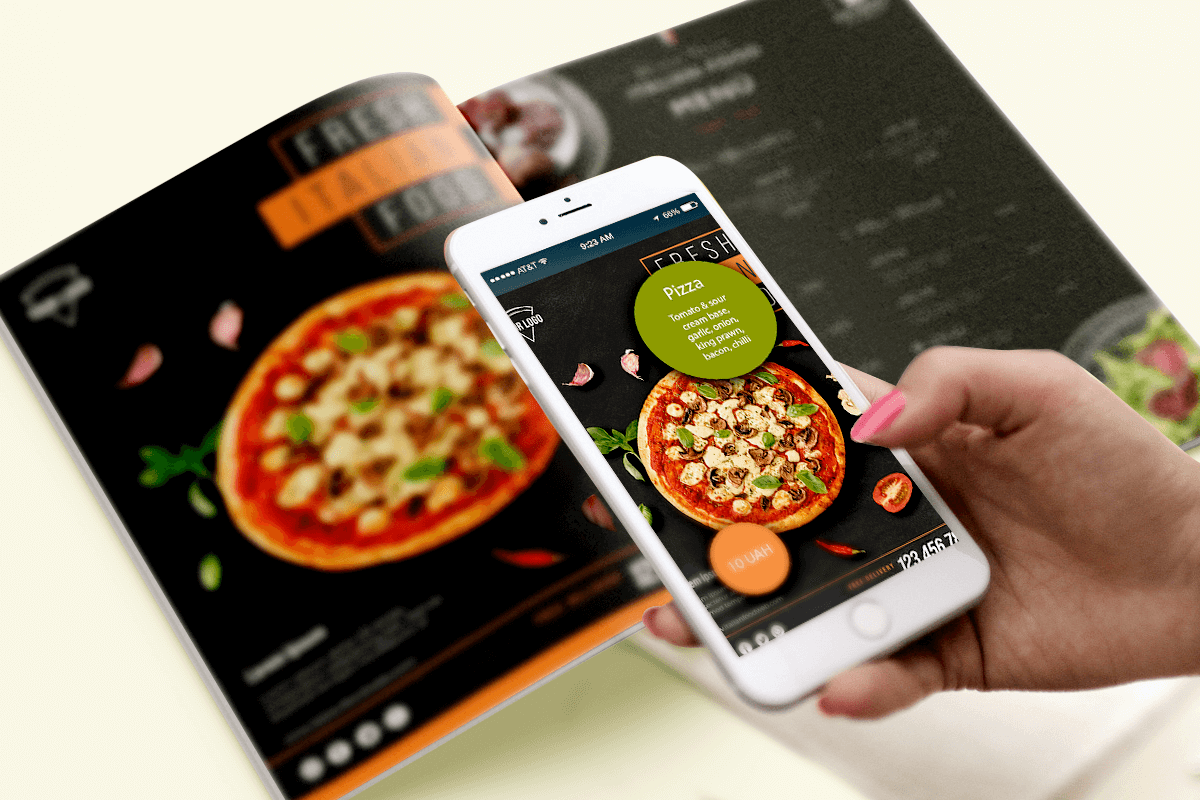 As customers become increasingly sophisticated, the advertising industry is forced to embrace cutting-edge technologies to attract new audiences while retaining existing clients. AR-embedded advertisement enables viewers to see vivid content in 3D.
Snoqualmie Brewery, a Washington-based brewery, created AR interactive labels for their product – the American Pale Ale Sno Falls. Buyers look at the bottle; they see a static scene of a waterfall. But, with AR, viewing the same image with a mobile device allows users to see vivid additional content, watching how packaging comes to life. As a result, retail companies entertain their customers, drawing attention to advertised products.
Read about the Softengi AR advertisement project.
"Try-Before-Buy" 
Customers no longer need to visit physical stores to try or test desired products. With AR, they can do it in a more convenient location for them just by using their mobile phones. Be it clothes, makeup products, housing, and furniture fittings, the AR concept of "Try-before-buy" is applied to all types of products.
An AR app Nike Fit allows users to measure their feet and get recommendations for best-choice Nike shoes, just with a smartphone. The "Try-before-buy" app considers foot shape, shoe materials, the lacing or stitching pattern, and personal preferences and then tells users exactly what size they have in any shoe Nike makes.
Product Catalog Visualization
Another prominent Augmented Reality retail solution is product catalog visualization. With the ability of AR to overlay digital content in the real environment, AR can accurately visualize products in full size at any location. IKEA has its own AR app, which allows customers to see exactly how a furniture item would look and fit in their homes.
"IKEA Place lets you place true-to-scale 3D furniture in your home using the lens of your iPhone camera," explains Michael Valdsgaard, the Leader of Digital Transformation at Inter IKEA Systems B.V. "You see the scene as if these objects were real, and you can walk around them and interact with them, even leave the room and come back. It's a true magic to experience."
Product Configurator
AR Product Configurator is a unique solution that allows configuring product design, adjusting color, shape, and size, making the product highly customized. Users can build, modify, and interact with company goods in real time, placing them in any environment.
GAP has launched its DressingRoom app, which lets customers select a virtual 3-D mannequin that comes in different body types and heights, on which they can experiment with various looks, adjusting them as wanted.
Read about Softengi AR Product Configurator.
In-Store Navigation
Among the top Augmented Reality retail applications is in-store navigation. With AR-driven mobile app, users are provided with an AR routing, which shows them where the desired object is placed, as well as suggesting an optimized shopping route. Moreover, such apps with gamification elements may lead customers not only to the desired product but also to some gifts and discounts. Lowe's In-Store Navigation app guides customers through its store by overlaying the needed directional prompts. 
 61% of consumers prefer stores that apply AR applications, 40% are ready to pay more for products that provide an AR experience, and 69% expect retailers to launch AR apps soon.
Analytics in AR
Analytics is a BI tool, that allows retail companies to gain insights into customers' preferences and the company's performance. The Analytics system analyses many external and internal data related to sales, inventory, and customers and then provides valuable information. Due to AR technology, the system visualizes ingested data in charts, tables, descriptions, numbers, and other visual materials, making it easy to understand.
Conclusion
The outbreak of coronavirus hit the retail industry, forcing many stores to close down. In order to keep on track, retailers are pushing for alternative solutions on a massive scale. One of the major cutting-edge trends is AR. Augmented Reality Retail applications allow to meet customer demands, increase sales, and enhance operational efficiency. Retailers, who focus on customer experience and respond with agility and innovation to consumers' demands, face rapid business growth, spreading business awareness, and rising revenues.