Before offering any innovative technologies to our clients, we test many of them ourselves. We see a digital transformation not only as the mission but as our core philosophy. When facing complex operational issues, we solve them using our technical expertise. This is how we created an augmented office solution that combines the best modern technologies – IoT & XR – to provide our own employees with an incredibly comfortable experience.
In essence, it is an IoT-powered digital twin (which means it collects information using temperature, CO2, and humidity sensors) that can be unlocked with the help of a user-friendly mobile application. Here are a few more words about the technologies that empower our augmented office:
A digital twin is a 3D replica of any facility created in augmented reality mode. This means that the user can see a 3D model of the whole office using a smartphone or a tablet;
IoT-powered smart office means a physical office enhanced by the sensors that collect the most vital information about it: visitors, temperature, humidity, CO2, and transform this information in analytics.
This solution was created for all the employees of our office who were forced to work remotely: business employees, real estate managers, and administrators. Any person using this smart space solution will find his/her own benefits. A user persona is at the center of the experience of this solution.
How can this solution help employees? For instance, a business development manager has a number of routine tasks at the office:
Booking a place at the office;
Checking the availability of a colleague from another department;
Arranging meetings with a colleague in a free meeting room;
Starting a video call with any colleague;
Reporting about the problem.
This is a typical workflow of the employee experiencing a virtual office from any place in the world: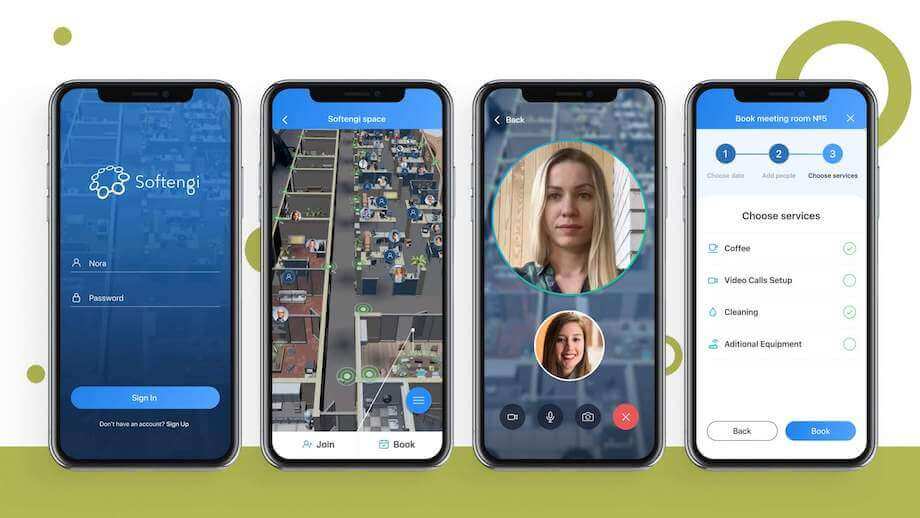 For the office manager who is responsible for the effective consumption of resources, this smart space solution gives additional benefits: a clear picture of the office usage, occupation, and resource consumption at any given moment and in a historical perspective. Using a mobile application with a smart space solution in it, an office manager gets the chance to:
See problems that appear in the office, such as a water leak or an intrusion instantly;
Analyze the occupancy patterns change on a daily basis using IoT analytics dashboards and heatmaps;
Locate all the employees at the office at any given moment of time;
Monitor security issues;
Arrange meetings and book internal spaces.
How the Workflow for the Office Manager Might Look Like
One of the most important innovative features of our smart space solution is gamification. We have implemented a number of game mechanics to make the user experience more engaging and interactive. Benefits of the Smart Space, which combines digital twins + IoT-powered smart spaces for the organization:
Effective and comfortable control via mobile devices, which are accessible to anyone;
The possibility of integration with future technology (AI, VR);
100% accurate digital replica of the facility;
The possibility to analyze the occupancy and the usage of the facility on historical and real-time data;
Integration of complex data structures down to asset level, integration of data from various sources, such as IoT;
Management of connected IoT devices from multiple providers;
A large amount of data (terabyte) management;
Predictive analytics regarding occupation and usage on the basis of historical data;
Faster insights;
Simulations on the changes, occupancy, and facility usage;
24/7 data availability;
Integration with the data enterprise systems and any 3rd party data;
Absolute device security;
Improvement of daily employees' productivity and visitor experience (e.g., access, room & desk booking system, wayfinding, parking, F&B, etc.)