The Oil and Gas industry is a demanding sphere regarding possible risks. The equipment utilized in the process of oil & gas distribution is subject to various threats and corrosion, including physical and environmental stressors. Companies that extract and transport oil and gas need to control the physical state of the equipment, its location, time of usage, and potential risks. IoT solutions can solve the majority of problems in this sector.
One of our clients, who chose to be undisclosed, addressed us with the request to offer a reliable IoT solution for asset tracking in the Oil & Gas industry. We offered our client to solve this problem using three Oil and Gas asset management software solutions:
RFID tags
QR codes
GPS trackers
All these technologies can be used interchangeably depending on the needs of the clients and the environmental conditions.
2022 IoT in Oil & Gas Use Cases and Applications
IoT for Oil and Gas Asset Tracking
RFID tags, QR codes, and GPS trackers are some of the most notable applications of IoT in Oil and Gas. Usually, such technologies are used together with specialized asset tracking software that processes and visualizes collected data.
So, let's take a look at IoT technologies used in the Oil and Gas industry to monitor equipment, detect potential incidents, and automate other operations.
RFID in Oil and Gas Asset Tracking
RFID is one of the most popular identification methods today applied in agriculture, utility, oil & gas, and manufacturing business sectors. They give 100% accurate identification because each tag in the RFID system is assigned a unique ID. 
Robust, ruggedized RFID tags not only allow rapid and accurate inventory visibility but can also store the maintenance history of the asset. This system has a wide variety of tags that can withstand the harsh environments that oil and gas assets are subject to, including extreme high and low temperatures, high pressure, moisture, chemical exposure, mechanical impact, shock, and vibration. Several tag mounting mechanisms are available, including adhesives, welding, or riveting.
Using simple scanners, the company's employees can efficiently research and record any data connected to the equipment. Our web-based application with a user-friendly interface also includes a special engine that enables the configuration of rules and alerts. For our client, we created explosion-proof certified scanners, which are especially important in high-risk environments such as oil rigs. 
One of the major advantages of RFID tags for asset management is the simplicity of their wide utilization: handheld scanners can be used by anyone without long training sessions. Asset management mobile software assists field personnel in performing their daily operations in an efficient and proactive manner. Such software is installed on various mobile devices: RFID handheld readers, smartphones, and tablets.
RFID handheld scanner. Industrial RFID reader with a 2D scanner designed for reading RFID tags and barcodes. It is used in retail, warehouse logistics for data collection, goods tracking, and document tracking up to 10 meters away from the tags. Alternatively, RFID can be read with the help of gates that are installed at the entrance of any premises( a warehouse, an office, etc.) This means that RFID tags can be read in bulk. 
Exchange data with devices via Wi-Fi, 4G, 5G, Bluetooth, USB.
Oil and Gas Equipment Tracking with QR Codes
QR codes are a habitual and really popular method of identification that can also be widely applied in the oil & gas industry as well as in retail, logistics, etc. In essence, QR codes in IoT are machine-readable 2D barcodes that provide users with valuable data about certain assets. QR codes are highly valued for their possibility to provide users with more information than simple ID numbers. One of the major benefits of QR codes is the possibility to include more information regarding equipment.
Another benefit of QR codes is their reliability. QR codes don't vanish with time and are preserved intact even under stressful environmental conditions, such as high temperatures or humidity. QR codes should be read separately, which requires some additional time compared to RFID tags. However, this procedure ensures higher accuracy and security if it concerns valuable equipment. QR codes can also be applied with the help of special equipment. QR codes are status tags which means that they are activated only when they are in contact with the equipment that can read them.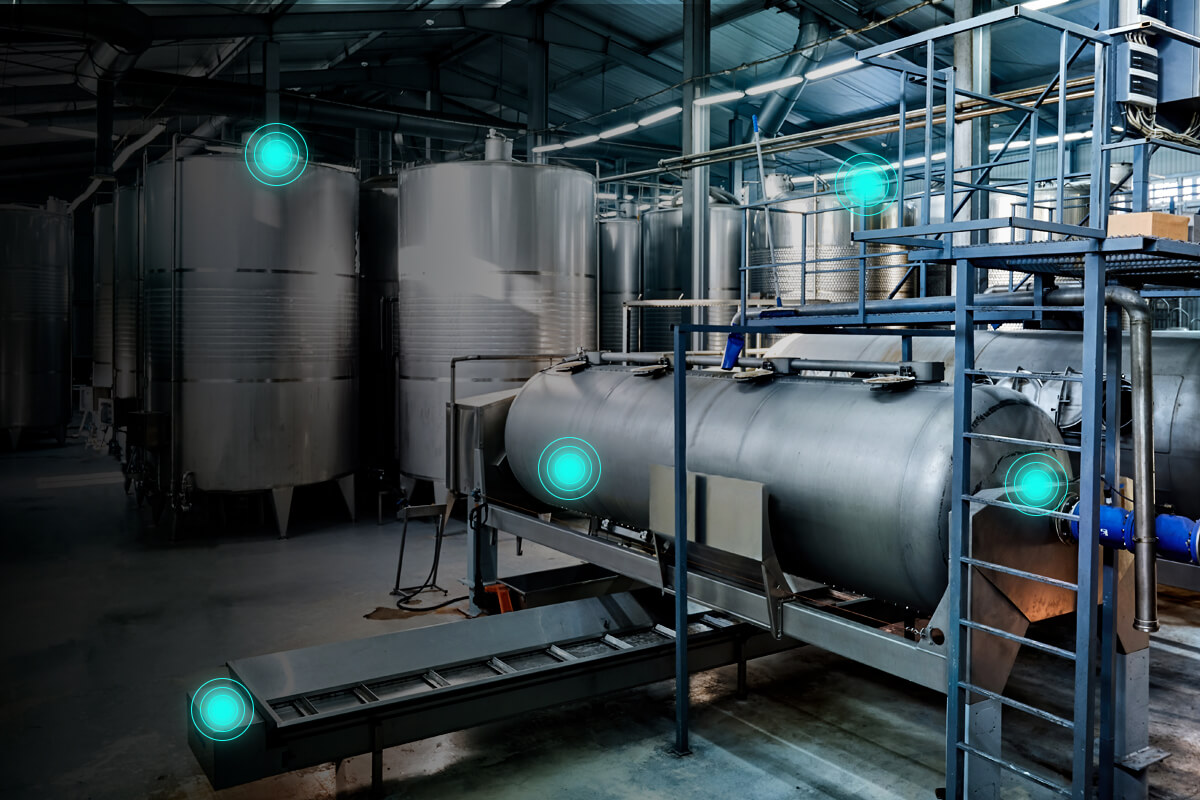 GPS: Oil and Gas Trackers
Unlike RFID and QR codes, GPS trackers are not static identification management devices. Using GPS signals (Global Positioning System), these trackers help to locate a person or an object with maximum accuracy in minimum time. Using GPS trackers is more effective in receiving information about objects' location and movement history, possible misuse, or alerts.
The benefits of asset tracking with the help of GPS include but are not limited to:
Long battery life;
High accuracy of periodic or movement-based tracking;
Easy installation;
Flexible configuration.
Many Oil and Gas companies choose GPS trackers when working with valuable assets, such as equipment, vehicles, containers, trailers, etc. Thus, the application of GPS technology in asset tracking is unimaginable. An oil rig tracker is just one of the industry-specific examples.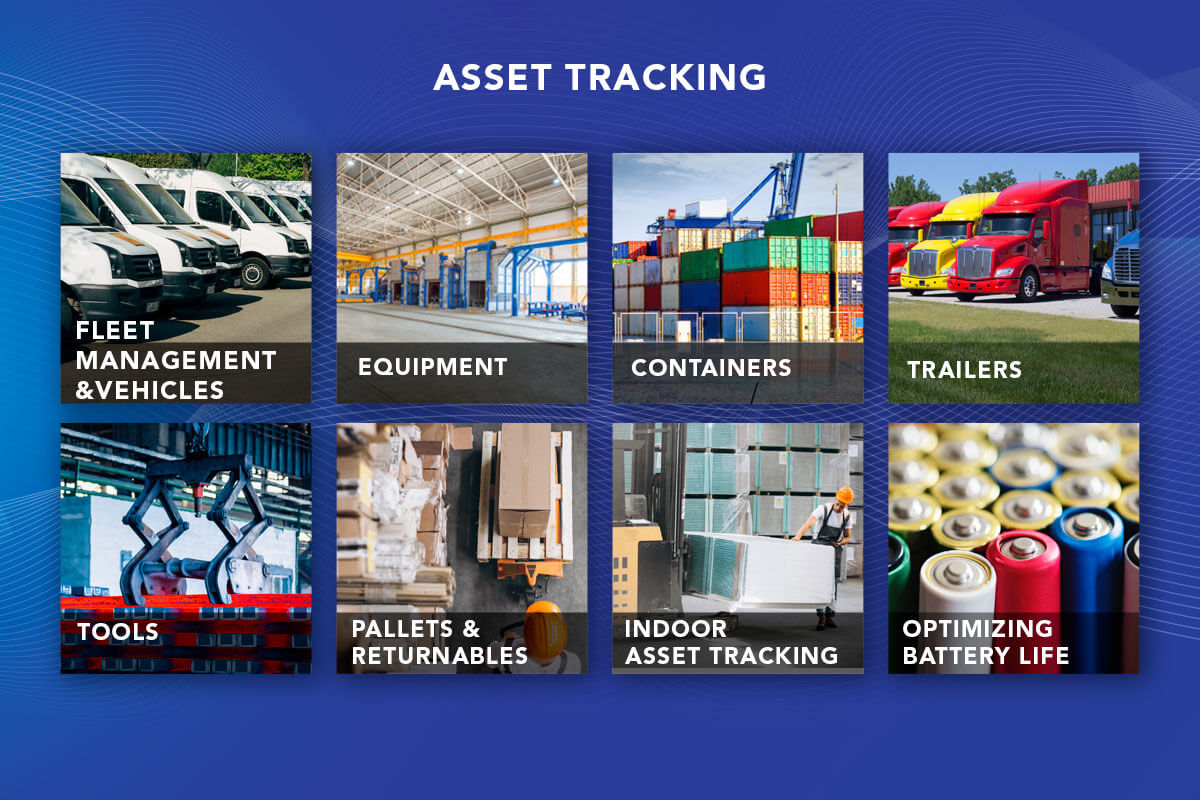 Web App for Data Visualization
Regardless of the method of data accumulation (RFID, QR codes, GPS sensors), it is important to visualize this information in a user-friendly manner. Our web and mobile applications serve this purpose the best.
With the help of web-based applications, users are able to:
Know where all assets are located at any given moment;
Know which assets require maintenance or regulatory testing;
Get alerts if assets were not returned to the warehouse;
Receive alerts if any asset is not working properly.
As for Oil and Gas, IoT software can collect and visualize vital information. For example, such systems help detect malfunctions in pipelines or oil extraction equipment. Such data will automate the prevention of oil leaks and other incidents.
Implementing IoT solutions for asset management is a decision in a post-COVID world, where human contacts are limited, and there is a need to transfer information fast. Market leaders from different business sectors, such as Amazon or DHL, implemented these technologies several years ago. Most big companies who need to manage huge volumes of products at the warehouses choose IoT sensors today. They exclude the possibility of human errors, improve overall transparency of warehouse management, decrease operational time, and maximize profit.

Contact us to discuss developing a custom asset-tracking solution for Oil & Gas and other industries.