Soon, the biggest technology event – Web Summit 2017 – will be held in Portugal. Representatives from various High Technology developed countries will attend this summit. Proudly, Softengi will be represented by Mr. Andrey Kovalev, who has developed very strong business relations during the past year with North American Businesses. Shortly before his trip to Lisbon, we asked him what are his reasons and expectations for attending this unique event. We also asked him if and how his future plans and goals would be influenced by this summit.

I consider such events as a unique opportunity to follow the latest trends in IT and even get closer to the world of technological breakthroughs.
"You attend international tech events pretty often. Why do you do this?"
I would put all my reasons in 5Bs:
Be aware of the latest trends;
Be on the lookout for competitors and new customers;
Bring new technical challenges to your team;
Bring the latest innovative solutions to improve the business of our current customers;
Bring Softengi to potential clients.
I consider such events a unique opportunity to follow the latest trends in IT and even get closer to the world of technological breakthroughs.
I'm sure you have heard about The Fourth Industrial Revolution – a tendency so well described by Klaus Schwab. It's really impressive how innovations regarded as total fantasy in the morning and already in the afternoon of the same day are already being accepted as ordinary and taken for granted.
In our time, technology is developing in minutes in comparison to what my tutor Mr. Francis Fairman described to me how he vividly remembers the development of the Third Industrial Revolution (1960 – 2000) taking place over a period of four decades. Today, it happens in minutes! It's exactly at leading tech events – like this summit – where we can get to know about such technological innovations or even take part in the development of some of them.
"In a few weeks, you will be at the Web Summit in Lisbon – why is it worth it to attend?"
The headline of the event speaks for itself: "The largest tech conference in the world"! Attending such huge events is like diving into the ocean's depths – you are up to the hilt in the ecosystem of innovations, and waves throw you from one breakthrough idea to another. It's amazing.
You know, after such events, I usually feel some spark and begin sharing this creative spirit with everyone: customers, partners, team members. I'm sure it will be the same way with the Web Summit.
"What do you personally expect from this year's Summit? Do you have a "To Do List" for the event?"
I'm absolutely eager to get new outstanding ideas and new networking opportunities. I have already scheduled some meetings with people interested and stay open for new acquaintances and thoughtful discussions!
I'm also looking forward to attending speeches of the leading IT evangelists Werner Vogels, Stewart Butterfield, Garry Kasparov (I can truly recommend his book "Deep Thinking: Where Machine Intelligence Ends and Human Creativity Begins?").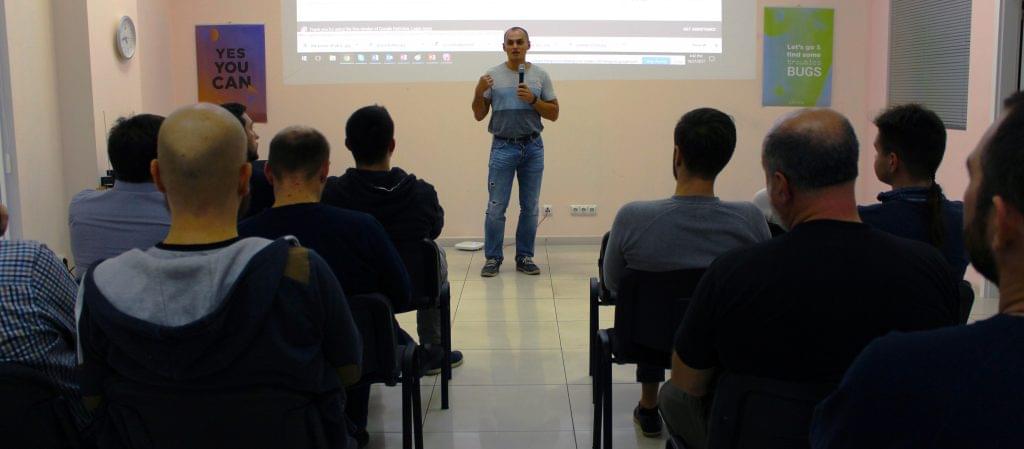 "Why does a technology company with over 20 years of experience in the market go to the event for SMB?"
Within our 20 years of activity, we have had pretty diverse experiences. We have been cooperating with big enterprises, assisting startups in the technological implementation of their ideas, and also have performed as technology partners for governmental organizations. It's always the unique business idea requiring exceptional technological experience to be realized that matters to us. To this extent, the Web Summit is the accumulation point of unparalleled business ideas and the best technology partners for it.  
"We are talking about the largest gathering of tech leaders in the world, which finds answers to the most pressing issues. What topics are you interested in most of all?"
There are a lot of them, and they are pretty diverse. Some of them continue to be cutting-edge for a number of years. In Lisbon, I would like to listen to and discuss topics on Predictive Analytics, Digital Personalization, Alternative energy, Pattern (voice and image) recognition, IoT for smart houses, Platform as a Service, Content Control Software, Enterprise mobility management, Ecological GRC systems. 
"What's the main use for you attending such tech events? Name the next ones you are planning to attend."
Tech events are always about exchanging new ideas, sharing knowledge, finding new contacts. There are already a few dates marked with red in my calendar for 2018, so I will definitely attend the most important events in the IT industry.
Among them: Slush – the world's leading startup event, taking place soon in Helsinki; Collision – America's fastest-growing tech conference in New Orleans; SVOD – Technology Investment Conference in Silicon Valley.
You can arrange a meeting with Andrey at the Web Summit via LinkedIn connection.