"AI is one of the most important things humanity is working on. It is more profound than, I dunno, electricity or fire" — Sundar Pichai, CEO Google
Computer vision for quality control in retail has a wide variety of applications, and more businesses experiment with these technologies using image recognition or object detection functions. Some people may use these terms interchangeably but they actually have different purposes. What opportunities do these technologies provide to retailers?
With the image recognition for retail, sales managers can determine the right product from the catalog using a mobile application;
Another example of image recognition for retail: warehouse workers can determine the SKU of products automatically to fix the problem if the item was misplaced;
Object detection for retail: determination of the empty shelves with the help of indoor cameras. This is the case that we will describe more accurately.
"Empty Shelves" Problem with Object Detection
Statistically speaking, 85% of our clients contact us if they need to automate certain operations. Technological automation and optimization save time and consequently reduce costs for a business. In the case of our client, a middle-sized European retailer who chose to remain confidential, the challenge concerned inventory distortion.
It turned out that the company was losing clients often because of the inventory distortion: the shelves of the store were often empty, and it took time to find staff and products to substitute the missing goods.
The "out-of-stock" problem is familiar to all retailers. In fact, they are said to lose almost $1 trillion in sales because of this. Most often, "out-of-stock" problem includes "empty shelves," inability to find sales managers, wrong price or wrong objects, etc. Most of these problems can be solved with the help of top-notch technologies, such as Computer Vision, which is, in essence, Artificial Intelligence.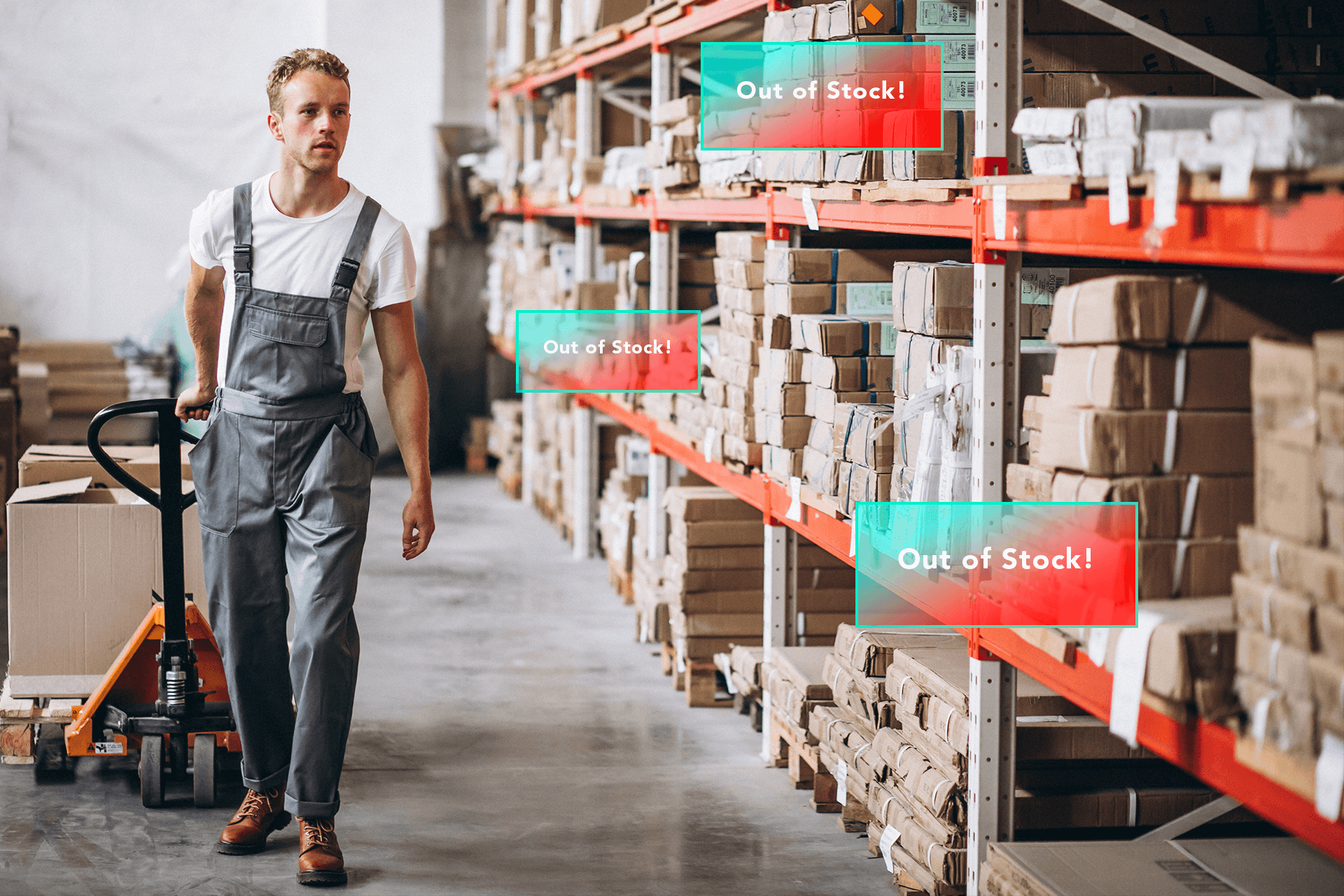 What Technological Solution Do We Offer?
Camera/ mobile camera. First of all, we offered to use cameras installed in the stores in order to use video with 100% efficiency. It's not a secret that every retailer has cameras today. Using video analytics, retailers can offer more effective services for their clients or solve many issues similar to out-of-stock;
Web/mobile application with the categorized catalog of all the goods available in the stock;
Cloud Storage. A mobile app would be connected to the cloud storage in Amazon (we use both Amazon and Azure cloud services) so that all the information could be stored securely remotely without making a mobile app slower or less responsive; 
Computer Vision + Machine Learning ( it's possible to refer to these two technologies as Artificial Intelligence or AI);
Integration with the Procurement System. The application is also integrated with the procurement system, which gives a user the possibility to find the producer of the required product and order the fulfillment automatically.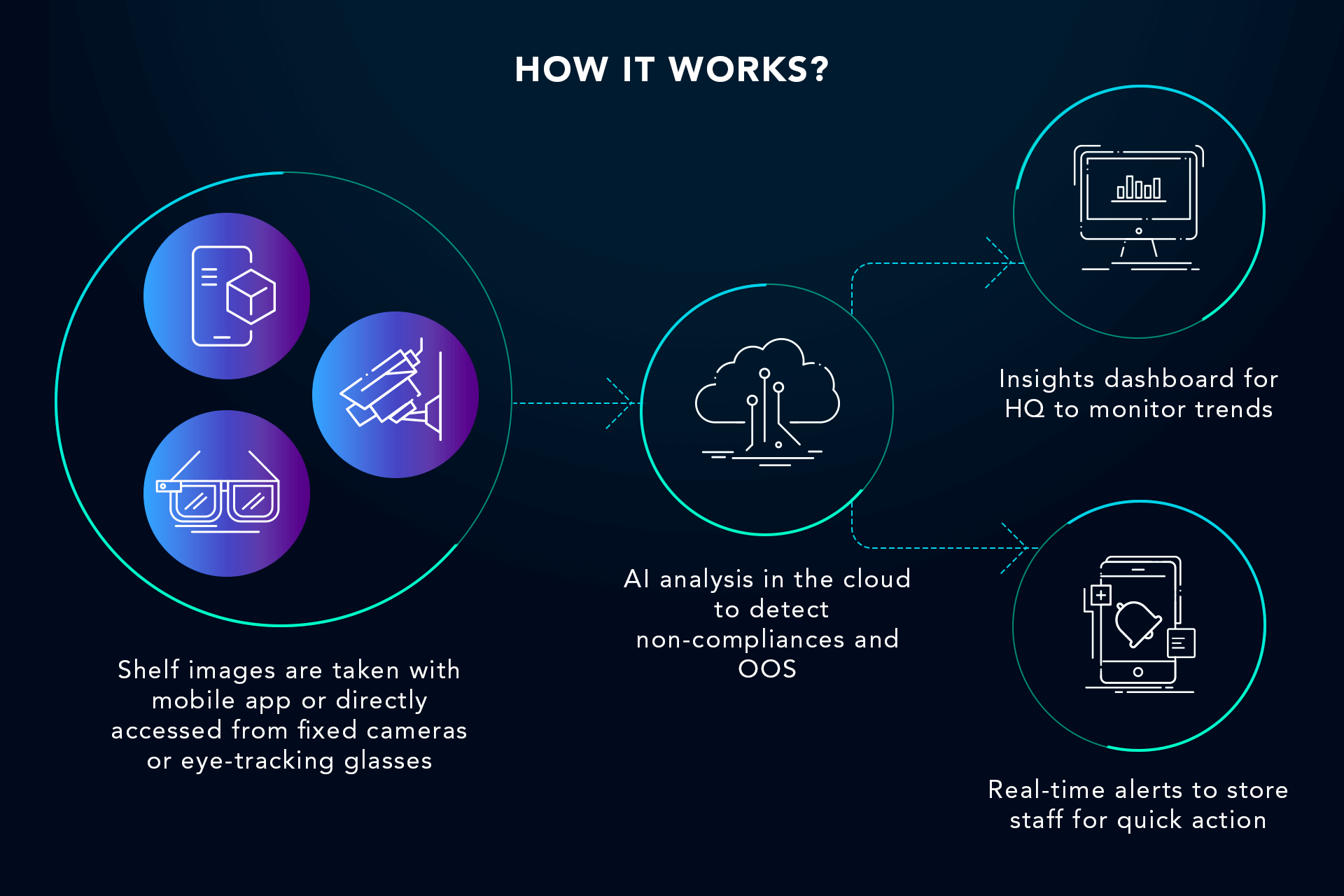 Computer Vision for quality control has a very broad degree of applications in retail and manufacturing. Read the Forbes article of our CTO, Ilya Gandzeichuk, dedicated to this topic to learn more.
Computer Vision for Quality Control Examples
Marking recognition. Computer Vision and Machine learning can improve the work of employees in warehouses and shopping malls who spend a lot of time on the identification of goods. Manual operations during this task lead to simple human errors and financial problems.  Today, computer vision systems can easily cope with this task thanks to automated barcode (and other types of marking) reading systems.
Items Management. Using machine vision (or computer vision), it is possible to teach machines to differentiate between items and, thus, to sort them properly.
Fake/counterfeit product detection with the help of computer vision + machine learning. Using AI technologies, it is possible to determine counterfeit products, such as drugs or watches, with 99% accuracy. More than that, the system that will spot counterfeit/fake products will be learning with more data, thus improving the accuracy of the determination. Computer vision retail opens new possibilities for businesses, helps reduce costs, and improves productivity and clients' services.