Remote Assistance for the German Equipment Manufacturer
Manufacturing is a synonym for progress, yet it still takes time and open-mindedness to start solving old-school manufacturing problems with top-notch digital solutions. Fortunately, many manufacturers take this risk and reap good fruits. Increasing productivity, reducing the time of equipment maintenance, and choosing more cost-effective solutions.
Here is our recent bright case of the digital transformation in manufacturing that helped our client to improve the key figures in productivity, efficiency, and profit. It is a European manufacturing company which produces deep drilling machines, the name of our client can't be disclosed because of NDA. Inadequate warehousing and transportation costs for the equipment made the CIO look for alternative solutions, and that is how the company found us, Softengi. We were able to offer solutions that could also solve another pain point of the company – a lack of experienced specialists for the complex support. 
We advised our client to implement Remote Assistance – a Mixed Reality application capable of enhancing the company's productivity in marketing & sales and operations. That is how a digital twin of this piece of equipment was created, a 100% accurate 3D replica of a deep drilling machine that can be viewed with the help of a tablet or mixed reality glasses.
More than that, it turned out that there were not enough skilled engineers and workers to operate new models of heavy machinery, which is why we built a Remote Assistance based on the digital twin. Long commissioning time of the new models of machinery has also become a serious problem. This problem was solved with the help of bright interactive visual annotations, real-time consultation, 
All these problems were solved with the help of a hands-free mobile application for technical staff for advice and remote diagnostics. The benefits of Remote Assistance were indisputable:  
Real-Time Consultation with the top experts. Users got the chance to consult experts from anywhere;
Chat-based work orders for Accurate and Timely updates;
Flexibility and customization;
Sound & video streaming;
Visual annotations (there are hundreds of methods of information visualization: simple bubbles for the area selection, bubbles located above certain parts of the equipment);
Recognition of parts of equipment using QR codes.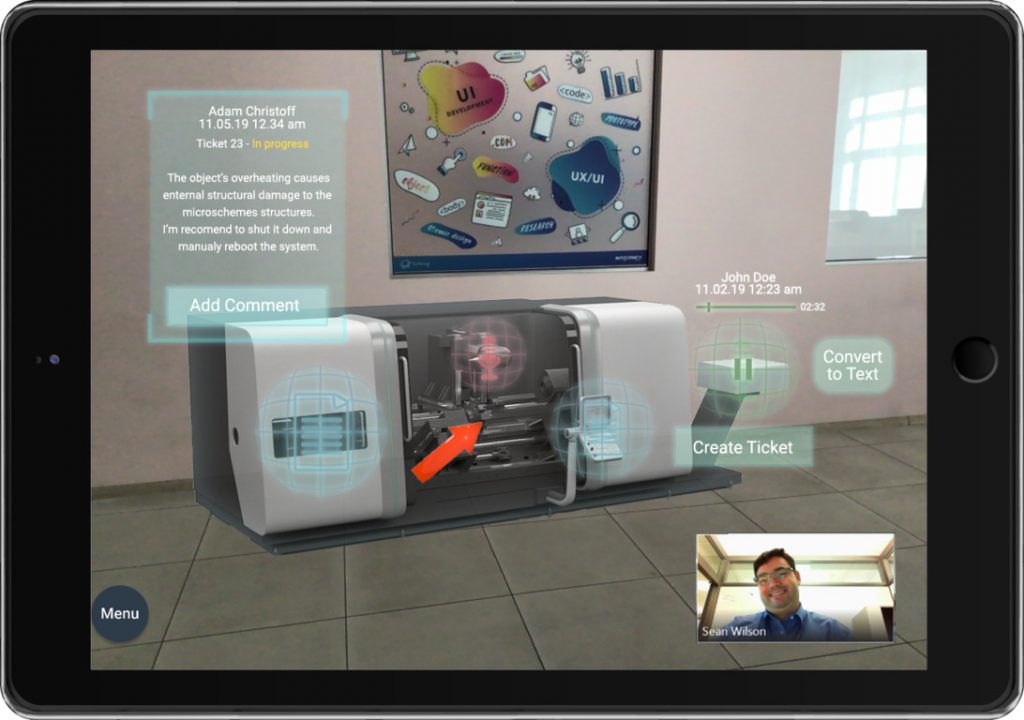 Here is what the Remote Assistance for the deep drilling machine equipment looks like in reality. We tested this app, connecting to one of the specialists from another continent, and it turned out that online consultation can be conducted without any delays or glitches.
Visual annotations and the possibility to see all the parts of the equipment from all sides enhance the level of comprehension of information and its retention in the future, even for the non-technical stuff. For the technical stuff, results can be amazing.