Digital transformation 4.0 was supposed to unfold gradually but Covid catalyzed it in just a year. In the conditions of the pandemic, procurement and sourcing were transformed dramatically as it turned out that additional resources and new approaches are required to sustain them.
According to Deloitte, AI is one of the technologies that can make sourcing and procurement more transparent and cost-effective. That is why many clients want to develop AI-powered custom procurement systems that will meet all their business requirements and expectations.
Nectain, a Dutch tech company, approached us for help to develop outstanding procurement software, which will incorporate the most advanced technologies into it. As a result, Softengi created an AI-powered e-procurement system making it smart, efficient, and highly automated.
Challenges in Procurement
As one of the most complex business areas of retail, procurement requires a lot of resources from companies to be effective. In order to successfully correlate all parties, monitor adherence to all agreements, and successfully meet deadlines, retailers invest in procurement a lot and keep hundreds of employees on board.
Among the main procurement challenges that Nectain's smart solution aimed to meet are:
Poor supply chain visibility;
Market extensive risks and potential frauds;
Budget overrun;
Agreements and terms compliance;
Data management.
Nectain knew the retail's pain points in procurement and decided to develop a product that helps to automate procurement processes and save companies' resources. 
Success Story: AI Software for Procurement Management
Softengi heeded all wishes and requirements and started to develop top-notch software for a procurement management system that would be able to solve the most common challenges with the help of Artificial Intelligence.
To ensure the versatility and efficiency of the solution, Softengi embedded it with augmented analytics, machine learning technology, and a Data Mining system. As a result, Nectain's procurement solution enhances the effectiveness of users' routine procurement operations, increases the speed of the procurement processes, and reduces costs on sourcing management.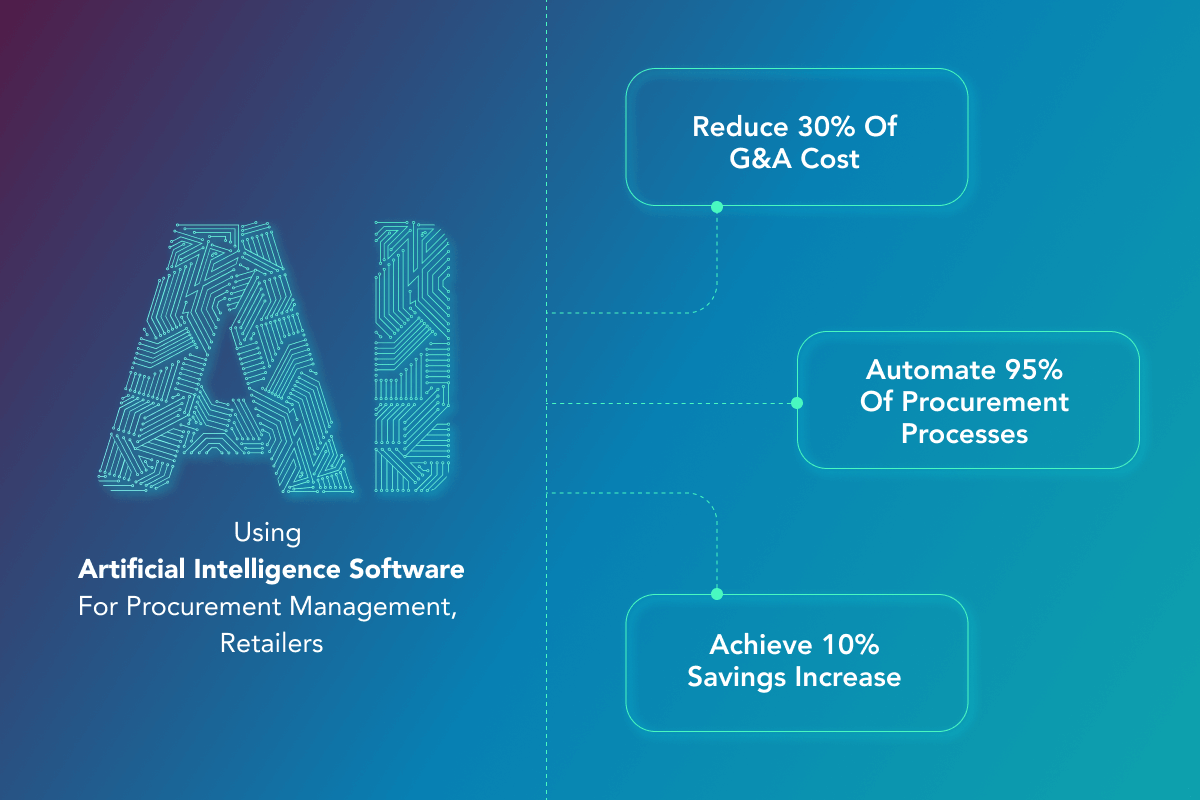 Types of AI in Procurement
Technologies used:
Machine Learning, which allows to automatically process huge amounts of incoming data, is applied mostly for e-planning, sourcing planning, and e-payment;
Natural Language Processing that helps to work with textual data improving queries search;
Data Mining, which enables the system to detect hidden patterns in data, is used in e-category and e-inventory;
Augmented Analytics, which offers valuable insights into procurement operations, is applied for e-analytics, e-contact, and e-category. Augmented analytics combines the capabilities of NLP and ML to help users that are involved into decision-making process.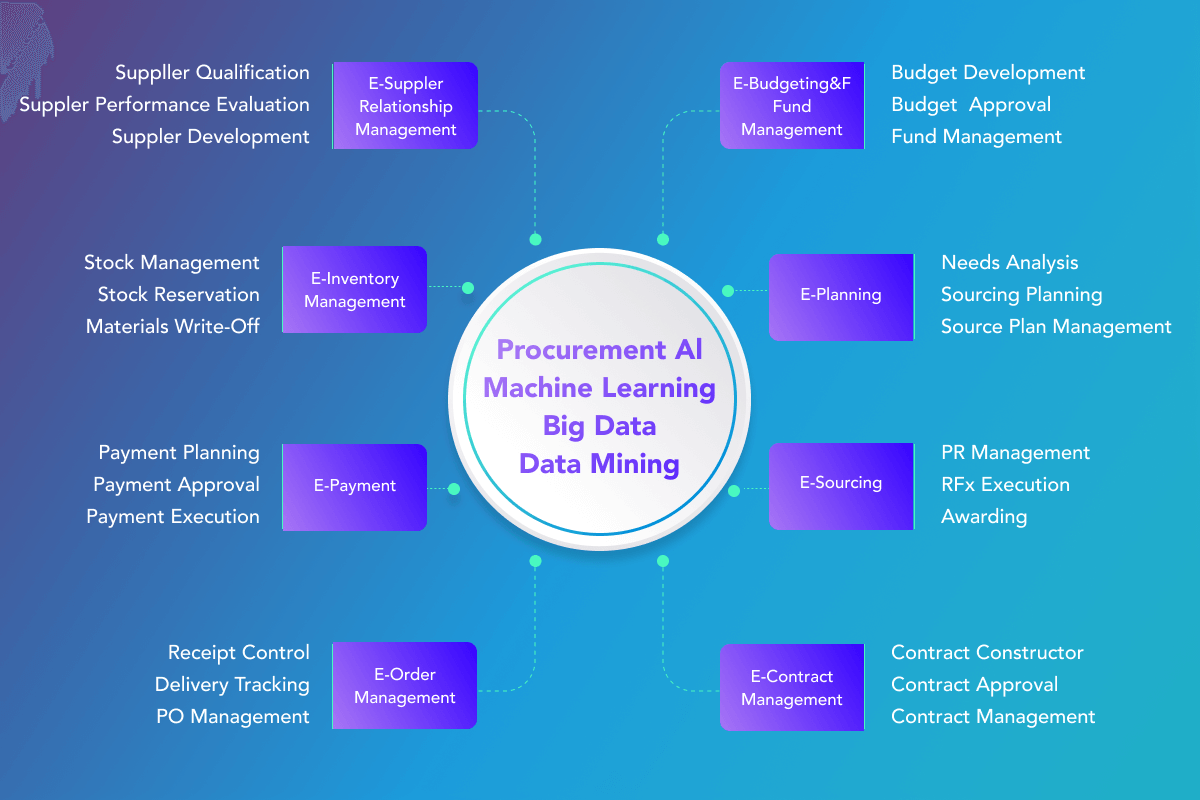 What Modules Can Be Enhanced with AI?
The Nectain's Artificial Intelligence Software for Procurement Management contains several blocks, each of which is dedicated to a specific area of procurement.
AI for E-budgeting Module
Due to AI and its in-depth processing capabilities, the software offers an advanced spend analysis, which allows companies to gain an overall view of budgeting, estimate financial performance, and optimize operational expenses.
Smart dashboards with user-friendly and intuitive UX/UI design provide users with an easy-to-understand way to grasp a large amount of real-time data and get valuable insight into budget management.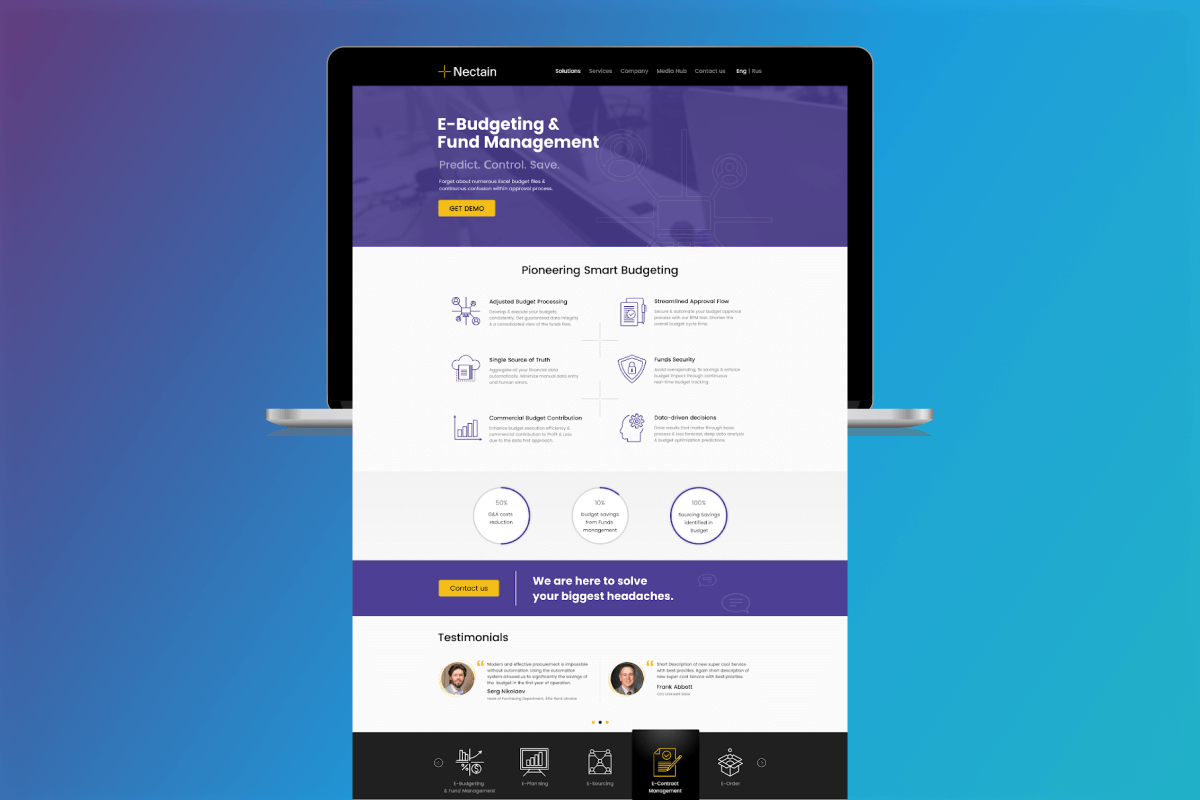 AI for E-analytics Module
Embedded Business Intelligence based on advanced data analytics allows to process constantly incoming data from various internal and external sources and visualize gained information in Big Data charts and tables. Moreover, the Nectain software has a live tracking tool, which allows monitoring KPIs, preventing overspending, and instantly enforcing budget with shorter source-to-settle cycle times.
AI for E-category Module
Softengi also developed an e-category module for the digital procurement system. The e-category allows retailers to enhance their sourcing management and improve the overview of the organization's spending. Users can get in-depth reports of each vendor, and, as a result, mitigate supply chain risks, uncovering new sources of value.
Using AI for the e-category module allows tracking suppliers' performance, companies' spending, and stakeholders' engagement, handling all operations in correlation with companies' long-term strategies.
AI for E-planning Module 
With procurement e-planning, retailers can enhance their long-term planning, thereby improving supply chain coordination and sourcing management. The embedded AI allows the software to make accurate forecasts about supply chain operations, notify a company about potential problems, and provide actionable prescriptions regarding companies' procurement management.
E-sourcing Module
The Nectain's e-sourcing is an automated AI-powered module, which helps companies to achieve maximum savings and the most procurement value. Real-time statistics and reports on sourcing operations, up-to-the-minute pricing, advanced market catalogs, and live auctions allow companies to enhance their sourcing management and achieve high business agility.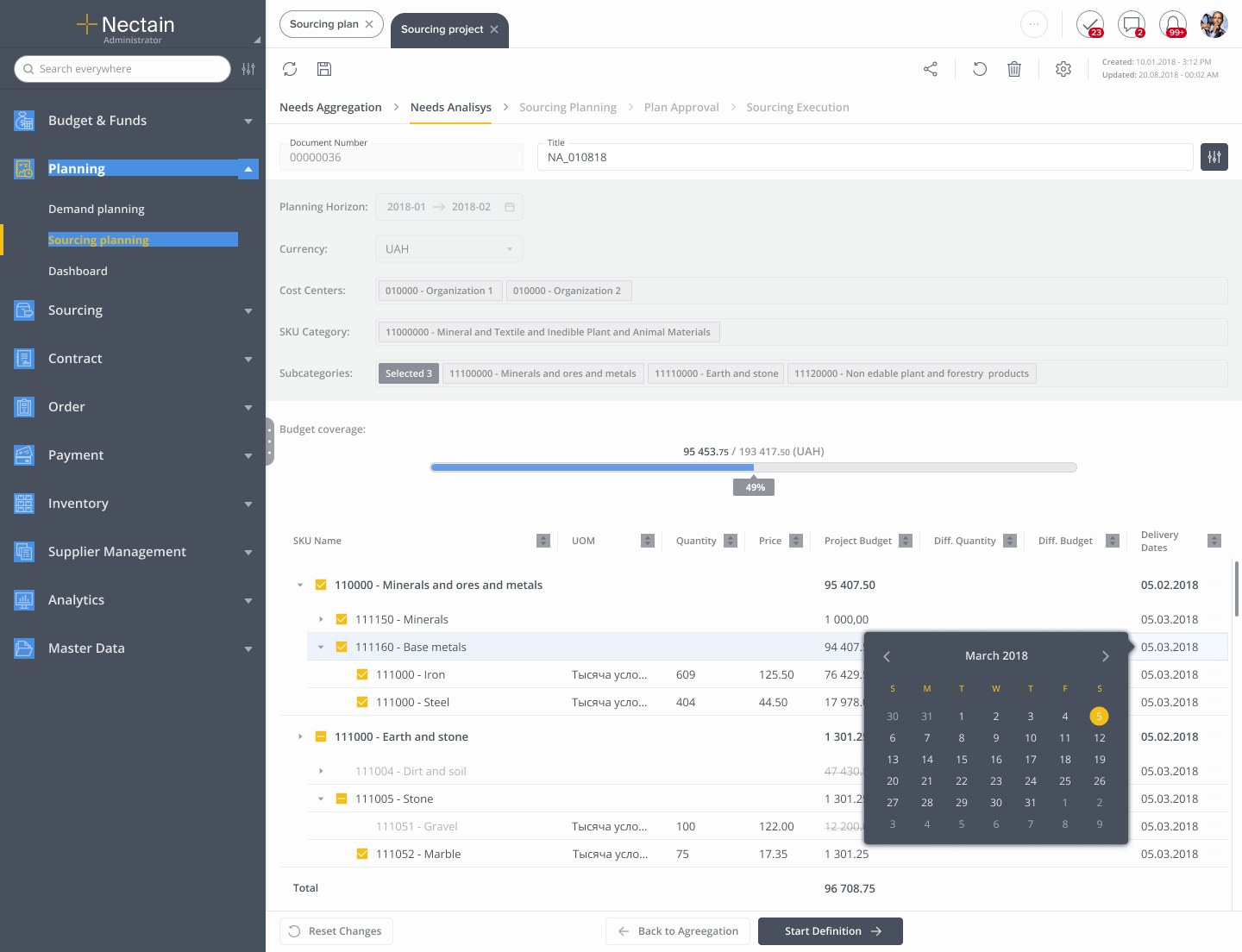 E-supplier Relationship Module
An AI-driven supplier relationship management module is fully automated. It offers an interactive supplier database, easy registration, and supplier qualification reports, all within a single customized dashboard. With e-SRM, retailers save man-hours of employees, reduce expenses required for supplier checks, and run compliant processes more efficiently. 
AI for E-contract Module
With Artificial Intelligence software for procurement management, collaboration with suppliers becomes easier and more efficient. Speedy approvals, automated administration, one-click authorization, and secured access with digital signatures bring contract management to a new level. Moreover, the software offers an extensive library of customized templates that allow to rapidly create documents and forms as well as accelerate contract drafting.
AI for E-requisition
With e-requisition, companies can free their employees from manual revisions and monitoring of constantly changing restrictions. AI e-requisition takes care of it. Simple record-keeping, payment terms compliance, and preferred pricing will allow companies to enhance their purchase requisitions. Moreover, this procurement software is able to identify vendors and suppliers who provide only budget-friendly deals, so retailers can get only the best offers and great discounts. In addition, retailers can benefit from a live budget, which takes into account each potential request and evaluates whether it is worth buying from a financial point of view. 
AI for E-order Module
An e-order tool provides retail with top-notch procurement management. In this module, users can access information about purchase order fulfillment, track real-time procurement operations, create purchase requisitions from any supplier, and use an automated order preprocessing system.
Additionally, companies can get much faster and more efficient request ordering by automatically creating requisitions and/or setting the right account code and then sending it to the right supplier.
AI for E-payment Module
The e-payment block is designed to ensure efficient financial operations and reduce complexity in spending management. Accurate billing, automated invoices, finance reporting, and advanced data encryption will significantly benefit retail companies in procurement management.
Furthermore, the Nectain software offers smart financing and innovative payment management with a customized transaction set-up and a fraud detection system.
AI for E-inventory Module
The e-inventory module developed by Softengi helps retailers get visibility over the company's inventory, optimize working capital, advance risk management, and improve overall compliance. In this block, users can get insights into stock levels, monitor item usage, identify place availability, track inventory level, and prevent their stock from overbuying.
Benefits of AI for Procurement Management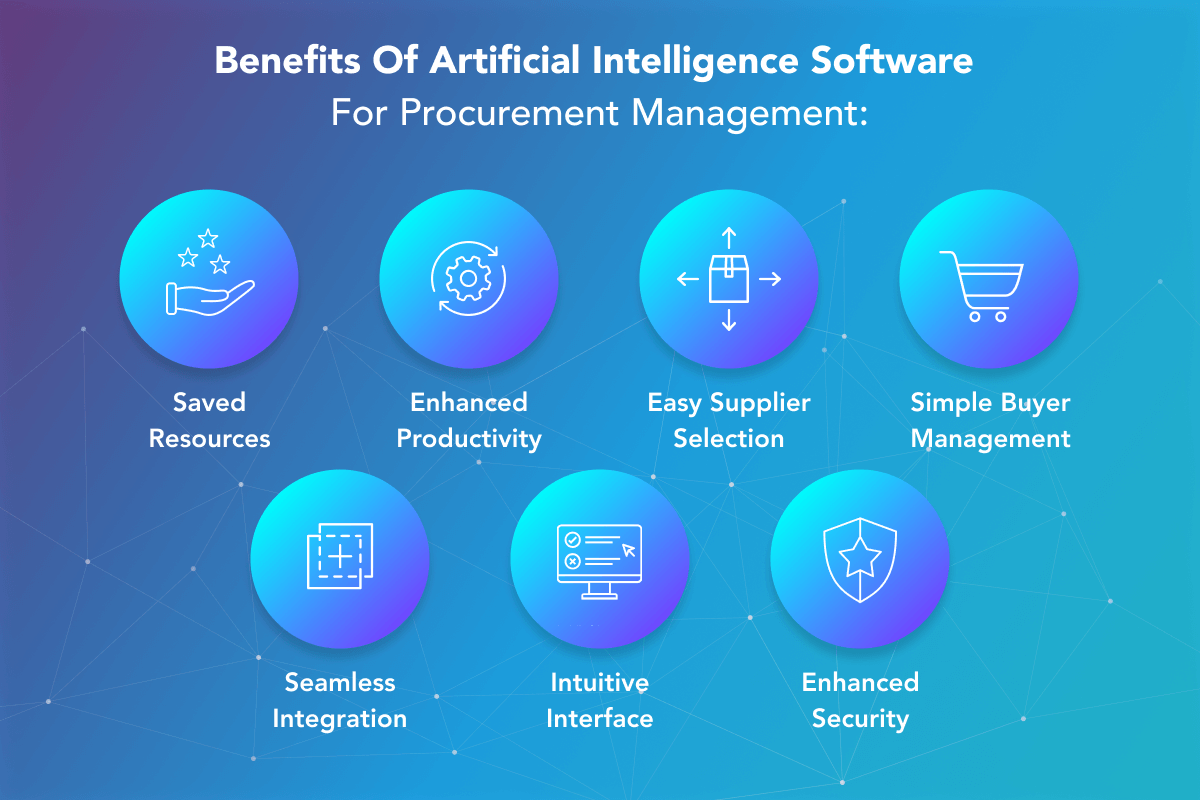 Automation of Repetitive Tasks
The Nectain's software for procurement management is fully automated and customizable. Retailers can automate previously manual, staff-intensive processes, accelerating and enhancing them. As a result, companies free employees from routine work, letting them focus on more significant tasks and thereby reducing costs and the labor input in procurement. Implementing AI in procurement management helps to automate up to 27% of repetitive tasks.
Enhanced Productivity
The Artificial Intelligence Software for Procurement Management improves the whole procurement management. As the incoming data is being constantly processed by Machine Learning algorithms, the gained insights are being continuously analyzed by AI, as well as accurate forecasts and valuable suggestions are being made by the software systems, retailers can enrich their day-to-day operations and improve decision-making.
Easy Supplier Selection
Embedded AI enables the software to analyze all suppliers in the database system and identify the right ones who will match companies' needs and requirements in the exact situation. Users can define and compare all available purchasers, distributors, frontline producers, supplying companies, and shipping agents to choose the best partners. AI makes the decision-making process much more accurate by combining human judgment and machine judgment.
Simple Buyer Management
An intuitive interface, self-service systems, and advanced data analytics make buyer management much easier. With the AI procurement software, retailers can have greater visibility into POs and a better overview of budget and buyers' payments, automate invoices, and get the strongest transaction security.
Enhanced Security
The strong sourcing security, advanced data encryption, the latest security protocols, and user-defined access with digital signature make the software invulnerable to hackers and malware. Your data will be safe and accessible for the long term.