Streaming services of all types are gaining constantly growing attention. Most popular and influential live streaming platforms such as YouTube, Netflix, and Hulu are raising billions on video streaming.
In 2019, the total number of Netflix subscribers reached 167.1 million, thereof 61 million accounts originated in the US. According to YouTube CEO Susan Wojcicki, YouTube currently counts 2 billion monthly active users.

The reason accounting for such overwhelming numbers is the exceptional attractiveness of video as a content type for users. As listed in the PwC Global Entertainment & Media (E&M) Outlook 2017-2023, across all devices, video, with its 22% CAGR rate, is the fastest-growing internet media content type.
Video accounted for 84% of data consumption in 2018, and in 2023 it is expected to reach 89%. Nielsen, in its Nielsen's U.S. Video 360 Report 2018, revealed that 42% of the U.S. population had access to live-streamed online content compared to 25% in 2017.
As Cisco claims, by 2021, global video traffic will comprise  80% of all consumer internet traffic.
Not Only Giant Vendors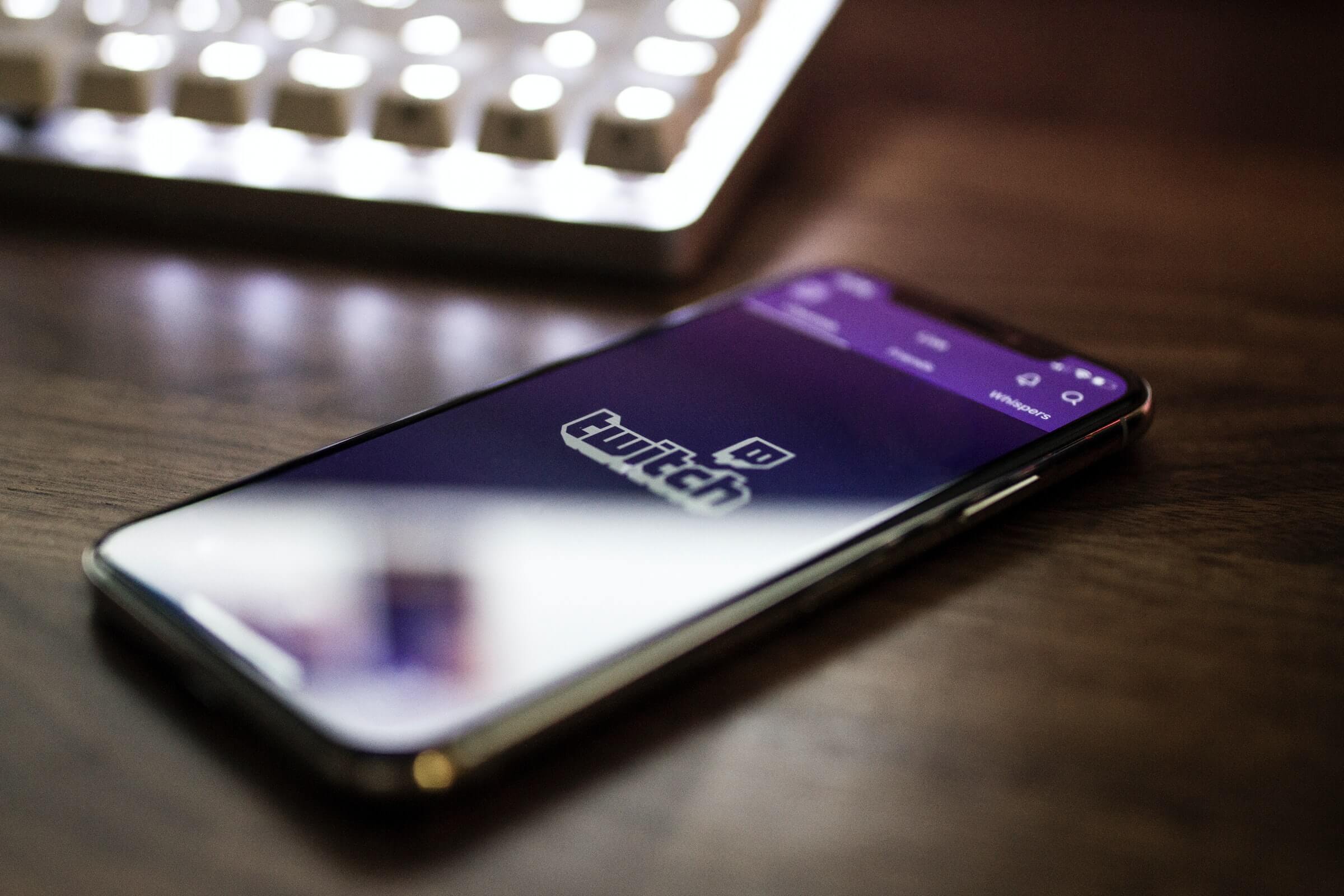 Today, the video streaming segment is a highly fruitful business.
By 2021, live streaming will become a $70.5 billion industry embracing large companies like Amazon, Hulu, HBO, Netflix, and YouTube.
However, there always remains a possibility to gain a piece of the cake for middle and small-size companies making good use of video streaming apps. Launching your live stream app can help you achieve the widest possible audience, enhance your brand loyalty, gain more attention to your services and/or products, and even become a new Netflix or YouTube! 
Live Streaming for Entertainment, Retail, Real Estate…
Live stream broadcast for many business segments is an affordable and very profitable tool. The flow of new interactive video content can increase dwell time and incremental repeat traffic, boosting marketing campaigns and revenue opportunities. No matter what niche you work in, video streaming apps is a useful, profitable, and effective state-of-the-art solution.
Entertainment
This industry has long been using live video streaming platforms and services. Sports betting, show broadcast, conferences, and personal events can all be streamed live via mobile and web devices.
Given that around 85 percent of all Americans aged 18 and up own a smartphone, it becomes obvious why this method of entertainment has become so incredibly successful in recent years.  
Retail
Streaming media have also found use in the retail industry which massively depends on the visual appeal of the product. Demonstration of available goods via video streaming services can enhance sales by encouraging customers to buy products when viewing a stream. Livestream shopping is already a widely used solution in retail. Alibaba, Amazon, and Aliexpress have already applied Livestream in their business.
Real Estate
Live streaming content for the real estate business is one of the most lucrative social channels for generating customers. Most real estate agents are embracing the power of live streaming to its full potential. With a live stream broadcast, real estate companies display their properties live within company stream apps. So that potential buyers can get all necessary information related to the viewed property, such as neighbors, taxes, insurance, etc.
Healthcare
Video streaming in healthcare primarily refers to live patient support, medical events broadcast, and live training for doctors. Harnessing live streaming allows healthcare providers to improve communication effectiveness between healthcare employees and patients, as well as enhance internal training activities, knowledge sharing, and collaboration among care teams.
Logistics
Video streaming can also be used for controlling procedures. In Logistics, live video streaming can enhance transparency and control delivery processes. For instance, a camera placed in a truck can stream video to other employees to provide them with better transparency.
Manufacturing
With a video streaming app, manufacturing companies can remotely monitor industrial processes and establish live communication with other staff.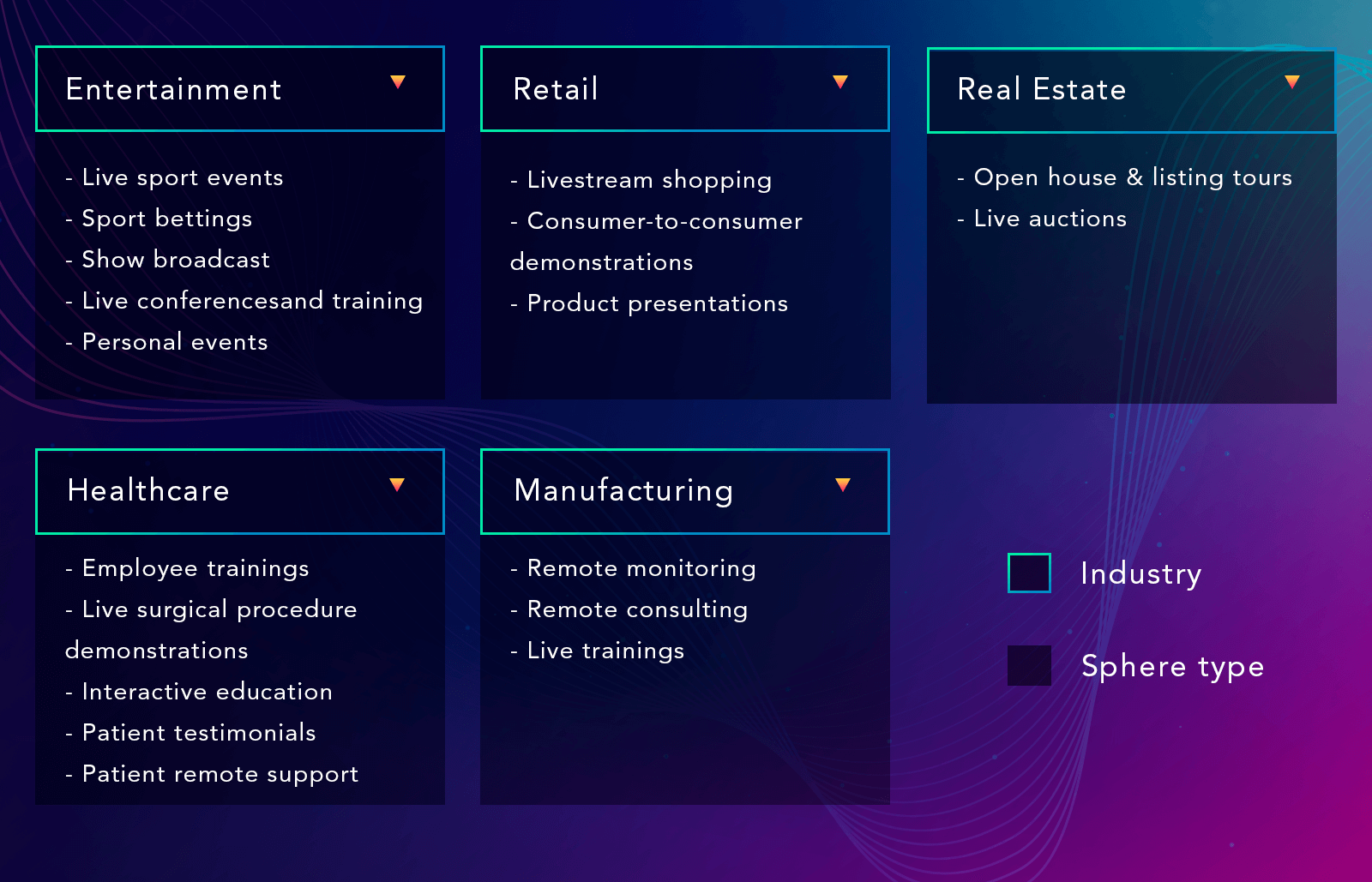 How Does Video Streaming Work?
Video streaming refers to the continuous transmission of video content from a server to the end user. A video streaming app is a platform that allows users to watch videos, such as shows, conferences, and movies of their choice as well as enables them to produce and share video content in real time.
Streaming allows to send and receive video data in a continuous flow over the internet. Viewing of the video is made possible right after the user's device starts receiving the signal, without waiting for the whole video to be loaded. As soon as your device receives the beginning of a video, viewers are able to start viewing it. Moreover, it is the user's choice whether to load the video or watch it live.
Benefits of Video Streaming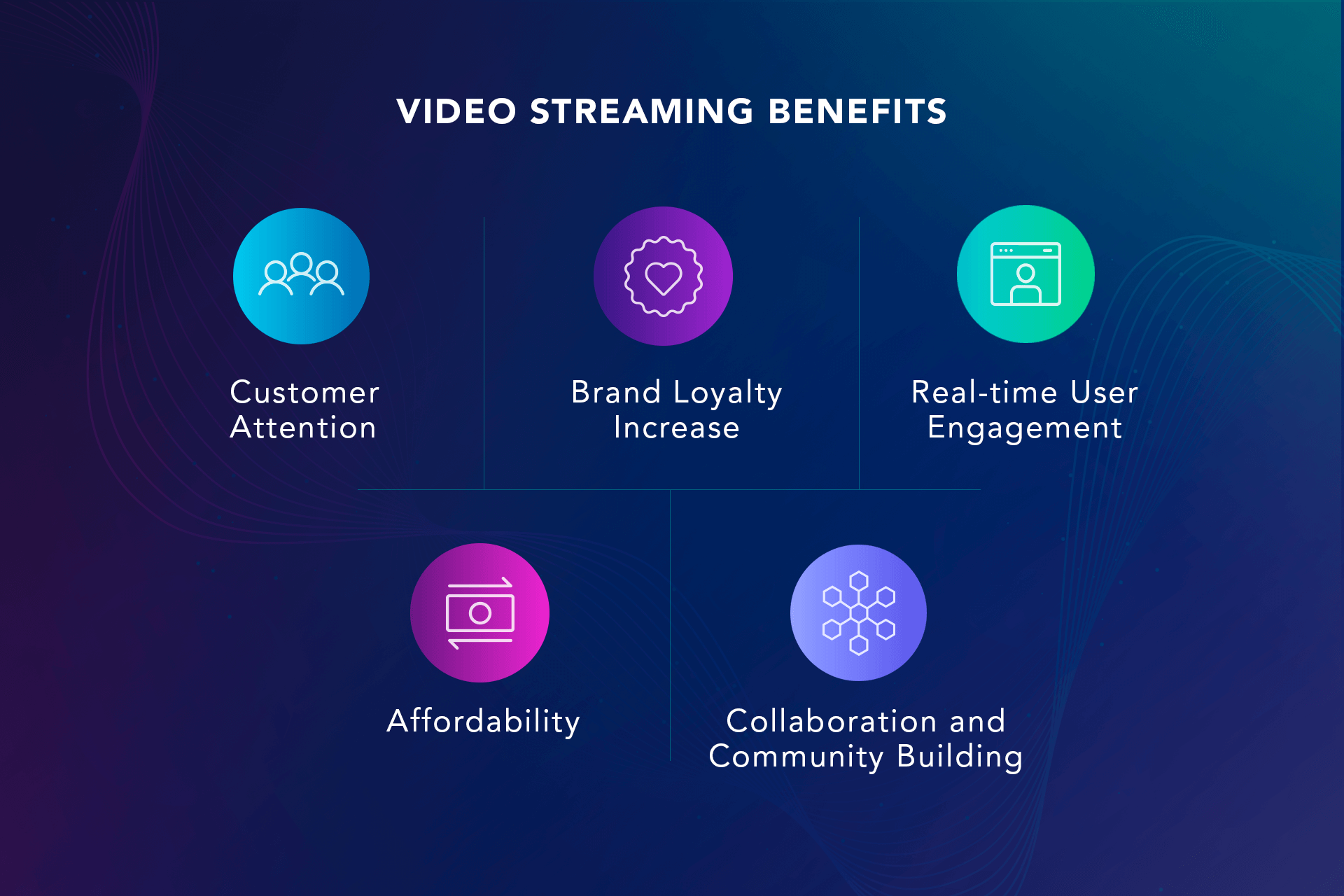 Attention-Grabbing
Media consumption patterns are constantly changing and becoming more and more digitized. Therefore, video content, as the most trending digital format type, is one of the best options for gaining attention, which is actually today's new currency. To generate more buyers and clients, companies develop their own apps and create channels, platforms, and networks.
In 2018, world brands invested more than $90 billion in video content. By 2023, this number is expected to rise to more than $100 billion.
Brand Loyalty Increase
Brand loyalty is today's financial cushion. To be favored, especially in the time of Covid-19, companies have to pay more attention to their customers, constantly engaging them with the company brand. Embracing video streaming allows companies to build a strong and loyal customer base.
Real-Time User Engagement
User engagement is extremely important for any company. Being a trending tech solution, live video streaming engages users by creating real-time experiences.
Affordability
A video streaming app is an effective tool for a great variety of businesses in different segments. Due to its low cost, small and middle-sized companies can create live video streaming and promptly gain a lot of value from it.
Collaboration and Community Building
Streaming events and interacting with a platform allows video streaming apps to unite users, foster their collaboration and build communities. In a business context, video streaming is a useful application for team building and knowledge sharing.
Video Streaming Development and Design
Before developing a video streaming application, a company has to define the right strategy, which contains a few important steps.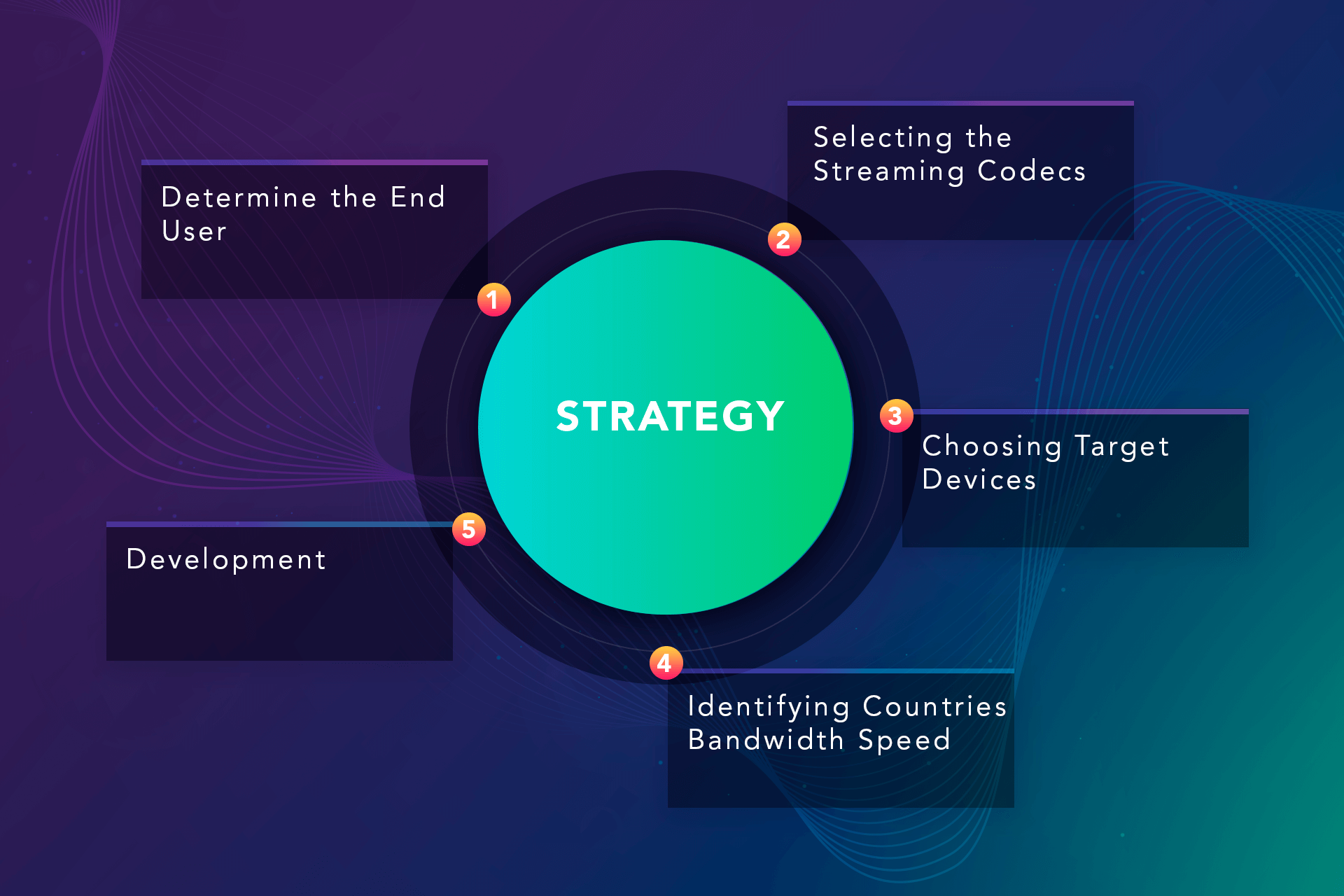 Step 1: Determining the End-User
Before launching your own streaming app, it is necessary for the company to identify the end user, in other words, who and for what purpose is going to use the app. As a live streaming app can connect two users or a fixed number of people, or stream to a wide audience, a choice is to be made between two options: user-to-user or user-to-audience.
Step 2: Selecting the Streaming Codecs
This step refers to data and its compression. Codecs is an approach that aims to shrink video files to a manageable size. For instance, due to the right codecs, Netflix streams more than 97,000 hours of content every minute. There are many streaming codecs, so a company must find the right one that matches its goals.
How much data does streaming video use?
Low-quality video, approximately 240-320p, uses about 0.3GB (300MB) per hour;
SD quality video, 480p, uses about 0.7GB (700MB) per hour;
HD quality video, 720p- 2K, uses about 0.9GB (720p), 1.5GB (1080p), and 3GB (2K) per hour;
Full HD,4K stream, uses about 5 -7.2GB per hour.
Step 3: Choosing Target Devices
It is also important to identify what type of device- web, mobile, or connected TV- is targeted. Knowing where and how the estimated audience will consume the video content makes it easier to meet the goal.
Step 4: Identifying the Country's Bandwidth Speed  
90% of Facebook live viewers claim that video quality is the most important viewing parameter. The quality of video streaming depends largely on the bandwidth speed used in a particular country. Therefore, streaming in an acceptable quality requires that the developed app is adapted to the country's bandwidth.
What internet speed do I need for streaming video?

Step 5: Development
To develop a quality video streaming app, it is highly recommended to turn to an experienced software vendor who will take care of all development cycles, from programming to design. 
Features to Be Added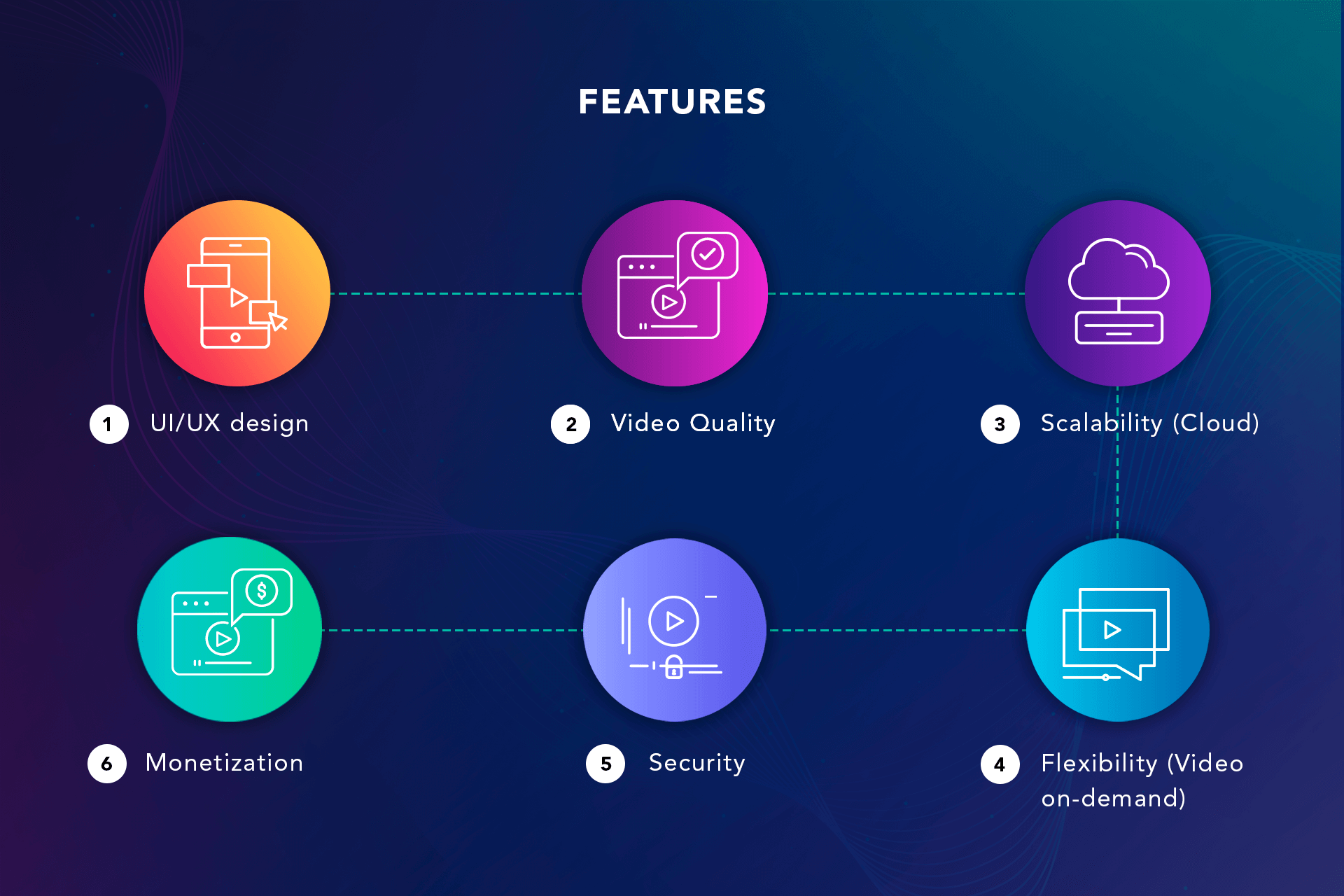 UI/UX Design
User Interface (UI) Design on par with User Experience (UX) Design is the crucial element in every streaming app. 
According to PwC:
"Usability and experience are gaining on content as the factors which drive overall value in the eyes of the subscriber base and inform the consumer about decision-making process around new video service subscriptions."
First and foremost, to be profitable, any app must be attractive to its users. As we discussed in our previous article, the convenience of an app fully relies on UI/UX design. An intuitive user interface and appealing app design will help companies gain more audience and generate more revenue.
Video Quality
Whether users will use a video streaming application or not depends a lot on the video quality. Therefore, it is highly important to consider the internet bandwidth. As the users' connection may vary from weak to strong,  the video streaming app must be able to promptly adapt to the quality of the received signal.
Scalability
A video streaming app must also be scalable, and therefore we recommend incorporating Cloud databases in a live streaming app. A cloud recording option allows to save streamed videos so that users can re-watch them. 
Flexibility
A flexible video streaming app can provide both live streaming and/or video-on-demand. On-demand video streaming platforms are becoming extremely popular. A prominent example is Netflix.
According to Statista, in 2019, 74 percent of US video consumers were using a subscription video service.
Security
Security is an important milestone for live streaming, but unfortunately, is is often underestimated. Advanced security practices can protect video data from breaches and data losses. According to IBM, $3.9 million is the average cost of a data breach. 
Monetization
The company's revenues depend largely on the monetization model it chooses. Whether advertising, membership subscription, or content sales, an app should be well-tailored to the selected model. For instance, Twitch includes advertisements in each video stream. However, users can buy an ad-free subscription. 
Softengi: Creating a Video Recording and Production Platform 
Softengi has developed MVPCast, a live-streaming video platform that allows broadcasting sports streaming. This application was primarily designed for parents, enabling them to share videos and comment on them jointly with other family members. However, the app has also found its use among players, coaches, and even recruiters. Implemented XR analytics allows viewers not only to watch sports in real-time but also to detect and track players, identify pass speed, best sports movements, and other useful parameters.
Read more about MVPCast project.

Conclusion
Live streaming apps are an effective tool for improving brand recognition, enhancing revenues, and building communities. In order to get the most value of it, a streaming application should be well-designed and developed. An experienced team is needed to tailor a live streaming app to company goals, needs, and, of course, its target audience. Softengi, with its 19-year experience, will help you create an effective and attractive streaming application for your business, meeting all your desires.