The Internet of Things (IoT) is a cutting-edge technology which is promptly conquering the business world. In an era of Big Data, when real-time information and advanced connectivity play significant roles in many industries, IoT is a key solution, which allows companies to hold the lead. According to IDC, worldwide spending on the IoT-powered technologies, in 2022, will grow to $1.2T, at 13.6% CAGR. 
Also, Gartner forecasts that, by 2020, only in the consumer sector will be 13.5 billion connected objects and 20.8 billion connected devices are forecasted to be globally in use. Cisco is even more optimistic, claiming that, by 2020, the number of connected objects is going to reach around 50 billion.
The World of connectivity
As we can see from the numbers above, the world is heading towards higher connectivity. The expansion of "smart devices" on par with digitalisation initiatives will undoubtedly influence every aspect of human lives and catalyze business innovations, thus enabling organizations to stay competitive and keep up with global challenges.
McKinsey states «As IoT expands, companies' connectivity expenditures will rise by about 15 percent annually through 2022.»
As IoT generates vast amounts of data, it is a significant driver for big data analytics solutions and applications, that are designed to process and analyze large sets of data from multiple attached or embedded sensors.
"The world's data will amount to roughly 44 zettabytes by 2020, 10 percent of it coming from IoT," says Matt Davies, technical evangelist at Splunk. "When you consider the variety of sources it can now be pulled from, it's easy to see why collection, storage and insight generated from an unprecedented number of connected devices will be challenging. Accommodating this volume will mean completely changing tools, processes and technology."
IoT, EV, and Charging Stations
As the concerns on carbon dioxide emission, energy conservation, unsustainable fossil fuels are raising, Electrical Vehicles (EVs) become prevalent all around the world.
Global EV Outlook 2019 states that, in 2018, the global EV fleet exceed 5.1 million –a two million increase from 2017.
As the market grows, the demand for smart charging station rises. Today, most fuelling stations for electrical vehicles are decentralized and have very complex structure, which means they are hard to manage and maintain for on-site personnel. For instance, EV charging stations have to be online all the time, as users charge their cars with an app, but, in case a station suddenly goes offline, it must be fixed as soon as possible. Moreover, data transmission is also a weak point, as needed data are often failed to be timely delivered.
With IoT technology, EV charger stations become smart, connected and hence easily accessible for remote support and maintenance. Furthermore, with the IoT-powered charging apps, drivers can easily search for a nearby station and schedule a time to fill up. The app automatically notifies if the station is available and reserve it when needed. Moreover, a great number of factors such as exact charging time, weather conditions that could affect charging times, cable position, etc. are analyzed by the IoT-powered software, so users can access all real-time information about charging processes
MSTS.IoT: Managing IoT Connectivity
MSTS.IoT platform is a comprehensive solution for complex IoT systems. MSTS.IoT connects various distributed engineering devices and manage them within one network. The platform applies adjustable cloud architecture – a private, public, or hybrid cloud storage can be deployed as required. Data collected from various devices are processed and analyzed by advanced data analytics systems and then presented in a user-friendly way. In case of any problems or changes, MSTS.IoT platform immediately informs right users about an occurred situation. Moreover, in-built geo-engine allows to easily monitor and manage distributed devices.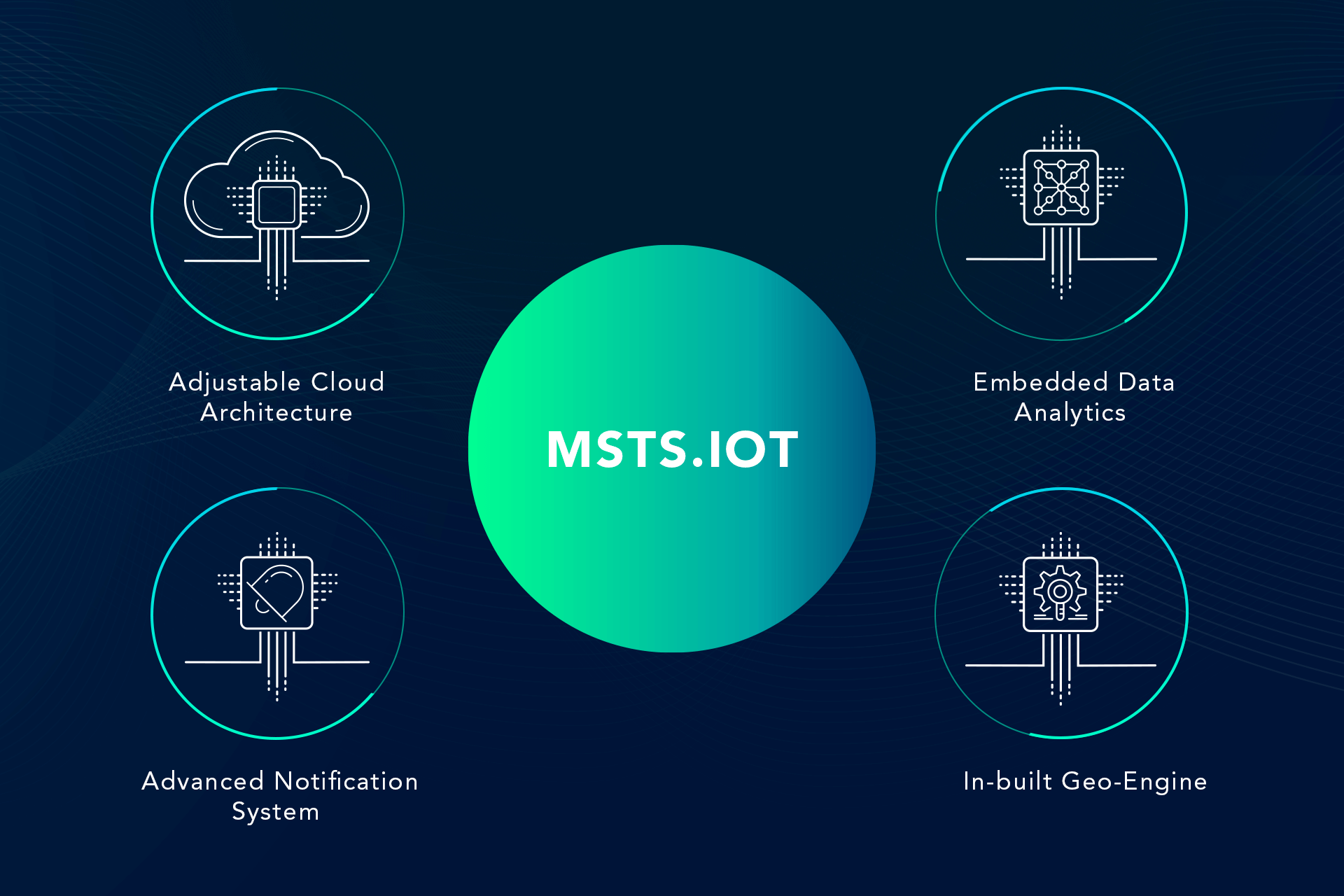 Major advantage of MSTS.IoT is that it supports various application types from "smart homes" to "smart cities", and can be used in most industries, including healthcare, transport, energy, agriculture, etc.
Applying MSTS.IoT for EV Charging Stations
MSTS.IoT can also be applied for Electric vehicle (EV) charging stations, making them much smarter. Connecting charging stations, MSTS.IoT offers easier maintenance and management of charging devices and fueling processes via a user-friendly platform. The platform provides collaboration opportunities to station owners, local service providers, global equipment vendors as well as EV drivers.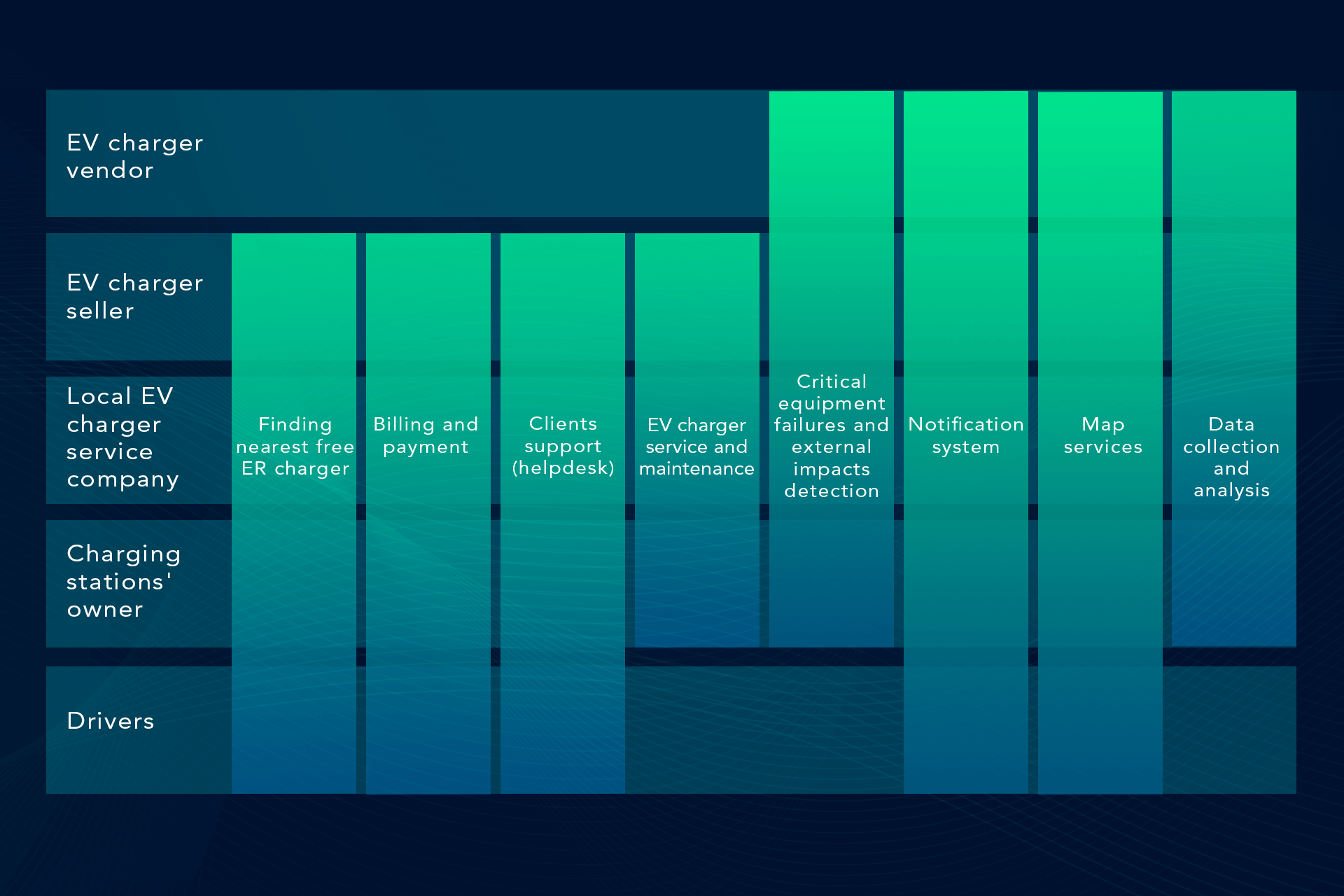 Moreover, the IoT platform uses advanced cloud solutions, that allow to collect and analyze data in real time. Current figures such as voltage, electric current, temperature figures will provide significant support to service workers for station maintenance and monitoring processes.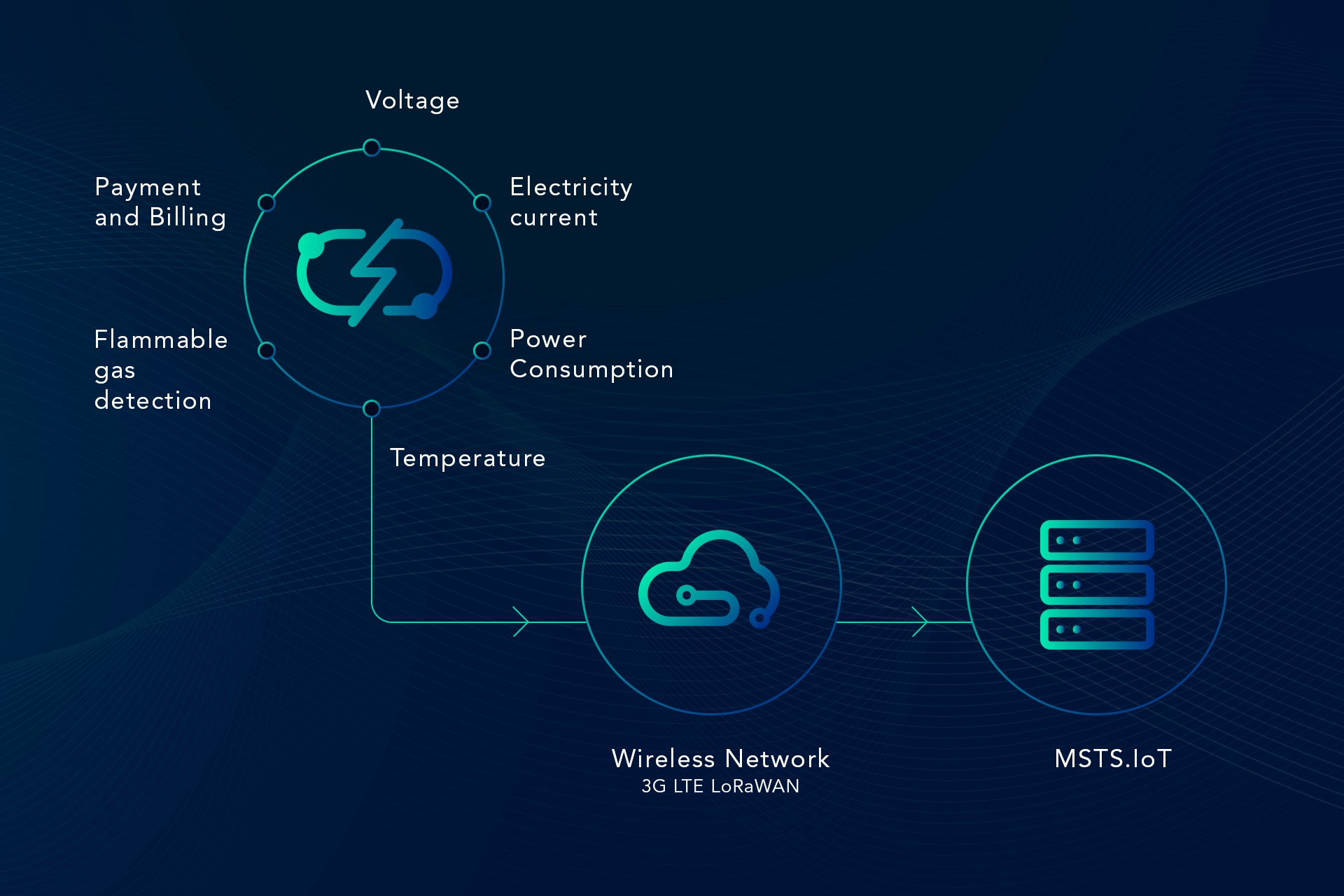 Additionally, a geo-dashboard shows geographically distributed EV charging stations and identifies the nearest EV charging station for a driver. To make it even more convenient for users, the geo-dashboard applies a color visualization – a reserved or occupied station is red-colored, a free one is marked with a green label.
The MSTS.IoT platform provides various access levels depending on users' role and function. Furthermore, the multiple-level help desk allows users to get an advanced assistance from a service company in case a charging network operator is unable to resolve the issue.

To make it all the easier for drivers, the embedded data system is able to analyze users' data and identify behavior pattern in order to offer a user additional service and better support.
Final Words…
With IoT technology, EV charging stations become more efficient and convenient not only for drivers, but also for service workers. Applying MSTS.IoT, EV stations can be easily monitored and managed within one platform. MSTS.IoT connects distributed EV stations, enabling drivers, charger vendors, local service companies, and station owners to collaborate more effectively.
If you are interested in MSTS.IoT implementation. Feel free to contact for further discussion- [email protected].