The Internet of Things (IoT) is a unique technology which is quickly conquering the world. And it will surely be one of the most developed areas of study for years to come. This has not been lost upon the most influential research institutions. For instance, in its "Predictions 2017" Forresterargues that this year boosted by Artificial Intelligence (AI) and containers IoT will be distributed across edge devices and cloud services. Today's topic is EV Charging Perspective via IoT technology.
Also, Gartner forecasts that by 2020 there will be 13.5 billion connected things in the consumer sector and that a total of 20.8 billion connected things will be in use worldwide. Cisco is even more optimistic, and claims that by 2020 the number of connected objects is going to reach around 50 billion.
Thus, any devices that can be connected will soon be connected and integrated to communicate with each other. The expansion of "smart devices" together with overall digitalization will undoubtedly influence every aspect of human life and catalyze business process development and growth, thus enabling organizations to stay competitive and keep up with global changes.
However, the revolution is not only about the wide variety devices themselves, but also the tools and applications that are mining data from multiple attached or embedded sensors, then conducting a multitude of possible measurements, and analyzing and processing the collected data for various purposes. In its "The Top Emerging Technologies to Watch: 2017 to 2021" Forrester asserted that as early as 2019 tools and applications for IoT analytics would move from mostly startups into enterprise applications and features, thus improving experiences and transforming customer engagement.
MSTS.IoT as an All-purpose IoT Analyzer
MSTS.IoT platform is a comprehensive solution for the fast-growing IoT market incorporating different smart devices into one manageable network. It is a complex solution for geographically distributed engineering networks.
The platform has the following main features:
Open and adjustable cloud architecture. It can be deployed in a private, public, or hybrid cloud depending on current needs;
Support of a full stack of IoT technologies and industrial data exchange protocols. The system can be integrated with different types of equipment;
Data collection and analysis. It can be integrated into a big data environment using heuristic algorithms for decision making support;
Enhanced notification system. The platform informs the right persons at the right time about any changes or events;
The business logic is separated from the system core, so one can use scripts and editors to adjust the current tasks;
Inbuilt geo-engine. All controlled objects can be shown and managed using the map.
MSTS.IoT's major advantage is that its application in the smart world is wildly divergent. One can use it for managing and monitoring "smart homes" or "smart cities", or practically apply it in any number of industries, including healthcare, transport, energy, and precision agriculture.
EV Charging Station Networks and MSTS.IoT
Electric vehicle (EV) charging stations are a good example of a new generation of smart things forming extensive networks. MSTS.IoT allows one to connect them to the monitoring system to be managed, monitored, and analyzed. The smart environment formed as a result makes it possible to provide sets of smart services to (see Picture 1):
Drivers, who are potential clients and users of EV charging station networks,
Companies, which own EV charging station networks,
Local service providers, which perform maintenance and service of EV charging stations,
Local sellers, which sell EV charging stations,
Global vendors, who produce charging equipment.
All of them can be integrated into a single ecosystem via MSTS.IoT.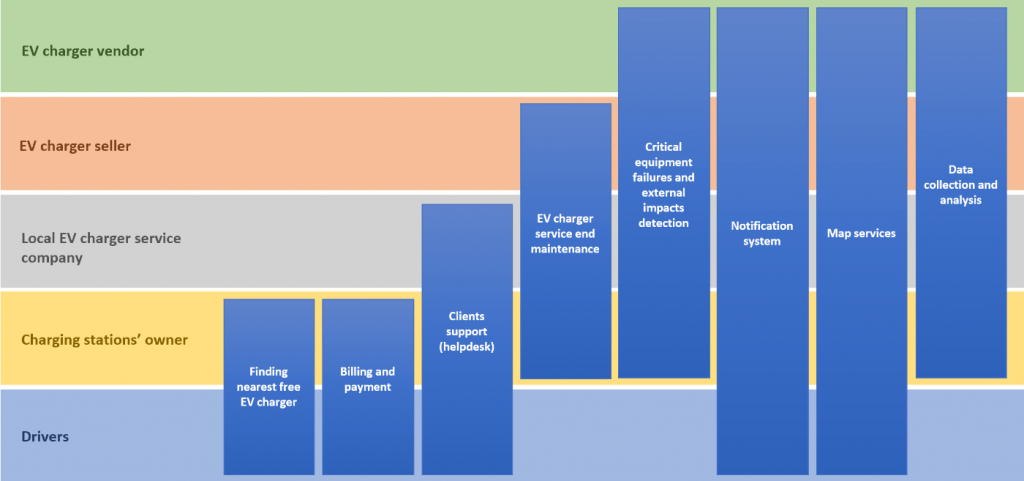 These are some core features of the platform if used with EV charging stations:
Internal and external sensors can be connected to the MSTS.IoT cloud, so all data (e.g., voltage, electric current, temperature, etc.) are collected in real time (see Picture 2). This helps to provide the necessary services and maintenance.

The platform's geo-dashboard displays all geographically distributed EV charging stations and helps drivers find the nearest EV charging station on the map. Also, it provides users with geo-analytics highlighting free EV charging stations in green and occupied ones – in red (see Picture 3).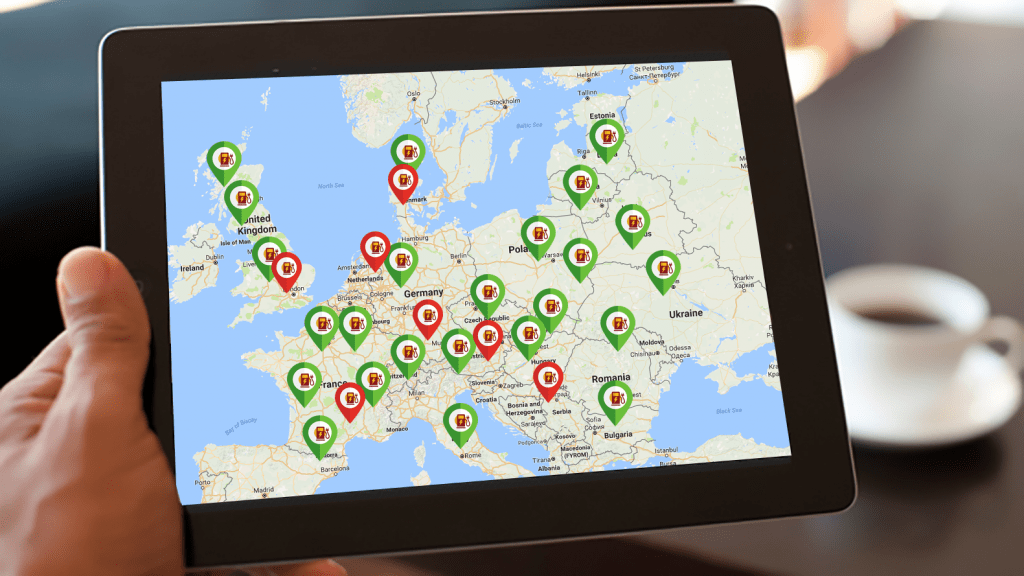 Different types of users are granted different data view and access permissions depending on the necessary functionality and information security policy.
Users can address the multiple-level helpdesk for assistance. If a charging network operator is unable to resolve the issue, a service company can be involved in the process.
In case of any critical situation, the EV charging station can be automatically switched off.
The notification system is adjustable, so one can specify, who will get notifications depending on the type of event.
The platform can be customized, for instance:
To ensure integration with third party sellers and service providers: as drivers spend some time near charging stations, some extra services can be provided to them (e.g., self-service stores, points of delivery, Internet stores, information points, etc.).C
Collecting statistics of driver behavior: such analyzed data can be used to improve services provided at the stations.
To provide online geo-services integration and big data integration, etc.
Conclusion
MSTS.IoT is a comprehensive solution for monitoring and management of distributed networks of smart things. In this post, we demonstrated its application for networks of EV charging stations. Moreover, the platform is highly customizable and can be used for many other purposes in a variety of industries.
We are open to new ideas regarding the implementation of MSTS.IoT. Feel free to contact for further discussion at [email protected].