Client: Сority, Canadian EHS company.
Challenge: Corporate ergonomics programs seem overcomplicated and difficult to follow for ordinary employees. Lack of a simple, intuitive tool to influence healthier behaviors, reduce strain exposure, and understand your employees' work patterns was required.
Solution: Softengi developed a web application for ergonomics.
What is Ergonomics, and How Can It Be Digitized?
Ergonomics has become an essential part of the Corporate and Social Responsibility of any business today.
What is ergonomics? "Ergonomics (or human factors) is the scientific discipline concerned with the understanding of the interactions among human and other elements of a system, and the profession that applies theory, principles, data, and methods to design in order to optimize human well-being and overall system performance."
International Ergonomics Association Executive Council, August 2000
Used by some of the largest organizations globally, Cority simplifies enterprise-wide office ergonomics programs by empowering your employees to take charge of how ergonomic risks are managed. Offering a diverse set of tools that can be used alone or as part of a comprehensive office ergonomics solution, Cority is a one-stop shop that can assist businesses of any size to create a sustainable, effective, and workforce-driven ergonomics program that produces real results.
Empower Employees
Empower your people with intuitive features to help them identify, assess, and address office ergonomic risks on their own and build greater ownership of workplace health & safety in the process. Enable better office ergonomics solutions through self-guided education, simple workstation redesign, and behavior change. Reduce the risk of injury and improve productivity – whether working in the office or from home.
Prioritize Efforts & Resources
Guide your business leaders and ergonomic specialists to where help and resources are needed most. Strengthen your staff's capability to manage ergonomic program initiatives efficiently while offering enterprise-level reporting and analytics to ensure the wisest use of resources.
Demonstrate Positive ROI
Better detect, understand, and mitigate employee health risks. Leverage powerful business intelligence tools to monitor performance in real-time, helping you demonstrate to leadership the value of your office ergonomics program through lower claims costs, stronger productivity, and a healthier bottom line.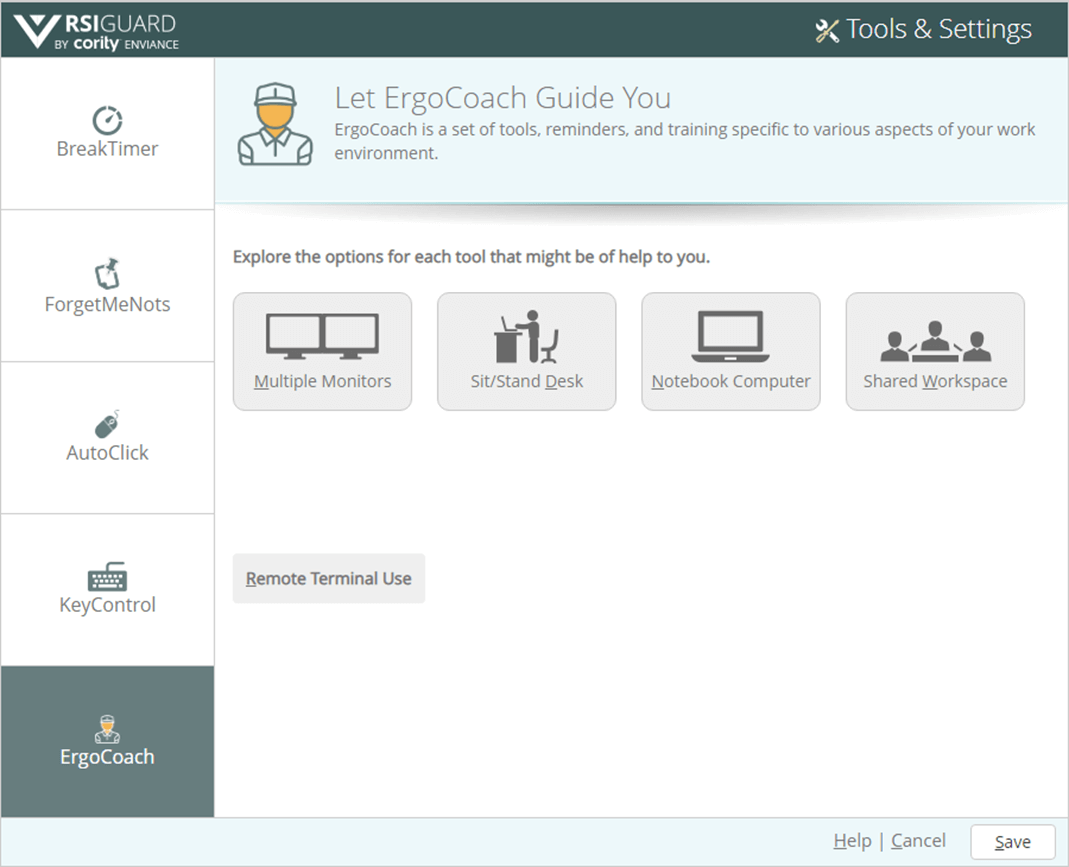 This web application, in essence, is an end-to-end ergonomics solution that makes it possible to enable ergonomics programs in the office effectively. First of all, it empowers employees and serves as the basis for the education of workers about ergonomics risks in a comprehensive manner. Second, it becomes a really effective tool for influencing healthier behaviors, reducing strain exposure, and understanding your employees' work patterns.
Let's talk about some of the tools inside this ergonomics app:
Break timer. While installing the app, you have to pass through some questions that help to understand your equipment, behavior, limitations, and wishes.
Then, the app will follow your activities: based on the frequency of clicks on keyboards/mouse, the intensity of your work, how far the mouse travels, the time and length of breaks will be adjusted, and break will appear.
Forget me nots. Short breaks that appear and attract your attention and show some useful reminders.
Auto clicks. To help you minimize mouse clicks – if you move the mouse over some element on the screen and hold it there for a while, then the element opens, and you do not need to click on it.
Ergo coach. It is a set of tools, reminders, and training depending on what your working environment is. It could be multiple monitors, … and for each of them, you could explore useful information and receive statistics and recommendations.
For a notebook, it could be some reminders to do a quick ergo check when an employee is in a new location (based on the information of the WiFi network.)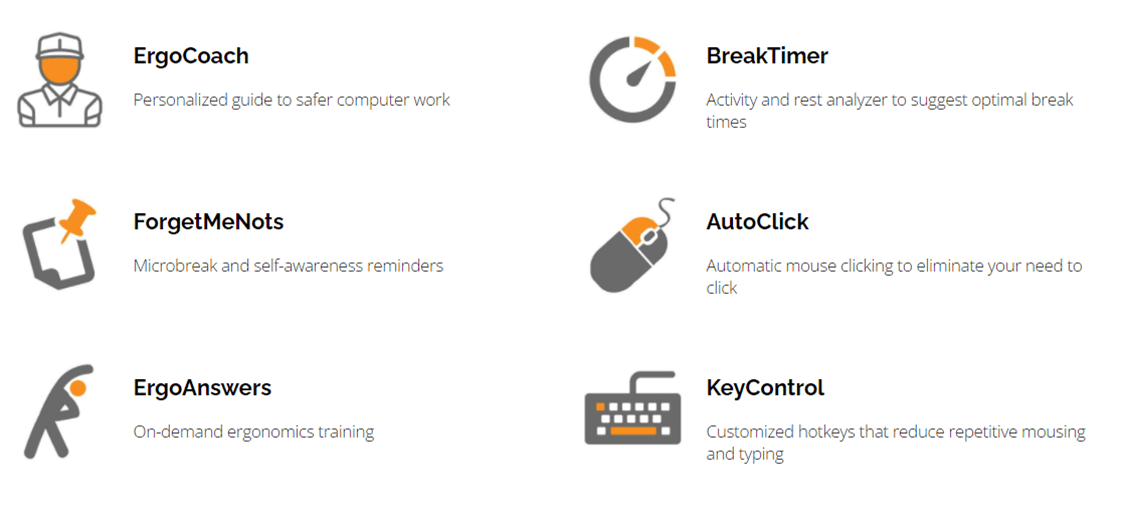 Reports
Your monitor usage. The system could give some helpful insights. Let's look at the report;
You use your primary monitor significantly more, so you should place this monitor directly in front of you, with the other monitor off to the site. It is better to place it right because you spend more time looking at the left side of that monitor;
Although monitors should generally be 50 or 100 cm away from you, to avoid rotating your neck over 35 degrees;
Your keyboard usage. The systems calculate how many millisecond you need to reach each key from previous key and such information gives insight, for instance, that you need to change your keyboard to an ergonomic one.
The systems calculate how many hours using a keyboard, what are the keyboard strain, mouse strain,  keypresses, and overall error ratio.