When people hear about RPA ( Robotic Process Automation) they tend to imagine some impressive things like robots assembling cars. In reality, any process that involves AI "to improve process quality, speed, and productivity" (Gartner) can be considered RPA. Object character recognition tool that allows transforming a hand-written text into digital is just one of these bright examples of accessible RPA most businesses need to decrease operational costs.
Examples of effective OCR include a census of population, processing of images from space to create navigation maps and weather forecasts, recognition of stamped parts on the conveyor belt for their subsequent sorting by robotic complexes, verification of the authenticity of various documents, technology for recognition of faces, speech, fingerprints, etc.
What is OCR?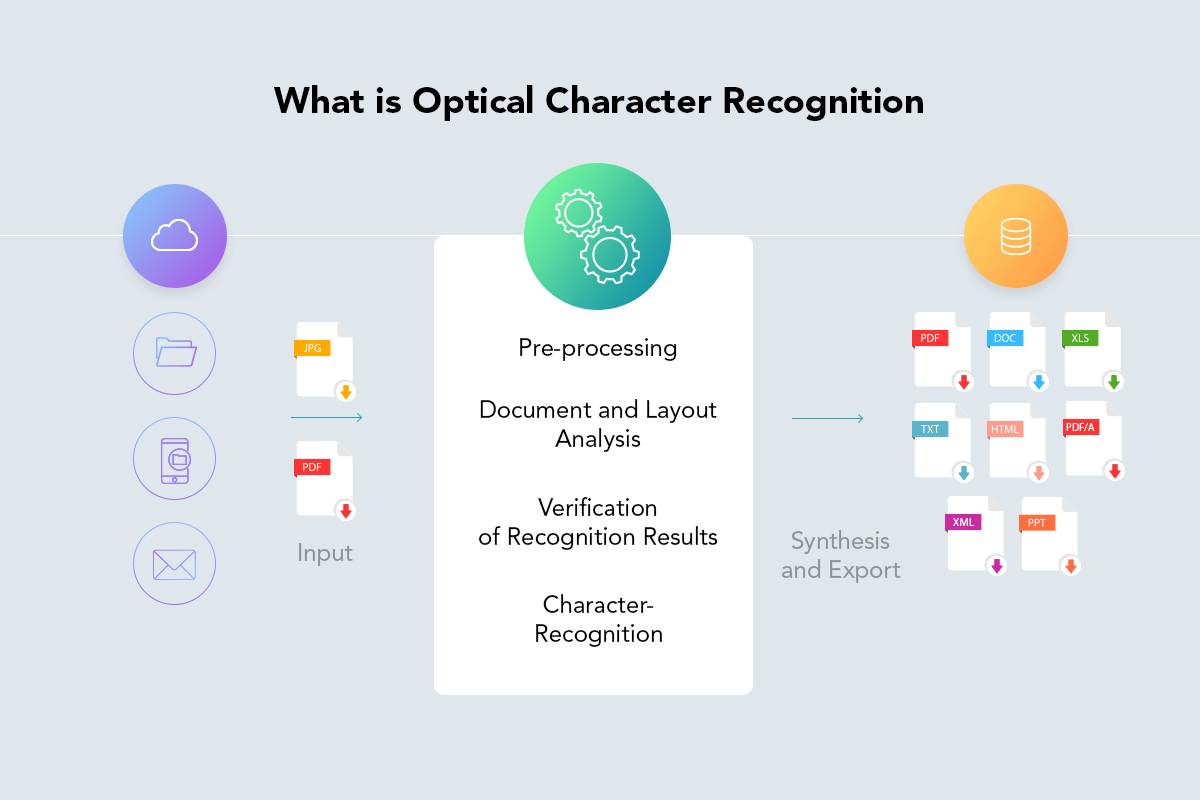 Optical character recognition (OCR) – mechanical or electronic translation of images of handwritten, typewritten, or printed text into the text used to represent characters in a computer (for example, in a text editor).
Simply speaking, the person took the picture, sent it for recognition, and received digital text. OCR is generally the only class of technology that provides opportunities to extract text information from images. OCR helps to digitize text quickly. 
The main problem for OCR when recognizing text is the spelling of one or another character. If we take any letter of the alphabet (for example, English), we will find several spelling variants for each one. OCR engines solve this problem in several ways:
Find a character by pattern. For example, using different spelling fonts;
Detect the signs of a character's spelling.
A rather rough example – OCR breaks down the text into characters previously identified in the image and applies them to ready-made templates. Next, OCR checks whether the character looks like a template or not. When a character is identified, it is converted into a character code in the applied encoding. There are a lot of OCR companies ready to create your personal OCR solution. 
Famous companies have long understood the benefits of this technology. Coca-Cola uses OCR technology to recognize images. This task arose as part of a loyalty program that involves winning prizes and awarding bonuses based on the fact of purchasing products. To do this, the customer must enter a 14-digit code in a special field on the website or mobile application located under the cap of the bottle. However, the first phase of this marketing campaign showed that customers are not interested in spending their time manually entering numbers. That's why Data Science specialists at Coca-Cola used OCR to read and recognize images. 
Google's TensorFlow machine learning library, based on neural network algorithms and computational stream paralleling, helped to make this process fast and accurate. It allows the company to recognize digits in the photo with 99.97% accuracy in just 1 second. Therefore, to participate in the loyalty program, the customer needs to apply a minimum of effort: a person just needs to take a picture of the bottle cap. This technology has become a key component of all Coca-Cola advertising campaigns in North America.
Among libraries that can be applied for OCR, there are also 86 Tesseract, gocr, and Copyfish. These are one of the most popular OCR libraries.
A survey on optical character recognition systems proved that OCR is one of the most important things that should be introduced in everyday life.
Object Character Recognition Use Cases: How is OCR Used in Logistics?
Employees spend up to 80% of their time on routine input and manual processing of data from documents. Using the OCR service speeds up data input by 2.5 times. Moreover, even in manual data input, there are a lot of errors due to human factors. AI OCR recognizes with high accuracy and checks the input data to eliminate the risks of incorrect input during loading. To quickly digitize text, you need an OCR system.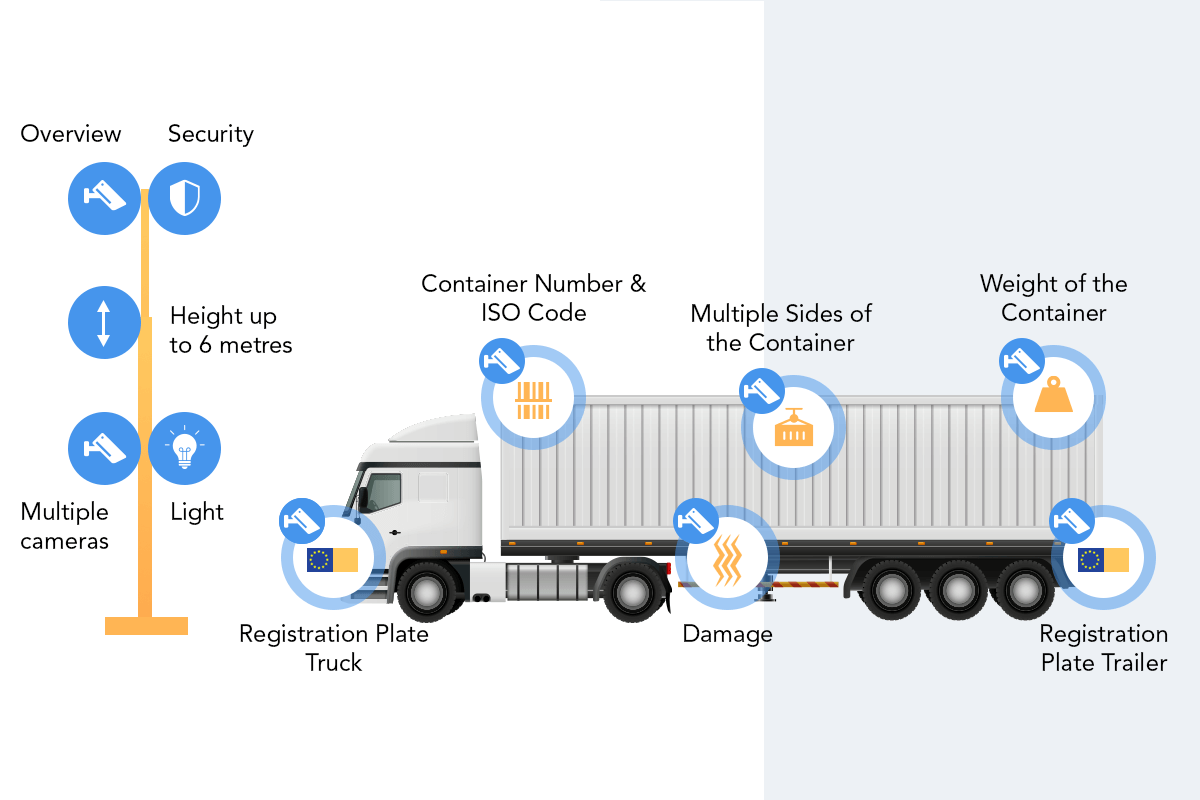 AI OCR in logistics:
Helps become more efficient by automating transport order processing;
Forms conditions for better overview with Bill of Lading/Transport document recognition;
Saves time by digitizing the expedition process.
AI OCR is an ideal solution for the recognition of logistics documents, which is very useful for small and medium-sized enterprises: warehouses, terminals, transportation, and logistics companies. Information about the recognized documents and other data is often stored via the SaaS model.
A warehouse management system, document management system, and others can use OCR. The optical character recognition system implementation period takes time and includes design, development, creation of necessary documentation, training, and launching into commercial operation by OCR company.
OCR is often integrated with external equipment: photo and video cameras, scanners, and accounting systems: ERP, CRM, ECM, and WMS. A survey on optical character recognition systems includes a lot of interesting information.
How is OCR Used in the Public Sector?
Tasks that are solved by public institutions using AI OCR can be divided into two groups. The first one is the provision of electronic document flow, which is now being given special attention in the state and municipal administration.
And it is not only about ensuring the current internal paperwork, but the most important thing is the digitization of "paper," which is needed by the authorities working with citizens' appeals.
Even during the accelerated digitalization of the state services, a very large number of applications have been and will be accompanied by paper documents. The need for state institutions in document scanning will remain for many years. To quickly digitize text, government institutions need an OCR system.
The public or government sector is one of the key clients of the IT companies developing OCR apps in the Asia Pacific. It's just one of the market examples of the demand for OCR apps in one of the regions.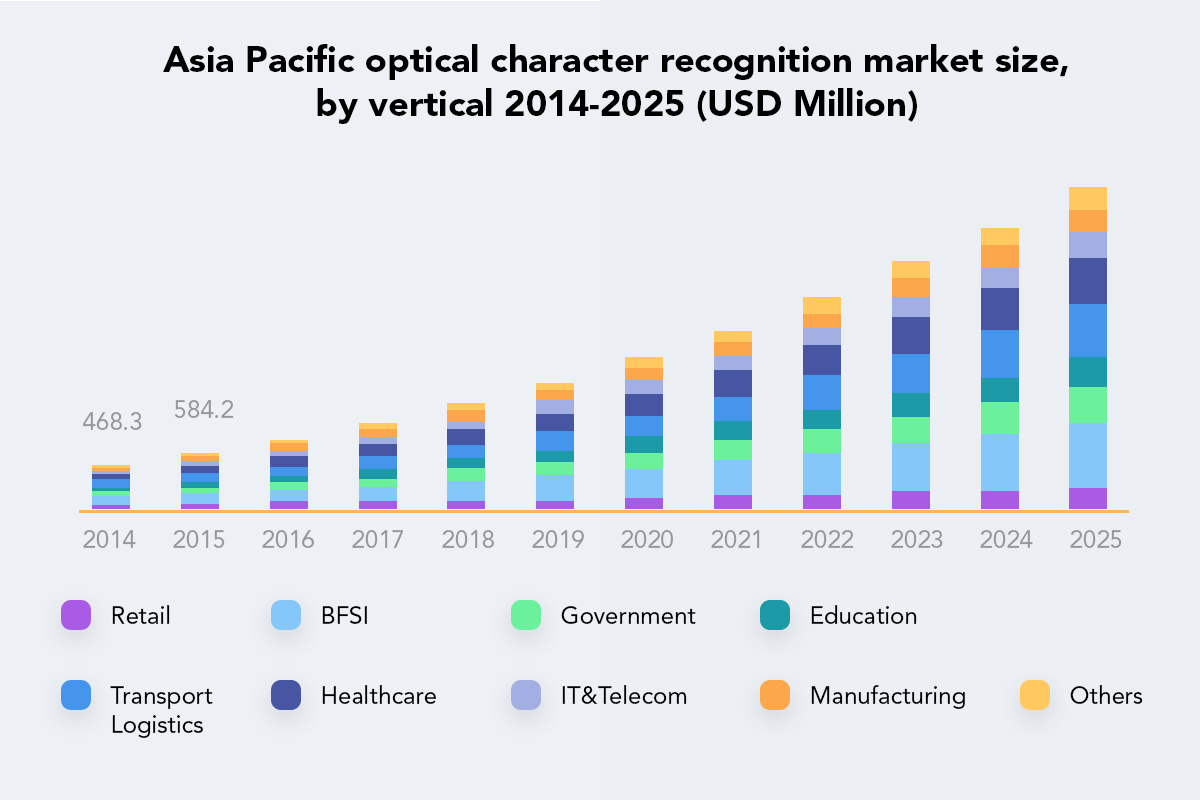 The second group of tasks is the electronic translation of documents in records management departments and archives. Archives that may be affected by fire and water will be inaccessible for use. We are talking about entire sets of documents that are managed by institutions. Mass digitization is carried out in all structures, which have to work with copies of multi-page documents in several places at the same time (the obvious example is the records management of arbitration courts).
There are also specific tasks associated with the flow processing of large arrays of documents in the activities of government agencies. They are especially often encountered by organizations directly working with the population: health care and social security institutions, etc. OCR is also relevant for those institutions that process large volumes of reporting documents, including statistical agencies.
How is OCR Used in Finance?
AI OCR is very useful in finance. Reading data from bank cards is relevant in any area where the user needs to enter payment details – ordering goods in an online store, buying tickets, bank applications, etc. AI OCR reduces the number of queues in banks, which will have a positive impact on customer service.
AI OCR allows automatic recognition of Numbers, Period of validity, and Name of the owner on any bank card (Visa, Master Card, American Express, Diners Club, Maestro).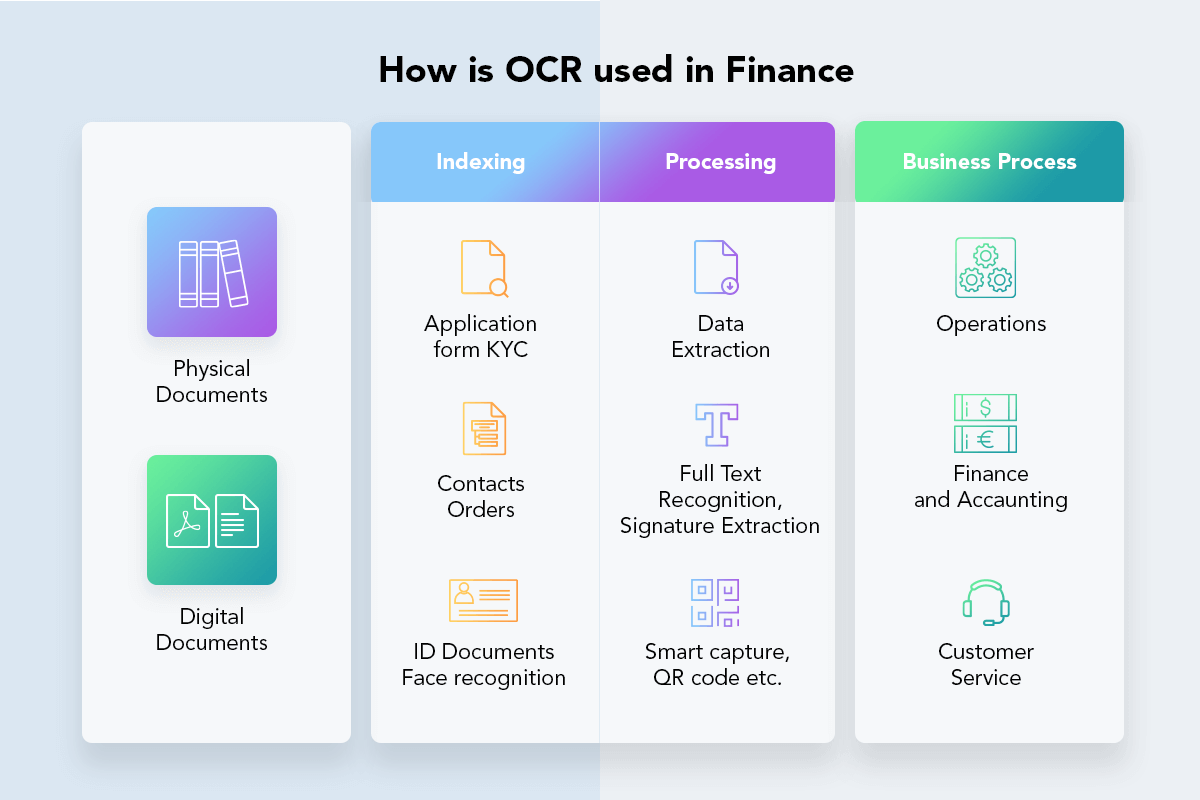 The use of modern machine-learning algorithms allows the company to recognize the bank`s card data with a high degree of accuracy, even if the input photo quality is low.
Also, reading data from the TIN (Tax Identification Number) is one of the most important and common tasks of recognition of identifying documents. The task is relevant in any business area where it is necessary to quickly and accurately validate data or identify customers, especially in the financial area. It will be useful for anyone to read a survey on optical character recognition systems.
AI OCR makes it possible to find the location and recognize the TIN and the name of the TIN owner in a split second. AI OCR will reduce the cost of customer service, increase the speed of document processing, and minimize the human factor. 
Final Word
AI OCR is very useful today. It can speed up the paperwork several times. Many famous companies have realized the benefit of this technology, and they actively implement it in their work. OCR companies from all over the world can help you to ease the work of your employees in any sphere.