"Everything invented in the past 150 years will be reinvented using AI within the next 15 years."

Randy Dean, СEO at Sentient Technologies
Today, we are living in a world of ubiquitous connectivity. Things around us continue to get faster, smarter, more connected, and even more digital, and a significant role in this evolution has been played by the telecommunications industry.
As artificial intelligence (AI) is finding its use in quite a variety of industries, the telecommunications segment continues to be the leading one. A great number of telecom operators have started experimenting by deploying AI-powered solutions in both business-to-business and companies' internal processes. 
Challenges of the Telecommunications Industry
The telco industry faces today a number of challenges related to growing market demands and economic pressure.
With millions of subscribers and a growing number of telco products, today's communication service providers (CSPs) have to invest a lot of effort and resources in the optimization of operational support services.
As the telecommunications sector expands its networks at a rapid pace, service configuration, customer care, and billing processing become more complex. Facing increasing customer demands for higher quality services, CSPs continually seek useful innovations and applications to provide their customers with better customer experience and service.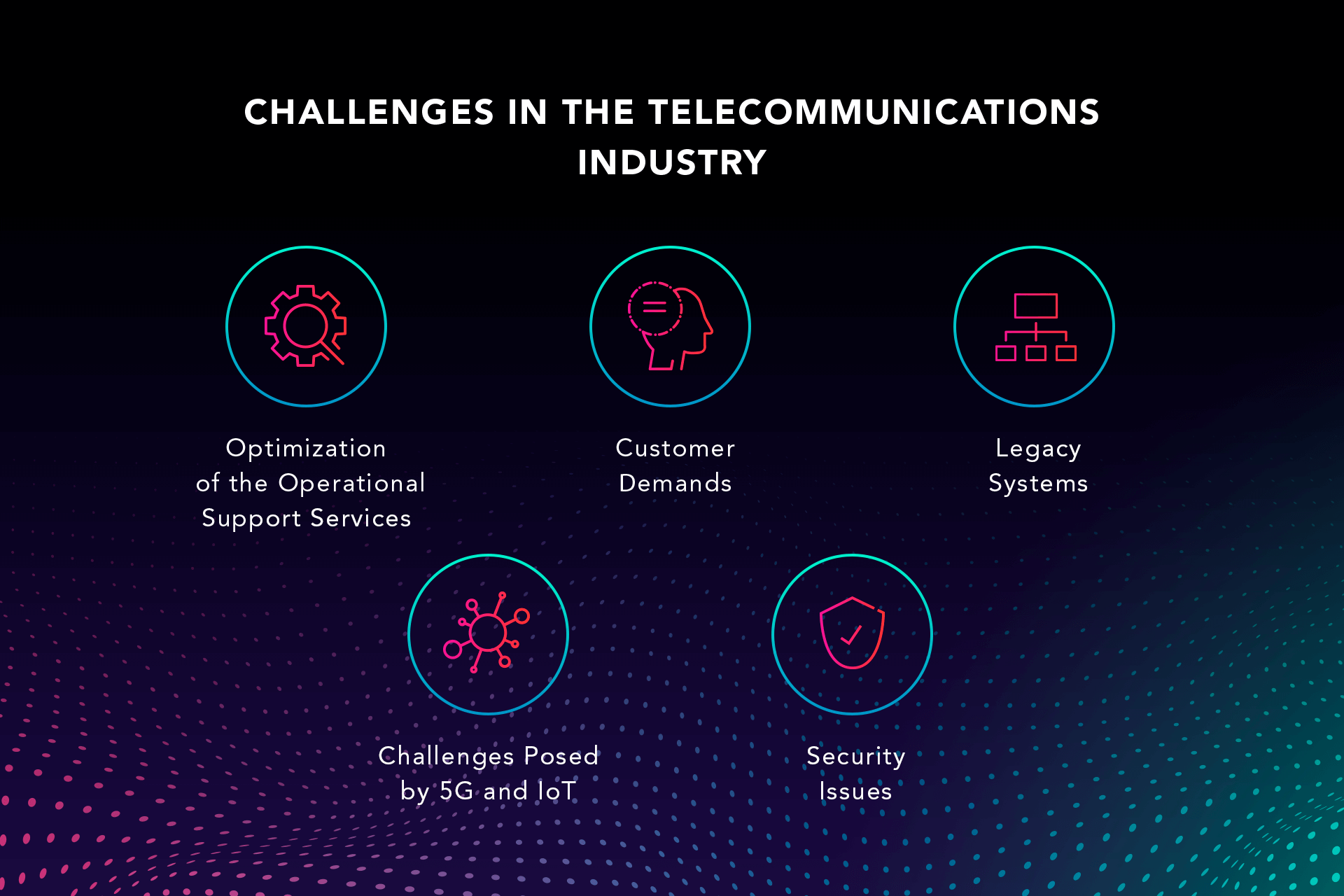 Another major challenge for the telco industry is the advance of the newest wireless networks such as 5G (the fifth generation of wireless networks) and IoT (Internet of Things) which lead to a massive generation of vast amounts of data. To efficiently manage these data, CSPs are facing an increasing need for data-driven solutions.
As a result of the rapid growth of IoT, a lot of new devices emerge on the market, which on the one hand, contributes to the market growth while, on the other hand, brings new challenges in terms of security. As many IoT devices are at risk for malware-carrying applications, fraud prevention has now become the main priority for the telecommunications industry. In order to protect personal data collected from IoT devices, telco providers need to consider opportunities that emerging technologies are offering. 
AI's Role in the Telecommunications
The key driver for AI growth in the telco industry is an increasing demand for autonomously driven network solutions. The networks of the telecommunications industry expand at a rapid pace, becoming more complex and difficult to manage. By using AI-powered network solutions, CSPs can reduce network congestion and improve network quality, therefore enhancing the customer experience. 
Market Research Future predicts that, by 2023, global AI in the telecommunication market will reach $1 billion, with 32% CARG during 2018-2023.
"AI is expected to have an impact in many areas – the most important being traffic classification, anomaly detection and prediction, resource utilization and network optimization, along with network orchestration. Further, it will also assist mobile devices with virtual assistants and bots."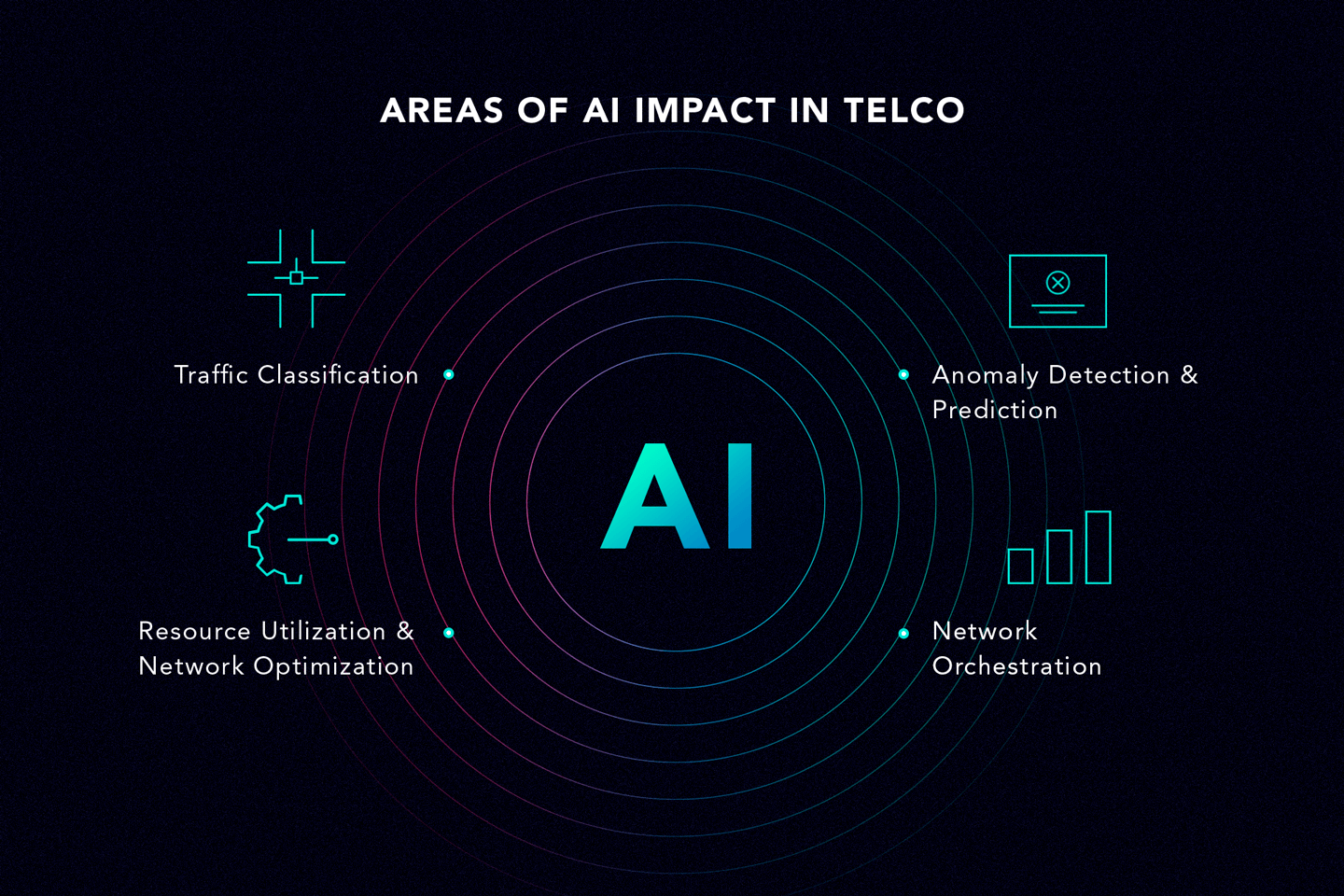 Being an umbrella term, AI can be divided into different technology segments, such as machine learning, deep learning, natural language processing, image processing, and speech recognition. However, a central role in the telecommunications industry belongs to machine learning, deep learning, and natural language processing. 
What Types of AI Will Help Telco?
Machine Learning
Machine learning (ML) is a subset of AI, which focuses on a computer program that is able to parse data using specific algorithms. Such a program is able to modify itself without human intervention, producing the desired output based on analyzed data. In essence, using ML techniques, a machine is trained to analyze huge amounts of data and then learn to perform specific tasks. 
Deep Learning
Deep Learning (DL) is a subset of machine learning, whose algorithms and techniques are similar to machine learning, but capabilities are not analogous. The main difference between ML and DL lies in the interpretation of the data they feed on. In DL, a computer system is trained to perform classification tasks directly from sounds, texts, or images by using a large amount of labeled data, as well as neural network architectures.
Natural Language Processing
Natural Language Processing (NLP) is a sub-field of AI that is focused on enabling computers to understand, interpret, and manipulate human language. In essence, NLP allows machines to read texts, hear sounds, interpret them, and measure sentiments.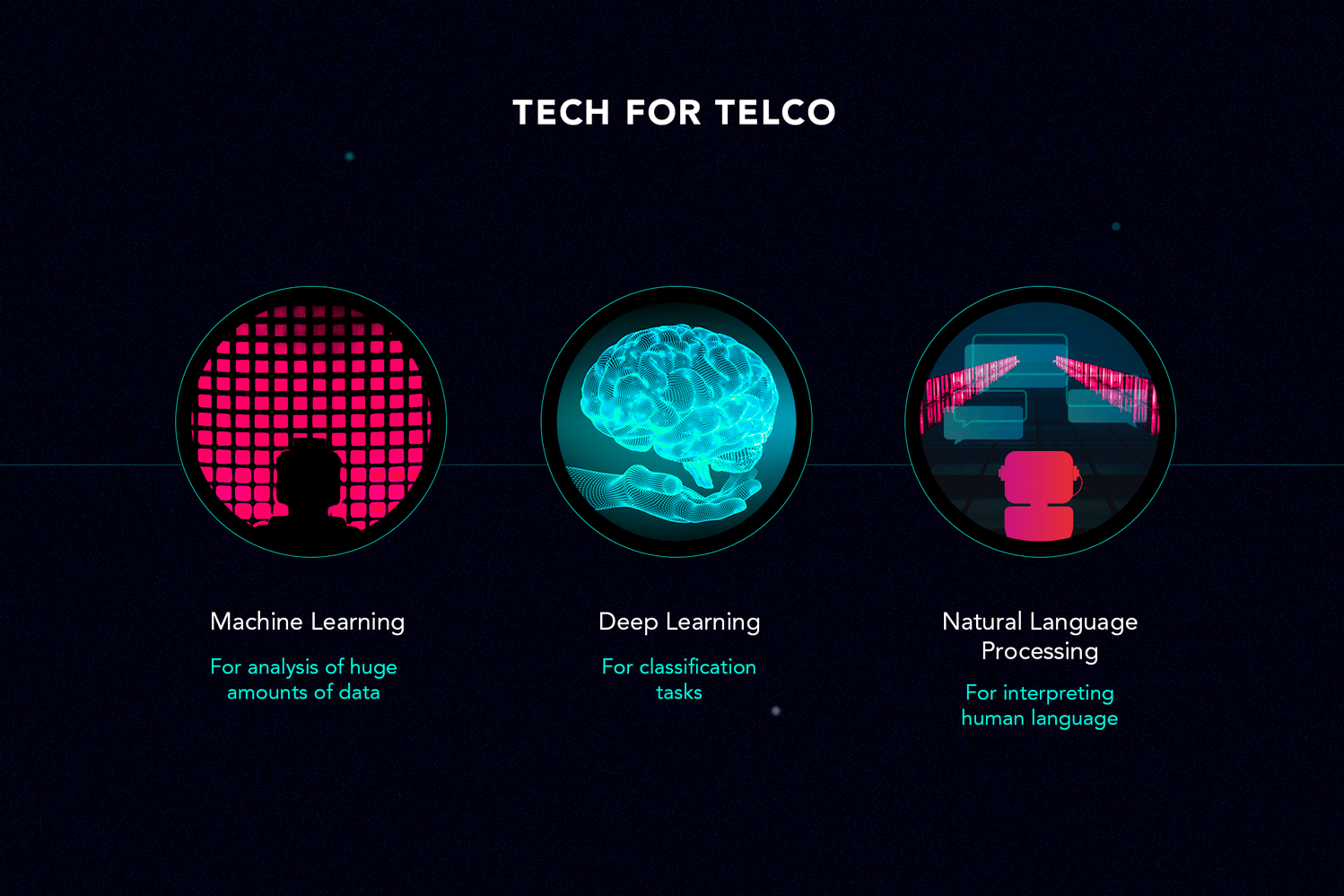 AI Applications in the Telco Industry
Network Optimization
With self-optimizing networks (SONs) powered by AI, telco providers can automatically improve network quality and, as a result, provide better-quality services to their subscribers. By using advanced algorithms, AI systems can process large amounts of data, particularly call detail records (CDR), in the case of the telecommunication industry, identify patterns, and detect and predict network anomalies.
Virtual Assistants 
According to a report by ABI Research, by 2022, virtual assistants will enable telecom service providers to save $1.2 billion on customer care management, resulting in a compound annual growth rate (CAGR) of 17% over the next five years.
Intelligent Virtual Agents based on AI technologies gain traction in the telecommunication sector, resulting in improved customer experience and satisfaction. Telecom providers have turned to virtual assistance in order to optimize the processing of the huge number of support requests for troubleshooting, billing inquiries, maintenance, device settings, etc. AI-powered assistants handle all service-type questions and process transactions efficiently and quickly.
Robotic Process Automation (RPA)
Robotic Process Automation is a technology that configures computer software to capture data and manipulate applications in the way it is done by humans. With RPA, Telco providers can automate back-end activities such as data entry, reconciliation, or validation, streamline customer support as well as perform cross-sell and up-sell using AI-powered assisted calls. RPA applications allow CSPs to reduce costs, enhance accuracy, improve efficiency, and deliver a better customer experience.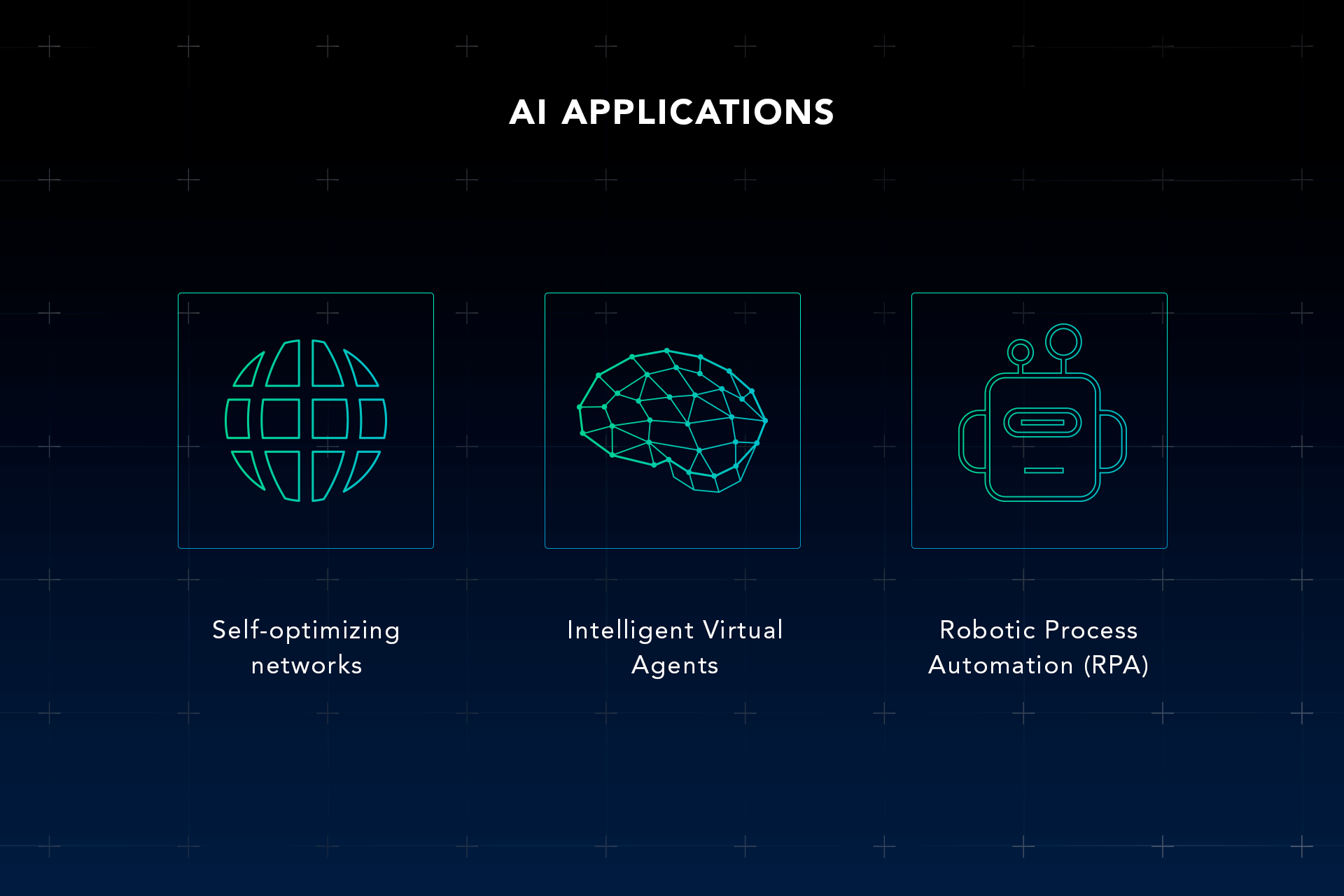 Modernization of Telco Legacy Systems
Legacy systems are outdated applications that can no longer keep up their objectives and run effectively. As we discussed in our previous article, constant support of legacy systems costs companies huge efforts and high amounts of money.
According to Dell, during the last 10 years, a significant number of all applications used by Fortune 5000 companies "run in legacy environments built 20, 30, even 40 years ago». Moreover,  Dell states, «A typical corporation spends between 60 and 80 percent of its IT budget simply to maintain existing mainframe systems and applications». Replacing outdated, inefficient systems with more effective AI-based applications will help telecommunications companies optimize workflow and maximize profit.

Read more about Legacy Systems Modernization in the Telecommunications Industry.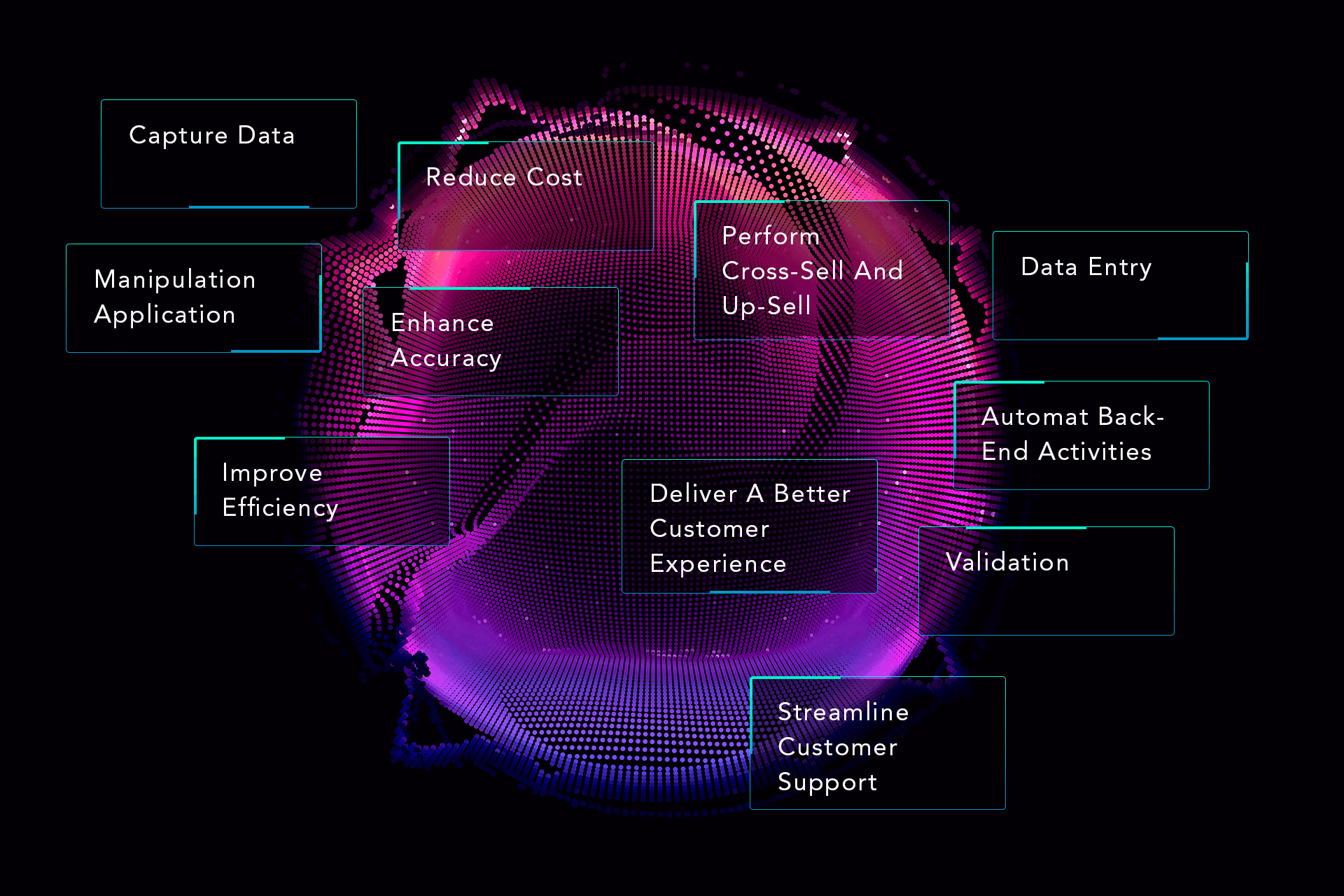 AI Business Cases in the Telecommunications Industry
Telia
Telia Company AB is the fifth largest telecom operator in Europe, with more than 20,000 employees and over 23 million subscribers. It is present in Sweden, Finland, Norway, Denmark, Lithuania, Latvia, and Estonia. Applying AI and ML-powered technologies, Telia can identify the most valuable accounts based on available data, keeping the company's database always up-to-date. Furthermore, the company has added virtual assistants to its customer services and claims in a case study that within the first month, one of the chatbots has saved it €1 million.
China Mobile
The world's largest mobile provider with over 902 million subscribers, China Mobile Communications Corp, is leveraging AI-embedded and big data technologies for fraud detection. The company has introduced a new product – a big data-based anti-fraud system called Tiandun- which is able to detect fraudulent activity, distinguish it from normal calls and intercept spam texts or calls.
Vodafone
Vodafone Group is a British multinational telecommunications conglomerate with more than 500 million customers. The company has improved customer services with the arrival of its virtual assistant app TOBi. Tobi is able to enhance customers' engagement and personalize the sales journey. Being a text bot, TOBi can directly answer most customer questions, address problems, or suggest and offer more suitable products.
Final Word…
AI-embedded technologies can be useful tools in the telecommunications industry. Implementation of AI by telco companies resulting in the development of highly personalized products, improved fulfillment processes, and enhanced network management, allows telecommunications operators to provide their customers with more attractive services as well as improve their customer retention.